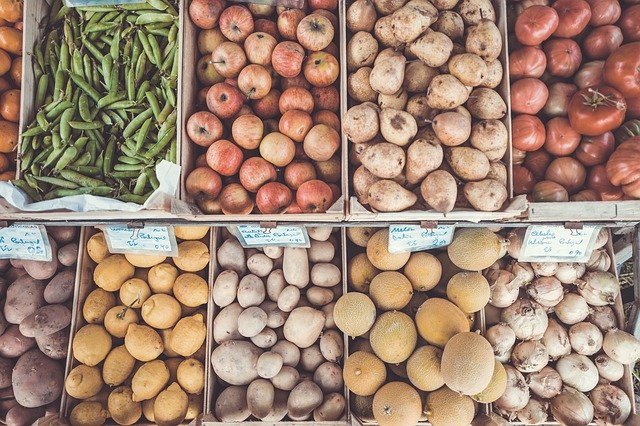 A good homemaker knows how to manage her family's income, and you can start helping save money by lowering your food expenses.
Here are the most basic and fundamental tips for saving money on food:
When Grocery Shopping:
Shop once a week. You'll find yourself spending more time and money if you go multiple times a week because you'll be giving in to cravings at the moment.
If you plan to only shop twice or once a month, you have to be careful not to end up buying less or more than you actually need (or end up returning for things you've run out of or with food that has gone bad).
Unless of course, you have a good plan (like this money-saving worksheet that I'm personally using) to be able to successfully shop once a month.
Eat before you shop. You've heard this before and this is to avoid any impulse purchases or buying more than what you need because everything looks good to eat when you're hungry.
Have a shopping list. Be honest with what you really need and stick to your meal plans.
Take inventory. It's easier to do a shopping list when you know what you need and what you have on hand.
Plan your meals. Learn how to plan meals to match what's on sale.  Keep it simple. Home-cooked meals are never meant to match those recipes that restaurants use.
A homemaker who does not know how to meal plan will most likely blow their family budget away with drive-thru or delivery.
Take note of what each member of your family likes to eat and the common things to go into your "favorite recipes" section.
Forgo the conveniently packaged stuff.  Slice, Chop, Grate, Wash, Peel… do these things by yourself and you'll save some significant amount on your groceries.
For meat, take advantage of sales and buy it whole. Instead of buying  Slice or grind it yourself or ask the butcher to do this for you if they can.
For seafood, buy the whole fish and you can use the head, skin, fins, bones, and tails for soup stock. I often do this when making my own salmon sashimi.
For produce, you 'll be able to preserve its nutritional value without nasty chemicals to preserve color and freshness. You'll also be able to store it for longer.
For Dairy, you can buy the whole block of cheeses and just grate or shave them ahead of time.
Don't buy organic produce if you peel it. The unwanted chemicals are often sprayed on the outside of the produce and don't contaminate the inside. If you're going to eat your fruit and veggies whole, like with berries or salad greens,  you can opt for organic. But with things you need to peel, like bananas or avocados, you can skip it.
Buy cheaper meat cuts. You don't need prime cuts to get tastier meals. Know what recipes will work for cheaper meat cuts. Marinade, tenderize or braise them for better results. Learn to use a slow cooker. You can even buy meat ends or trimmings for much less and use it for sandwiches, soups, or salads.
Buy discounted items nearing its Sell-By date. Stores often markdown items for a quick sale. This does not mean they're expired, but it's to ensure that old stock is out of their shelves and consumed or preserved by customers before it goes below the standard of quality for selling.
Buy generic or store brands. There's little to no difference from store brands vs. name brands especially for commodities like spices, grains, or pantry staples like sugar, baking soda, or salt.  Name brands are just priced higher to cover their research, development, and advertising costs.
This is also true for generic drugs. According to this study, the FDA requires all drugs to work well and be safe, that generic drugs use the same active ingredients as brand-name drugs and work the same way. They also have the same risks and benefits as brand-name drugs.
Check the Sell-by Date or Expiration Dates. It's often advised to reach for items at the back of the shelf because stores keep new stock at the front and old ones at the back. While this is generally true, it's not always the case. Instead, choose the one with the farthest date of expiration or the latest manufacturing date.
Look for the better discount deals.  Check how much you are saving from its original price and then check other similar items that may have a better deal. For instance, broccoli may save you 80C/oz, but an alternative cauliflower may save you $1/oz.
Check for the cheapest price per weight. Discounted items with discounted prices usually have a special yellow sticker. To know if you're getting the bigger discount, look for those with the cheapest price per unit of measurement.
Shop in Season – Produce in season is a lot cheaper. Use canned or frozen (whether homemade or commercially bought) when out of season.
Buy in bulk – The bulk packages will seem pricier because it contains a lot more of the product, but if you look at the price per unit of measurement, it should come out cheaper.
Get them for those items that you often need, so you won't have to pay full price again when you run out of it.  Get grains, pasta, dried herbs, spices, flour, etc. from bulk bins.
Stock up on cupboard or freezer foods. When there's a sale, it's always useful to stock up on canned or dry goods, those with long shelf life. You can also include your non-food items and cleaning products here.
Stock up after the holidays. There will be some marked down prices for holidays items like chocolates,
Buy loose produce instead of the bagged ones. There is a price difference for the convenience of just picking up the bagged ones. By buying the loose items, you get to pick the freshest ones or at least avoid getting the banged-up produce that gets mixed around in those bags.
Remove the Excess Weight.  In Asian markets, I often see old aunties rummaging through veggies, snapping broken stems or rotten leaves off to reduce the weight of the items that they're paying for by weight. The small cents add up quickly, especially when buying loads of them.
Price check or shop around. Stores will have different prices for different items. Create a list where you'll mark down the prices of things you often buy at which stores. This way, you'll know where it is cheaper to buy a particular item and you can grab all of them at that store in one go.  Most stores will also match prices of their competitors.
Same food item, different food category. Check if your food item is cheaper when you buy it frozen vs canned vs. dried vs fresh. For instance, dried beans are cheaper than canned beans.
Schedule your shopping. Time your shopping in that you're either super early or really late to have better chances of getting discounts. At farmer's markets, you can negotiate for a huge discount for any unsold produce that they have when their just about to wrap up.
Bring your own shopping bags. More stores are now charging for their grocery bags and you can save a few dollars by bringing your own. Most now will even reward with small discounts, extra reward points or bonus fuel points, if you use your own shopping bags.
When Cooking:
Bulk cooking / Freezer Meals. Plan meals that will last for 2 or 3 nights. You can check for freezer-friendly recipes if you want to extend those leftovers to other days in a month.
Watch your portions. Cooking too much of one thing can mean too many unwanted leftovers. Unless you are bulk or freezer cooking, cook only enough for what your family can eat, and encourage family members to take only what they can eat (they can always ask for seconds).
Use leftovers and scraps. Nothing gets thrown. Use freezer-friendly recipes so you can re-heat it on other days. Be creative with leftovers and turn it into another meal, a snack, or a jobisai. Use scraps or bones to make soup stock.
Note: Leftovers can't be helped with children as know when to stop eating when they're full. This means that they can self-regulate their hunger and it is recommended that you respect this. Instead, expect their leftovers and take less of your normal portion.
Add nutritious fillers to meals. You can save 25% of the cost when you include veggies in your meals and fruits for snacks. You can add beans, oatmeal, or breadcrumbs to protein.
extend your meat by sneaking in legumes or chopped or grated vegetables.
Have a Meat-free day in a week.
Have fun with pasta and rice dishes that use vegetables or canned fishes.
Watch your seasoning. Add a little at a time of your sauces, spices, or seasonings to avoid wasting a meal batch.
When in the kitchen:
Check your fridge temperature daily. The ideal temperature is between 1-4 degrees celsius. Any more or less is an inefficient use of electricity.
Keep Proper Food Storage. Know how to properly store food items especially when buying in bulk or bulk buying discounted products to prevent spoilage. Learn how to preserve, can, and dehydrate to extend its shelf life.
Follow FIFO rule (first in, first out). This means to always consume the oldest supply first before opening a new one. Check the expiration dates, have the oldest item in the easiest accessible place and move the new ones to the back. When replenishing items from bulky packages, remove the old stuff first and wash the container before topping it with new ones.
Use a water filter.  Don't buy bottled water. Did you know that it might be safer to drink tap water?
According to this study, tap water suppliers are required to inform consumers of any contaminants found in their tap water.
However, bottled water manufacturers are not required to reveal this information in their labels as long as no violation of FDA standards is triggered.
Check your city or town see how the quality of water compares to bottled water in terms of safe consumption.
When you can:
Learn how to preserve food. You should know how to extend a particular food's shelf life so whenever you find an abundance of it (like a big sale in the stores or an overproductive food garden), you'll be able to save them for later when they're no longer in season.
Canning and dehydrating are good homesteading or life skills to have.
Always cook from scratch. There's a lot you can do with a bag of flour. Start with the basic recipes, learning the fundamentals of cooking so you don't have to buy the pre-made products. Baking is a good place to start because you only have to follow the recipe to a tee to get good results and great savings.
Start a Food garden. Contrary to popular belief, it IS worth it to plant your own garden because once a small ecosystem is in place, it will be a garden that will keep on giving (even in winter dormancy). 
It doesn't have to be a full-blown food forest right away. You can start with a few potted herbs as you learn how to grow your own kitchen garden.
Learn how to forage. It's still a good life skill to have even if you're not too interested in the "survival prepper" stuff.  It doesn't have to involve wild forests or anything like that because you can also forage for fallen fruits from your neighbor's tree (with permission). You can join your city's urban foraging guild to learn more.
Bring your own lunchbox. If you're going anywhere, you need to bring food with you. Invest in leak-free microwavable containers or thermal lunchboxes. I love learning about obento-making.
Eat before going out. You're bound to get hungry anytime you're out of the house. Fill your stomach with something before you leave so you're not tempted to buy food on impulse. You can do this before you dine out so you can order less food but still enjoy the ambience with a light meal.
Use coupons. Homemakers have practiced couponing since 1887() even before the days of the 50s domestic housewives era. Nowadays, some see it as a hassle rather than an opportunity to save significant amounts from their family 's food cost.  Whether you're a casual couponer or an extreme one, always be on the hunt for coupons and use them to the maximum you're able to (as your stress level would allow).
Drink Water Exclusively. Beverages account for 6% of a typical family's food expenses. These include bottled water, sodas or carbonated drinks, tea and coffee, fruit drinks and sports drinks.  
For those who dislike the taste of plain water, you can add a few drops of pure therapeutic essential oils.
Bring your own water bottle anywhere you go.  I used to just buy bottled water whenever thirst hits me, but when I made it a habit to bring my own bottled water, I started to like drinking from it and now couldn't leave the house without it.
Drink free coffee. Bring your own or find free coffee. Some businesses (like banks, salons, autoshops,etc.)give away beverages like coffee and tea as a courtesy to waiting customers.
Dilute Juices. Bottled juices are filled with sugar and the flavors are intensified especially when they come in heavy syrups. Even for normal juice boxes, I dilute half of it with water and it lightens the strong sugary taste and makes it more refreshing to drink. My kids can't even tell as long as I dilute it beforehand. You can dilute little at a time until your taste buds adjust to lesser sugar.
Befriend Store Employees.  They usually know if there's an upcoming weekly sale of items or promotional offers. But don't be "that person" who consistently insist on getting special treatment or discounts. If they like you enough, you won't even have to ask for it as they'd be telling you as soon as they spot you in the store.
Befriend farmers or gardeners. During harvest season, they will have an abundance of produce that most would have fallen to the ground and are left to rot. Bake something for them once in a while or do an occasional favor when you can. Come harvest time, they're bound to have you in mind.
Download Store apps. Stores will often have digital coupons or post exclusive sale deals for people who have their store app. Check your favorite stores if they have an app. You can use more than one grocery store app per item.
Use Store cards. Most stores offer credit cards with in-store perks or shopping deals. However, not all of them are created equal and you must only get those that won't force you to spend unnecessarily.
Do you have any more tips that we can add to this list? Please leave a comment and I will add new ideas as they come. Thank you!