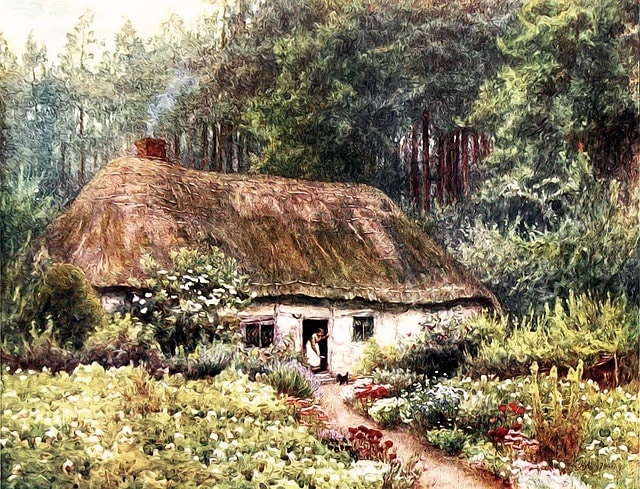 Have you ever wanted a little charming house that seemed to have come out of the pages of a fairytale book? Or perhaps you wanted that enchanting garden that has a profusion of pastel-colored flowers amongst all sorts of edibles? You just might be wanting a cottage garden!
A cottage garden is an informal style of garden where annual and perennial herbs, vegetables, and ornamentals are closely grown together for the production of food, medicine, and flowers as a source of beauty and enjoyment.

It's an ideal garden for homemakers who are looking to have the practicality of a vegetable garden while still wanting the aesthetics of a flower garden.

What Makes it Different From a Kitchen Garden?
A kitchen garden is designed to be situated close to the kitchen so that the produce can easily be harvested when needed. This is why it's also known as "Jardin Potager" in French (Potager Garden), taken from the word potage meaning "soup".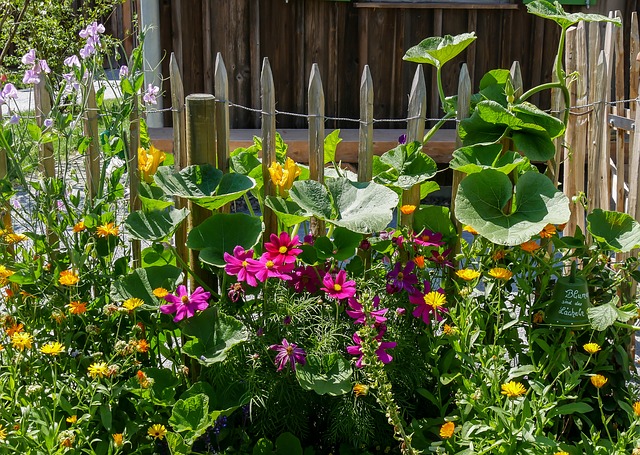 COTTAGE GARDEN vs KITCHEN GARDEN
A Cottage garden is actually a form of a kitchen garden but with less structure compared to the formal aesthetic of a potager.
Both gardens were initially designed for food production, but the traditional designs of a potager were generally more formal– using symmetrical geometric patterns– in stark contrast to the fluid spontaneity of a cottage garden.
If you google the images of each of the garden type, there's a big difference too in terms of the color palette and structural forms.
A cottage garden is known for its preference of flowers while a potager garden focuses more on vegetables. Traditionally the cottage garden was designed to produce food for peasants or lower class level families. It was only when the quality of life became a bit better that they've transformed it into a thing of beauty.
A potager, in comparison, was designed to be aesthetically pleasing from the very beginning, usually replicating the fine symmetry of formal gardens, so that the "ugly vegetable patch" will blend in with the rest of the family garden.
These days, however, a modern potager may take the form of a Jardin de curé which adopts the free-form romantic style of a cottage garden and truly blurs the line in terms of their differences in appearance.
However, both types of gardens use ornamental and edible plants so they are both functional gardens in their own right.
The main difference between a cottage garden and a potager garden is in the manner of distribution or layout of the plants, ornamental or edibles in the garden.
So the best choice to choosing the type of garden that is right for you is really a personal choice based on your style preference.
A cottage garden can also be small or large in size depending on the need or land availability, but a kitchen garden tends to be smaller as it prioritizes ease of access for food harvesting and garden tending.
A cottage garden tends to choose traditional and whimsical supporting elements or garden accessories while a kitchen garden leans more on the practicality of things than aesthetics (use of raised garden beds is typical).
This is not to say that modern cottage gardens are not practical, but it does want to achieve a certain standard of beauty while a kitchen garden thinks foremost of function.
Why build a cottage garden?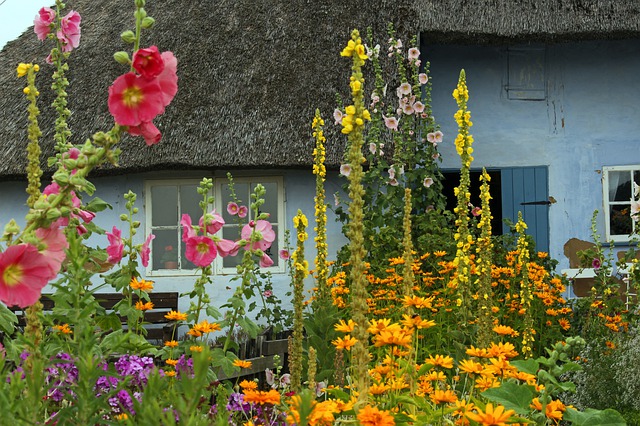 A potager garden looks more sensible or practical in this modern time, but I just love the charming look of a cottage garden!
Since their differences really are subjective, in my opinion, a cottage garden just ticks all the boxes with the kind of lifestyle that I have in my mind for my family.
Reason # 1 : It is a Low-Maintenance Garden.

Don't believe the naysayers that this is a difficult garden to maintain with the abundance of flowering plants. Once the garden is established, there shouldn't be much work to do as this garden-style encourages you to work with nature and leave much of the tending to her.
Maybe the most exhaustive work will be a clean-up after winter in preparation for spring. Other than that, your yard work will be greatly reduced as you'll find the garden takes a life of its own (in a good kind of way).
A cottage garden is more forgiving than a formal garden wherein there is pressure to keep the symmetry and balance perfectly in most cases.
Reason # 2 : It encourages biodiversity.
When you think of a cottage garden, you think of a home with a garden crowded with birds, butterflies, bees, and other beneficial insects.
And it's exactly that because this kind of garden provides food and shelter for these creatures and consequently becomes a show of beauty and biodiversity, helping to heal and preserve nature for future enjoyment.
Reason # 3 : It looks dreamy!
Do you know any of the paintings of Thomas Kinkade? How about Claude Monet?
Any garden is beautiful, but nothing can compare to the charming beauty of a cottage garden. Many have said that a cottage garden is like a watercolor painting in real life. The land is your canvas and you get to paint it with flowers.
And unlike regular gardens, there isn't any bad transition between the seasons or any noticeable plant attrition because there's no defined shapes or silhouettes in this garden. A dying rose actually adds to the charm.

Reason # 4 : You get to have flowers and eat your vegetables too!
Like I said, a common misconception is that a cottage garden is not as practical as a potager (kitchen) garden or a vegetable garden.
But Cottage garden is both beautiful and edible!
We already know that Cottage gardens were traditionally created in the olden days to produce the food that lower class families need. They added flowers to the garden only when life quality became a bit better
Reason # 5 : It's versatile and adaptable
The "relaxed" and romantic style of a cottage garden is actually adaptable to any architectural style or location. Oriental, tropical, or even with the use of the container gardening method in the urban. The gist is to incorporate native plants that will thrive to the natural weather conditions or climate and include essentials suitable to the surroundings.
The size of the garden will not matter as you can still create a charming cottage garden whether you have a large estate or even a small rental apartment (like mine). The method of container gardening can still be applied when you have little space or no ground soil.
REASON # 6: It's a calming hobby!
A cottage garden is a living artwork that is beneficial for mental health.
I think planting a cottage garden is a hobby that would be beneficial for anyone in many aspects. The pleasure of having to smell roses in the morning, being able to clip a few sprigs of rosemary for the dinner roast just outside the kitchen door, the peaceful sounds of nature as you putter around the garden at sunset.
Reason # 7: It is easy to build a cottage garden!
I remember when I watched the movie "The Secret Garden" (back in 1993), I fell in love with English Gardens. I remember the little girl throwing flower seeds randomly into this old garden and thought to myself how easy it must be to create a garden like that.
Well, it should be a little more work than that in the beginning, but the spontaneity and the romantic style of the garden are what made me fall in love with it.
How to Start Your Own Cottage Garden?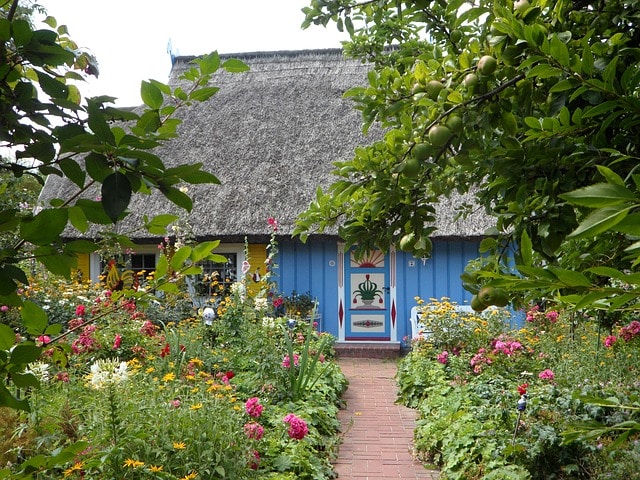 Don't be intimidated by the lush look of a cottage garden because like I said, it's easier to manage than those of formal gardens which require much more upkeep.
A cottage garden is purposefully designed to look unrestrained! There are no hard and fast rules in this style of gardening but you do need a few elements to bring the look together.
Most cottage gardens in the olden days revolved around a period cottage, but it doesn't have to be that way anymore. I think that just about any kind of garden can evolve into a cottage garden — even in an urban setting.
So how do you build your own cottage garden?
There is a lengthy "proper" process to start a garden, whether it is ornamental or edible or both, and it keeps people from starting out because they think it'll cost them too much time and money to even begin.
I know because I also used to think it would be cheaper and easier to just purchase my vegetables and flowers from the grocery than to grow everything from the ground. I didn't think it would be worth the trouble!
So my goal would be to encourage you to just begin, however small! Because part of the fun is in the process!
Step 1: Preparing your site.
LOCATION
There are 5 things to think about when choosing where to plant: sunlight, soil condition, access to water, airflow/wind situation, and convenience. If you're using containers for your gardening, you can pretty much control all of these factors.
Traditionally, a cottage garden is situated near the kitchen for easy access. Observe your current garden and know the areas that receive the most sun and for how long in a day. This usually shifts as the seasons change so identify the suitable areas in your garden where you can put your initial plants.
SIZE
Start out small and go bigger as you begin to learn more about your garden through the seasons. This prevents you from being overwhelmed and keeps the costs down as you learn along the way.
Use graph paper and sketch out a site plan that will eventually also include initial plants. When it thrives and becomes established, you can add more sections in the garden.
LAYOUT
Use strings to layout borders or beds, then mark with spray paint so you know where to dig.
Try not to plant in straight lines and opt for natural curving paths and borders.
To get the most sun, position the tallest plants at the back so they don't cast a shadow over the smaller ones at the front. This would mean that trees would line the back, then shrubs, then flowers.
If positioning plants on an island, think of a bullseye where the trees are in the center, then shrubs, with the flowers radiating outwards.
Step 3: Choosing what to plant
What do you want to get from your garden?
I've made a list of recommended flowers to plant in your garden to achieve the cottage-style look we're aiming for.
But the goal is to know what flowers and vegetables we would want our garden to produce for us.
Make a list of what you often buy from the grocery or ask your family what kind of vegetables they would like to eat more of.
However, when making your list, be realistic with what you can or cannot grow. There are some plants that are easier to manage and some that have specific requirements to grow well.
We don' want you to get discouraged by killing an orchid when you can barely manage a tomato. Start with the hardy ones and add more things as your confidence grows.
How much space do they take up?
If you have a small garden, it might not be feasible to plant a full-size fruit tree. But you can plant fast-growing salad greens or herbs around larger vegetable plants so they'd be ready to be harvested by the time the larger plants grow in size.
Know your plants' days to maturity and allow enough room for plants to grow into their fullest potential.
Choose the correct variety
You might want to get seeds or plants that are already bred to grow well in your area. These will be well adapted to your local climate and may be better at withstanding conditions like drought or common problems like pests and diseases.
Also, certain varieties of plants have a shorter or longer growing season. This would enable you to control what plants would be ready to harvest at the time you'd need them or plan the harvest season so that you can eat different varieties all throughout the different seasons.
For ornamentals, try to choose plants that will bloom at different times of the year for a continuous show of color even in winter. This is why it's especially important to combine your evergreens with your deciduous shrubs.
What is your color scheme?
The color scheme doesn't only apply to flowers but also to vegetables as they also have different textures and leaf colors.
Traditionally, cottage gardens were planted with old plant favorites in soft color schemes in cool or pastel colors. But many modern gardeners nowadays also include hot colors in their scheme. Make sure to use colors that work together and transition nicely throughout the garden.
Remember that you're trying to achieve that dreamy watercolor painting effect using plants instead of paint.

Step 4: What are the Cottage Garden Essentials?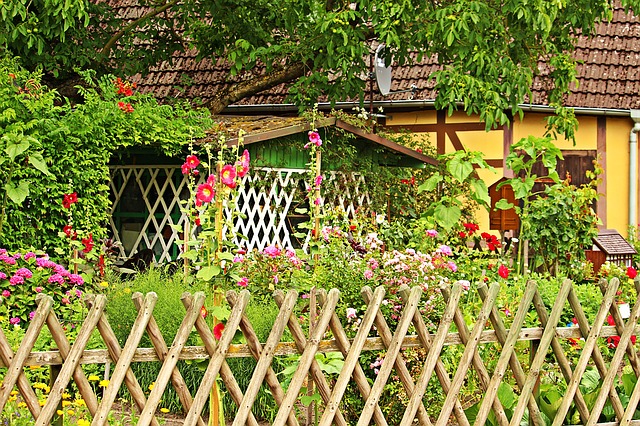 GATE
I can't reference the movie "The Secret Garden" enough. But in the movie, the girl finds the key to open the gate to the secret garden. It got me so excited!
The gate is like a portal to another world, a world of flowers perhaps. But it is YOUR cottage garden. And it's usually the entrance that gives visitors a taste of what's inside the garden.
The materials used are often handmade, perhaps some wooden branches or weathered planks, or vintage iron gates that are left to go rusty.
FENCING
A traditional Cottage garden would have picket fences to define the garden, but lattices are also popular as it can serve as a nice backdrop to flowering vines as well as support climbing plants.
Picket fences in the olden days were much lower than what we have today and they usually are painted white. But don't be restricted by those standards as you can use any variation of the picket fence and paint it in any color that you like.
PATHS/WALKWAYS
Pathways are essential to cottage gardens for access and weeding.
Though paths can be straight, especially when they lead to the front door, they are traditionally soft and curving leading up to the home or winding around the gardens to separate or define beds.
Path materials can be chosen to complement your home and garden. Soft pavings like crushed gravel and wood chips are often used because they're easy to install and they don't steal the show from your garden. Hard surfaces like tiles, old bricks, or stepping stones are also popular and they are often used for edging paths and beds to hold the soft paving materials in place.
SEATING/DINING
Adding comfy furniture and creating tiny romantic escape corners is perfect for relaxing after a busy day.
Unlike regular outdoor living spaces, cottage garden seating is randomly tucked away in little nooks and crannies of the garden like a secret surprise.
The furniture used is always informal with an aged look to them. The material can be wicker, wood, or metal. It can be a mix of ornate chairs grouped together or a lone bench beside fragrant flowering plants.
SUPPORT STRUCTURES
The support structures used in a cottage garden are not only functional but beautiful as well.
Arches and arbors, made of metal or wood, are covered with climbing plants. These are placed on pathways or over a seat or gate.
Lattices are used for fencing or supporting climbers. Trellises are also used for climbing plants. For larger coverage of an area, like over a dining set, pergolas are best to use.
DECORATIVE ITEMS
Accessories can be used as focal points or just to add some interest in unexpected places. They add to the charm and enchantment of a cottage garden.
Obelisks, statues, sundials, birdbaths, water fountains, and larger garden accents are good to be used as focal points because they immediately attract your gaze.
Smaller accessories like weathered watering cans, terracotta pots, old tools, and the like can be added anywhere in the garden.
Step 5: Do what looks and feels right
They often recommend considering your home's style and colors before going with a cottage garden.
While it will look more authentic to the cottage garden style to have that little humble cottage in the middle of the garden, it would be a pity to forgo the pleasure of a cottage garden just to achieve authenticity.
The most important thing is to have fun and let your personality shine through your garden. Of all the types of gardens, a cottage garden is extremely personal in looks and in taste. So be free to plant flowers with vegetables!
Other Things to Consider with a Cottage Garden
You have to pay attention to your local ordinances and regulations as far as gardening goes. These vary from state to state, county to county, city to city, and from zone to zone.
There are certain plants that are illegal to plant or are taxable in the US. Some states do not allow the planting of vegetables in their front yard.
Some homeowners associations also set rules against any changes on a home property within their jurisdiction that are probably aimed at creating uniformity, maintain an image, or to avoid water wastage or accidentally devaluing a property or neighborhood.
If your city bans you from growing vegetables in your front garden, a great page to visit online is this one from the Institute of Justice.