Whenever Valentine's day approaches, people scramble to buy a bouquet of fresh cut flowers to express their love for their special someone. I always told my husband that I prefer to get potted plants so that I could appreciate it for years to come.
What houseplants are the best gifts to give when expressing love especially during hearts' day? I've picked out these indoor plants that have heart-shaped leaves or flowers which are as romantic and more everlasting than  your usual cut flowers.
1. Violets (Violas)
Did you know that  before the pinks and reds, violet was the color for love? And not just romantic love,  but care, affection, and harmony. Violets were exchanged as a symbol of romantic love until the 1930s.  the preferred flower for sweethearts was the viola, or violet, a name derived from the Greek word io (as in iodine) for the flower's use as a purple dye.
Viola Heartthrob is a quick-spreading perennial, this cultivar has beautiful, deep-green leaves with a burgundy center. The fragrant lavender flower is long lasting. The plant attracts butterflies and is deer-resistant. It grows well as a groundcover in the shade garden, and can be grown as a houseplant.
Sweet Violet (Viola odorata) is a small, flowering plant in the viola more commonly known as wood violet, sweet violet, English violet, common violet, florist's violet, or garden violet. Its bluish-purple flowers have a lovely scent and the heart-shaped leaves have scalloped or saw-toothed edges.
2. Anthurium
Also called painter's palette, flamingo lily, tailflower or laceleaf,  these tropical perennial is a popular houseplant because aside from looking good with its glossy heart-shaped leaves, it's listed in the NASA Clean Air Study (1989) as capable of removing toxins from the air. (Note: Ventilation is still the better air purifier according to this study) The large red or pink heart-shaped "flower" is not really a flower but a modified leaf called a spathe.
Anthurium Clarinervium. These have a beautiful pattern on it's large leaves which makes it a great statement houseplant for any room.
Anthurium Magnificum. Often confused with Anthurium Clarinervium because of similar patterns, the Anthurium Magnificum are bigger species with heavier leaves that may need a some external support.
Other popular varieties for Valentine's day include:
Anthurium "Princess lily"
Anthurium "Heart's desire"
Anthurium "flamingo pink"
Anthurium "kozohara"
Anthurium "Lady jane"
3. Begonias
Begonias are a bit harder to care for than the average houseplant but they are some of the most visually appealing indoor plants you can have in your home. It's worth learning to care for them, and once you get the hang of it, you might be wanting to collect  all the begonia types.
Hardy Begonia (begonia grandis). This begonia is the tuberous type and is primarily grown for its flowers than its leaves. It has a spray of satiny pink or white flowers are slightly fragrant, but the large green heart-shaped leaves with red veining and purplish-red undersides are the perfect color for gift-giving on heart's day.
Painted Leaf Begonia (Rex Begonia). Also called fancy leaf begonia, is a tropical perennial is loved for its large and showy heart-shaped leaves. While they don't have that beautiful bloom like the hardy begonia, it's prized for its leaves that come in an array of shapes and colors. Normally, the outer edges of the leaf are dark green while the inner portion are multicolored and can come in shades of pink, red, purple, silver, white, and many others.
4. Calla Lily (Arum)
Calla Lily belong to the same family as Anthuriums. It's a tall bulb plant that looks grand and loves the heat. The "flower" or modified leaf called spathe, can take the shape of a heart when viewed from above or from an angle. I'm not really a fan of the white version but here are some varieties of this plant that are perfect for Valentine's day:
Calla lily 'Majestic Red'
Calla lily 'Pink Melody'
Calla lily 'Crystal blush'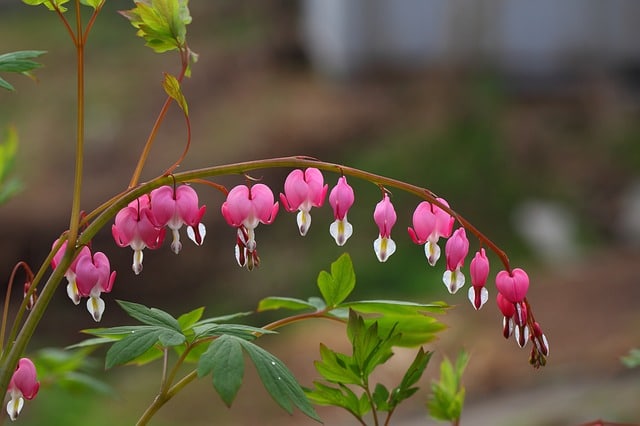 5. Bleeding Heart (Lamprocapnos spectabilis)
Also known called old fashioned bleeding heart or Asian bleeding heart, this plant is related to the poppy family and is a shade-loving plant which makes it a good houseplant. The flowers bloom in springs but it fades and the leaves die as it gets warmer (only to return again next spring). The puffy heart-shaped pink flower has a single white dangling drop that reminds me of a beautiful necklace with a quartz crystal and pearl pendant. This plant is like a living jewelry when given as a gift.
6. Flowering Cyclamen
Cyclamens are hardy perennials that love the cold climate. This flowering plant is cute and petite with pink or white flowers that resemble the shape of butterflies. They have green, heart-shaped leaves with some silver marbling and while they grow close to the ground, they eventually grow to over a foot tall. They make excellent plants to brighten up areas during the cold season when every color seems to fade away. They bloom the best during these times!
7.  Morning glory
Also called moonflower, this annual flowering climber is related to the potato vine. The white flowers that bloom at night are big and fragrant; during the day, the pretty, heart-shaped leaves take center stage. Morning glories as houseplants will require bright and direct light. A spot in a sunny window sill would be best!
Ipomoea purpurea. Also known as the common morning-glory, tall morning-glory, or purple morning glory, these are quite easy to grow in containers and flower readily indoors.
8. Calladium
Caladiums are technically flowering plants but they are prized for their beautiful leaves rather than for their insignificant blossoms. Commonly, it's also known as elephants ear, heart of Jesus, or angel wing and it comes in various shapes such as hearts, arrows or lances with multiple color combinations of red, pink, rose, white, chartreuse, green, and even lavender. Normally, they come in interesting hues of green and pink or red which makes it a perfect plant gift this Valentines Day.
Caladium 'Florida Sweetheart'
Caladium 'Blushing Bride'
Caladium red flash
Cladium "strawberry star"
9. Alocasia
Alocasia is also called "Elephant's ear" as Calladium because they belong to the same family.  But compared to Calladium, Alocasia have bigger leaves with less variety in color. But the size of the leaves are usually impressive and make great statement pieces in the home.
Alocasia Plumbea
Alocasia Micholitziana
Alocasia Regulina
10. Hostas
I was recommended to plant some hostas in my front yard because they are known to tolerate shade really well. These are also known as plantain lillies and while they are often planted outdoors, it can make good houseplants if grown under proper conditions.  The leaves of hostas are waxy and come in a wide variety of sizes and leaf colors. The ones I'm recommending here are those that have the heart-shaped leaves.
Hosta Heartleaf. This variety has veined leaves and makes lots of large, lavender flowers in the summer.
August Moon has heart-shaped green-gold leaves with rippled margins that fade to yellow in the fall. It also has white  or almost lavender-colored flowers that bloom in summer.
Francee is a vigorous grower with a mounding habit. It boasts pretty white outlines on its dark green, heart-shaped leaves and small trumpet-shaped white to lavender flowers.
Golden Tiara has tiny and thin green and gold heart-shaped leaves with a plethora of dark lavender flowers. It can grow quickly even if it's a compact variety.
Hudson Bay also has a mounding habit. It has a lovely ocean blue-green color with tricolor variegated leaves. It's flowers are a lovely cream to lavender.
June – This variety has a variegated lime green and gold leaves with blue-green borders and accents. It also blooms with lavender-colored flowers.
Minuteman has a beautiful heart-shaped, softly cupped dark green leaves with white borders. This variety also has lavender-colored flowers.
Patriot has similar attributes with minuteman but not as vibrant with the leaves' green with white border.
11. Philodendron
Philodendrons are extremely easy to care for and are good plants for the beginning plant parent. These have glossy green leaves that trails quickly into a charming bunting of hearts. You can either leave them to trail down or train them up a pole (as I prefer to do with both Philodendrons and Pothos).
Heartleaf Philodendron (Philodendron scandens)
Philodendron Gloriosum
Philodendron Ornatum
Philodendron Verrocosum
Philodendron McDowelii
Philodendron Brandtianum
12. Hoya
Hoyas are tropical indoor plants and are also called "Wax plant" because of its thinck and waxy leaves. It has waxy, porcelain-like flower clusters that are fragrant.
Sweetheart hoya (Hoya kerrii). The leaf of this plant is the perfect shape of a heart! It's often sold in containers store near Valentine's day as they're quite popular houseplants in lieu of roses. But be careful when shopping as some are carelessly propagated with the single leaf cutting without the stem attached. To imitate a single heart shape on a small pot  without ruining the heart-silhouette of the leaf, they usually cut off the stem too short which is not good for the plant's survival. The propagation success rate with this method is much lower, so check for good strong stems on the leaf cutting when looking to buy one.
Varigated Heart shape hoya (Hoya kerrii variegata). This plant is similar to the Hoya Kerri with its large, waxy leaves. But this variety has a creamy, white border. Think of Hoya Kerrii, but with a yellowish outline.
13. Peperomia
Peperomia resembles rubber plants but they are much more compact and cuter which is why they're often mistaken for succulents. They are easy to manage as houseplants so they make great gifts for beginners. They're excellent at keeping indoor air clean too! There are over a thousand variety of peperomias but only 12 are suitable to be household plants. Here are those that I could recommend:
Raindrop Peperomia
Peperomia Caperata
14. String of Hearts  (Ceropegia woodii)
I'm not a fan because this is quite a difficult plant to care for, but this is quite popular among plant parents because of its charming traits. The trailing evergreen plant has dainty, multicolored heart-shape leaves that are usually green and silver, but can also have blushes of pink here and there. It loves the sun and is almost drought-tolerant. Just by its name, you can tell it makes the perfect plant gift for Valentine's day.
15. Heart Fern (Hemionitis arifolia)
It's called that because it's leathery dark-green leaves are almost perfectly heart-shaped (with emphasis on almost because they're a tad bit elongated, in my opinion). They look great when the humidity in the room is high, but don't worry as they can still withstand normal dryness in homes. You may just want to mist it from time to time. It's a lovely houseplant with leaves that grow tall and open.