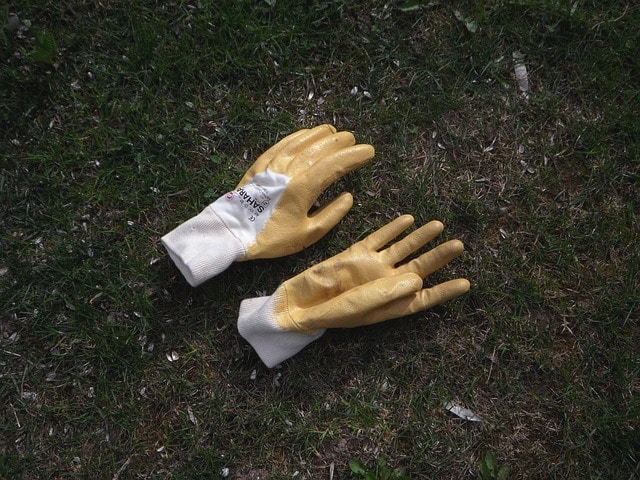 The first thing I've spent money on when I started gardening is a pair of gardening gloves. I cannot imagine handling soil with bare hands! While many people would also disagree and think that the microbes in the earth can be beneficial, it's also common to get bacterial infections! I think this is important because there are more cases of people getting sick when not wearing proper protective gear.
It's best to buy a good quality pair of gardening gloves that have been specifically designed for the gardening task that you're doing. The Showa Atlas NT370 Nitrile Garden Gloves is a popular choice for most gardeners because it's thin and flexible enough to be comfortably worn all day, but still provides great protection and harder to wear out. While a special kind of glove is needed for handling thorns, a pair of these is so versatile that it can be used for all your other gardening activities. And what's great is that it's affordable, comes in different sizes, and is machine- washable too!
Here's a video of my Showa Gloves in action:
How Should Your Gardening Gloves Fit
The gloves should not be too loose or too snug. Gloves come in different sizes, but it doesn't mean that if you choose the same size with a different brand, that it'll fit the same way. You might find that the construction of the seams or the placement of the thumb is wee bit different. So how do you know if your gardening glove is fitting correctly?
Slide your hand into the glove and see how easy or hard it is to fit all of your fingers. There should be just a little bit of space between the tip of your fingers and the glove. Space should be enough to allow your fingers to move freely but not so loose that you would have trouble gripping things.
Stretch your palm open, as wide as you can, then close your hand into a tight fist. Repeat the open-close motion and see if the seams follow the natural curves of your hand. Also, try to grip a variety of objects to see if anything slides out of your control. Try pinching or moving soil if you can. The gardening gloves should still remain snug with every movement but it shouldn't be too tight that it restricts it.
If you have smaller hands, consider checking out children's gloves if you can find a better fitting. I have naturally longer (and skinnier) fingers than normal so it can be a challenge to find something that fits me nicely. I find most gardening gloves would have shorter and wider fingers and if the fingers do fit me well, the wrist closure would actually rest a bit above my actual wrist which is very uncomfortable!
Make sure that the wrist cuff will wrap your wrist at the right part. It shouldn't be above or below the wrist. Be sure that it features an adjustable closure which would make it easy to put on or take off. I personally prefer a stretchy material as it's the most comfortable to wear all day. But most people prefer something with a Velcro fastening because it's more durable.
The Showa Atlas Nitrile Garden Gloves come in small, medium, large, and extra-large.  Showa Gloves provides an extensive choice and they have a glove finder on their website so you can find the type of glove that you need for a specific job or hazard.
If you buy gloves online, follow the company's suggestions for measurements and sizing. Some manufacturers will have an option to print-out a sizing guide with which you can measure your hand against. If not, measure your hand size by keeping your hand flat and measuring around knuckles (thumb not included). Some generalized sizing
Small – 6.5 to 7.25 inches
Medium- 7.5 to 7.75 inches
Large- 8 to 8.75 inches
X large – 9 – 9.75 inches
XX Large- 10- 10.75 inches
XXX Large – 11 to 11.75 inches.
 How to Choose the Right Material
Gardening Gloves are made of different materials depending on the task that you want to perform in the garden. But how do you know which is the right type of material for a particular job?
Disposable gardening gloves are the cheapest gardening gloves you'll easily have access to. Most disposable gloves are actually used in the healthcare or the food industry, but this type of disposable gardening glove is specially designed to be stronger to handle heavy work without much breakage  (and still maintain tactile sensitivity for delicate work). And since these are disposable, you can simply toss them when you're done handling manure and pesticides.
Cotton gloves are common and inexpensive. It's often made of knit jersey or cotton blend which makes them breathable and lightweight. But this also means they offer little protection from heavier garden jobs. It will keep your hands clean, but it's not waterproof (which means they're machine-washable).
If you're after comfort and protection, you might opt to buy gardening gloves made with Spandex or Lycra material. This is usually a mix of cotton cloth at the back of the wrist with a stretchy palm. Some of them are treated to be waterproof and have UV protection. But you'll want this if you don't want strain in your hands after gardening all day.
Rubber gloves are great to use when you're dealing with liquid, chemicals, or moisture. You can actually use the normal washing gloves, but I suggest opting for the outdoor rubber gloves made specifically for gardening as they are more durable. These gloves are not breathable though, so your hands can get a bit sweaty inside. Also, refrain from using this type of glove if you have allergy to latex. 
Synthetic (Neoprene/ Nitrile) Gloves are commonly sold and are affordable. They last a lot longer than the previous gloves mentioned as they're formed with synthetic rubber material designed to protect hands from cuts or chemical exposure.  And unlike rubber or rubber-coated gloves, these are breathable and flexible (which means you're not thoroughly protected from punctures).
Leather Gloves are probably the most expensive material, but they're supposed to be durable, waterproof, and made specially to protect the hands from cuts, scrapes, and even punctures from rose thorns. Those made for rose thorns usually come up to the elbow for extra protection.
Additional Gardening Glove features
Now that you know what type of material you should be using for what type of gardening job, there are some gardening gloves that add extra features that might be helpful for you. These are:
Claw Fingertips. Claw Fingertips Gardening Gloves are very weird-looking but they're said to be helpful for digging. So what I found was, I often forget to use my hand garden tools to do the job, so I end up clawing into the dirt with my garden gloves. If you're like me, these might be useful. But take note that the claws are not removable so you'll have to take the gloves out when you're done with the digging.
Orthopedic Gardening Gloves are helpful for those who experience joint pain when gardening. Most gardening gloves are bulky and restrictive so they restrain normal movements and wear out the muscles and ligaments in the hands.  This pair of orthopedic gardening gloves is designed by an orthopedic hand surgeon with arthritic and sensitive hands in mind. It's made with silicone fingertips for dexterity and protection, as well as anatomical padding which absorbs vibrations from garden power tools.
Touchscreen Gardening Gloves are a thing now because more people are sharing photos of their garden online. There are gardening gloves that are made especially for use with mobiles, but this bamboo gardening glove is probably the best to use in the garden when you want a touchscreen feature without losing all the other functionality of a good garden glove.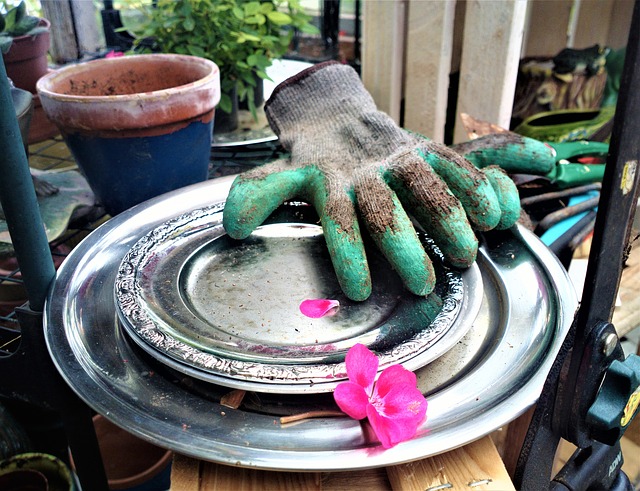 How to Care for your Gardening Gloves
Quality gloves should last for quite a while, but even if they get damaged, you can often repair them and reuse them instead of buying new ones directly. Following measures can be followed for making them last longer.
After using your gardening gloves, brush off the dirt so it doesn't harden and damage the glove's material. You can use a regular cleaning brush or a clean toothbrush, but I prefer using an unused paintbrush so it has the harder bristles to flick off any debris without scratching the material.
If the gloves get wet with dirt and are left to dry, the dirt that has stuck to the material will contract and cause cracks in the protective coating.  This is why you should always wash your gardening gloves after every use. You don't have to launder it properly with soap every time but giving the glove a good quick rinse in clean water after every use can already increase its lifespan. If it's made of cotton, jersey, or knit, you can just throw them in the washing machine.
When storing, make sure the gloves are dry and that it's not left in open space where insects can get to them. Lay them flat in a container where they can get air circulation and where they don't get pinched, crushed, or deformed under other heavy objects. Do not leave them exposed to the sun as the UV rays may destroy their protective coating and wear them out quickly.
Alternately, you can store them in your garden shed by hanging them with the pegs positioned on the wrist closure. This prevents insects from hiding inside the gloves as well as afford you easy access to them.
Make sure that you're using the correct type of gardening gloves for the task you want to accomplish in the garden. General-purpose gloves cannot protect you from roses' thorns as a leather glove would. Don't put any unnecessary wear on your gloves when another type can do the task better.
When should you dispose of your gardening gloves? This depends on its material. Throw it away if you see any visible damages that compromise its protection like any tears or holes. If stored properly, gloves are said to last up to 10 years, but no company would guarantee such a long life span for protective gear.
For latex gloves, 3 years is the recommendation for its normal use. But for nitrile, neoprene, PVC, and others with synthetic coatings, 5 years is the recommended shelf-life.
Why Can't I Just Use Any disposable gloves to garden?
Gardening gloves are designed to protect you from the potential danger you may face when dealing with organic matter or chemical hazards.
Every task in the garden differs in the level of protection that you would need. For example, disposable gloves may keep your hands clean for a short amount of time, but eventually, it will tear and cause an even bigger mess as you fumble for a new pair (Trust me, I know). Rubber gloves are designed to protect you from liquids or chemicals like pesticides or fertilizers, but they cannot protect you from cuts or punctures. Because of their design and the differences in protective capabilities, it's best to stick with the appropriate gloves for the gardening job. If you're an avid gardener, it really helps when you have a pair of each kind (plus a backup!).
Other things you'll love about the Showa Atlas NT370 Nitrile Garden Gloves.
I've already mentioned that this is the most popular option because of how versatile this gardening gloves is, but some things I haven't mentioned yet:
 These gardening gloves come in pastel colors! I love feminine colors and these just give you a simple, minimal look with non-glaring colors. But if you're not a fan, there's always the classic black that's also available.
The fit of this glove is like a hot knife on butter. The feeling is likable, especially after trying bulky gloves that tire you out and make your fingers sweaty that you end up removing them midway through your task.
Kids Gloves
If you have kids who like to garden with you, you'll most likely have to get them protective gear too. Children's hands get bigger around half an inch every year, so I don't advise buying gloves that are too expensive unless gardening is your tot's main thing.
Children's gloves are much like the adult version, only smaller and a lot more fun to look at. But take note that most brands design them with "leisure gardening" in mind as kids are less likely to do hard or intense garden work. This means that the materials used may lean toward fashion and comfort rather than durability and heavy protection.
The Vgo Kids Latex Gardening Gloves is recommended as it's versatile at protecting little hands and has a good size range for those growth spurts. Come and see it's amazing rating on Amazon. For the best protection for those little fingers, however, this leather glove is recommended.
Safety tips Before Gardening
Whenever you're prepping to go out in the garden, remember to protect yourself from the sun by wear wide-brim hats, lightweight and breathable long-sleeved shirts, and sunscreen with high SPF and broad-spectrum UV protection. Give your garden gloves a thorough inspection to check for any noticeable damages. You might need replacement anytime soon if you can see some fraying or tear. Lastly, make sure that there are no insects or any crawling creatures that are hiding inside the gloves: hold the gloves at the fingertips and give it a couple of whacks at the side of a table to see if there's anything inside.
Conclusion
Don't look for the cheapest gloves you can afford. Look for these 5 things: the correct type of glove for the job, Good grip, nice fit, excellent protection, finger sensitivity. A good price point is a bonus!  Ideally, you'll have several gloves at your disposal especially designed for specific garden tasks. If you're just beginning gardening, a general-purpose protective gloves will do as long as it protects you from cuts or contaminants. The Showa Atlas Nitrile Garden Gloves is a great deal as it's versatility and durability make it suitable for most gardening jobs. If you already own other gardening gloves, you'll find yourself using this one the most.