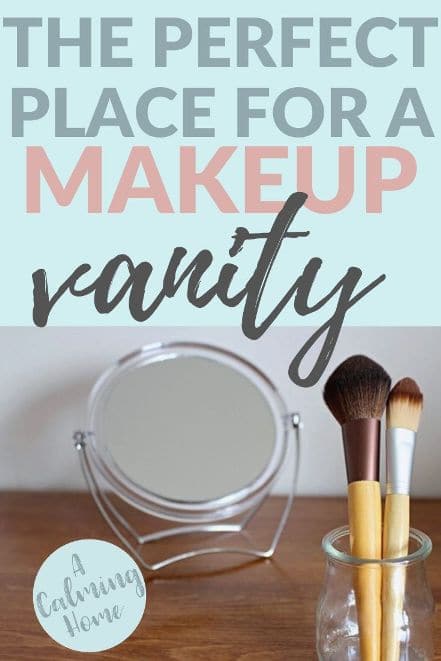 I recently came across a question on a Facebook page that asked housewives where they usually apply their makeup. It caught my attention because majority of the answers were the master bathroom. But is it really the best place to build or put up a makeup vanity?  
To be honest, I've always thought so too, but it turns out, the perfect place to put a makeup vanity table is in a cool and dry area of a BEDROOM  because it usually has natural light streaming in and a consistent or controllable temperature.
But why the bedroom and not the bathroom?
To answer this correctly, we must know what a make-up vanity is and what we should look for in a good area to station it.
What is a Makeup Vanity?
Also called a dressing table or a makeup table, a makeup vanity is a dedicated furniture, usually a mirrored table with built-in drawers and shelves, for the storage of personal care or grooming essentials such as makeup and hair accessories.
There are 3 essential things to look for in a makeup vanity area:
Cool but dry place
A consistent temperature
Good lighting
I'll write another post on what makes a bedroom vanity different from a bathroom vanity, but for now, know that the bedroom meets all the criteria needed for a perfect vanity area.
Let's tackle each of them.
3 Criteria of a good area for a makeup vanity
Cool but dry place
From a pharmaceutical standpoint, "cool" means any temperature between 8-15 (46-59 F) degrees Celsius and "room temperature" means a working environment of 20-25 degrees.
This means that "cool" can range from 8-25 C; anything lower is freezing, and anything higher is too hot.
The term "dry place" means it doesn't go beyond the relative humidity (R.H.) of 40%         
This means that the vanity table must be kept away from places with high humidity (like in the bathroom) and areas with too much heat (exposure to direct sunlight).
This "cool but dry" area can be a pantry, drawer, or in a closed cabinet where the temperature can stay constant.
The reason for this is because most of the personal care products that would be kept in a makeup vanity will have storage requirements that would protect its integrity or its active ingredients from breaking down.
A Consistent Temperature
Your products can change not only in its composition and consistency but also in effectiveness if it's often exposed to fluctuating temperature.
Say that you leave your product on a shelf where it's often exposed to the morning sun, but then gets a cold draft throughout the night. This would cause the product to soften or separate as some of the oil-based ingredients begin to either solidify or melt.
While you can sometimes fix this simply by shaking the product or putting it in the fridge to harden back up,  it would return to its best form.
It's like when you freeze cucumbers and it becomes hard as a rock only to soften again at room temperature. While still edible, it would have turned soggy and is not really useful for most recipes unless you're making soup or a puree of some kind.  
Good lighting
A lot of makeup professionals would agree that natural daylight is the best lighting for applying makeup. Its color temperature is neither too warm or too cold and it doesn't create dark spots or shadows as most artificial lights would.
Putting a makeup vanity in an area where natural light streams in is the best option. But if this is not possible, the right lighting fixture should be purchased and the light should be positioned at every angle to avoid any darks shadows or overcast.
When buying the bulb, remember that the lower the number, the warmer the color (more yellow), and the higher it is, the colder it looks (bluer).
For makeup application, 4800K-5000K bulbs are recommended as this temperature range is sometimes called "Daylight"  and will more closely copy that natural light effect.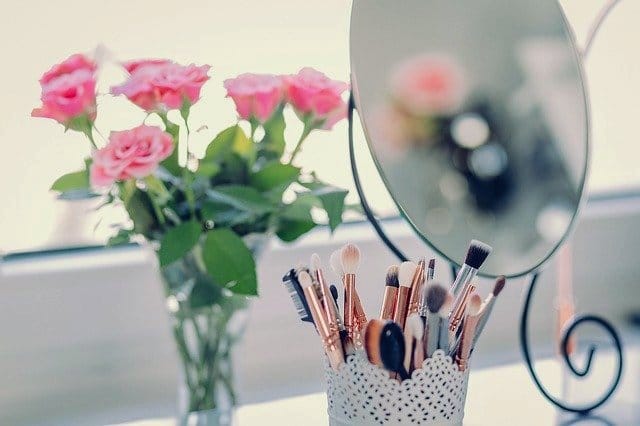 Common areas for a vanity in the bedroom
Now that we know what we're looking for in a good area for a vanity, let's take a look at the most common areas where you can put yours in the bedroom.
By the Window
Normally if you're going to place a vanity by the window, you'll be positioning it in such a way that your face receives natural lighting in all angles. Because if you place the vanity by either side of the window, you might get dark shadows on only one side of your face. We don't really want uneven distribution of makeup.
It's best to place the vanity  in front of the window if your space allows it. But  if your vanity comes with a backboard, this option might not be the best choice as it would only block the window.
If you want a vanity in front of the window, buy a dressing table that doesn't have a backboard that'll only block the light. You can opt to have a regular table with a separate or adjustable mirror.
Ensure that there's no heat source in the area as some windows have a radiator underneath which would get in the way of the vanity as well as ruin the products that you'd be storing in it.
Beside the bed
Probably the most common option to place your dressing table is beside your bed. This is actually a great idea if you have a small room. The vanity can replace your nightstand and you'll have plenty of surface area and storage to put your lamp and other nighttime essentials.
Be wary however of how the lighting is when you have your back turned away from the middle of the room. If your bed is facing the window and you're sitting on your vanity which faces the wall, you'll most probably need artificial lighting as you'd be blocking the light and any light reflection you'd be getting from the mirror wouldn't serve a good enough lighting for makeup application.
By the foot of the bed
Again, the problem with having the vanity by the foot of the bed is seeing where the light would shine upon.
If your dressing table doesn't have a backing, this might not be ideal because the backing would be visible. This would only work if you have a free-standing table that looks good on any side and that there's no backboard or mirror to divide the space and block the light.
If you're positioning the vanity such that you're facing the bed while seated, there's a chance that you'll be blocking natural light. If this isn't the case, this would be the best option for you.
By a bigger furniture
This is actually my most preferred option because you can seamlessly create an entirely different unit by placing the vanity beside a bigger unit like a wardrobe. Aside from not looking out of place, this would save you some space as you would be pushing the furniture next to each other.
Still, pay attention to how the light comes through because there's a chance that it might be blocked by the bigger furniture or the decor that's placed on them.
RELATED QUESTIONS
Can you put a makeup vanity in a Walk-in Closet?
Yes, a walk-in closet is actually a good place to put a dressing table and is usually built with this furniture in mind.  But not everyone has the luxury of space to have this area in their bedrooms. Besides, most walk-in closets have poor or no lighting. But if your walk-in closet has ample of natural light streaming in, go fo it! If it doesn't, but you still want to anyway, artificial lights can be installed in the dressing table. 
What should you do if you have no other choice but to put your makeup vanity in the bathroom?
Protect your products. Ensure that your makeup and other personal care products are stored properly. Keep them in a sealed container or a lidded box inside drawers or cabinets.
Consider running a dehumidifier after every shower so that the condensation doesn't build up. If you don't have an electric dehumidifier, you can just switch on the exhaust fan to purge exhaust moisture or simply leave the window and doors open after every use of the bathroom.
You can also use moisture absorbers and keep them inside the storage areas to help keep your products dry. Simply replace them when they're filled with water.
A hack that I use is to take silica gel packs and put them inside the container where I keep my powder products.
When I don't have silica gel, I also use rice (uncooked). I know it's not common in the west, but in Asia, rice is an acceptable alternative to silica gel.
How can you DIY your own Makeup Vanity?
A vanity table is usually sold with a mirror and storage compartments. When DIYing your own makeup vanity, you only need a table and a mirror. An old desk or any working table can work well as long as you have the seating with the correct height.
It shouldn't be uncomfortable to sit on so the table's height should be complementary to the chair or stool. As for the mirror, you can prop up a large framed one or use a small stand mirror.