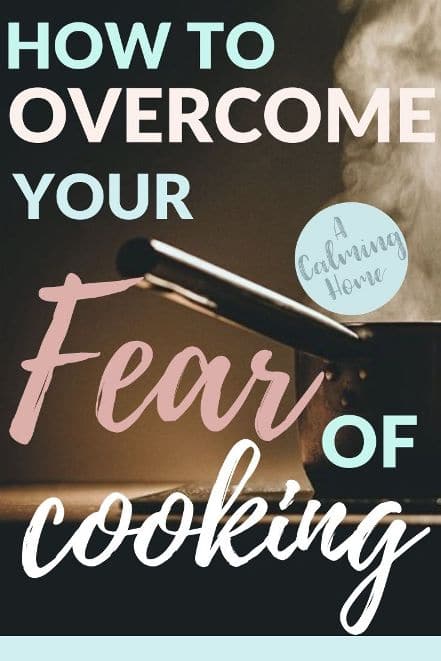 Recently I've found out that some people have a severe fear of cooking, a phobia called  Mageirocophobia, and it's not as uncommon as I've thought. While it seems unusual, I think that we all experience the same anxiety and overwhelm especially when cooking for a large group of people other than our family.
If you're experiencing this fear and anxiety about cooking, you can begin to overcome these feelings by understanding the reasons behind them so you can better manage it.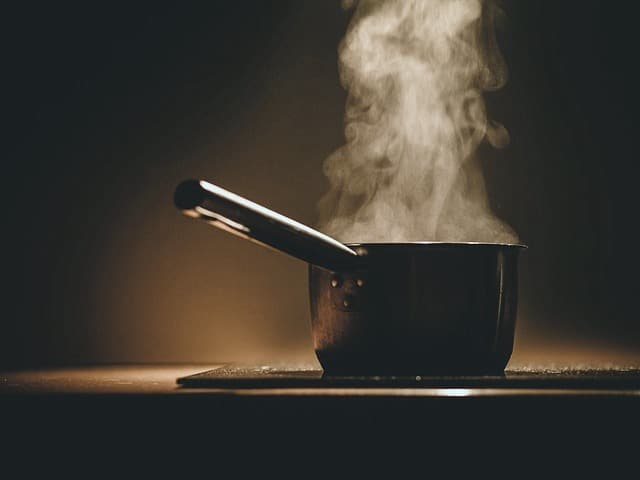 What are the reasons that some people are afraid of cooking?
Fear of serving bad food.
Generally, people don't want to serve bad food as much as they don't want it to be served to them.
But let's define what bad food is. Bad food is something that is not safe to eat, not edible, or if edible, it's not generally palatable (ex. too salty or too sweet).
If you have this fear, you might have doubts about your knowledge or abilities in cooking. Maybe you just don't know how to mix flavors correctly or you're not sure if you've overcooked or undercooked something.  
This is actually a good kind of fear because you can honestly tell the good from the bad and you care about the people you serve your food to. This could be your driving force to get better at cooking.
But don't dwell on this too much because picky eaters do exist and if they don't like something, it won't matter if you're the best chef in the world, they'll still think it's bad.
Fear of judgment.
If you're always afraid of how you're perceived by other people, you may have trouble cooking for anyone for fear of being judged as a bad cook. This is because you've already set yourself up to be a perfect cook who shouldn't be making mistakes.  
It could be the variety of the food, the quality of the ingredients, the appeal of the dish,  you may think that how you cook could be a reflection on how you are as a wife, a mom, or a homemaker.
Your main fear is for people to actually think that by being a bad cook, then you must also be in all other areas of your life. This is silly. We all have weaknesses and strengths and cooking is just one of those skills that can be improved upon if given the chance.
Fear of getting people sick.
This is a valid fear because who wants to be the cause of anyone's food poisoning?
Maybe this is why most people would prefer to overcook things because it's safer and much less embarrassing to cook something rubbery than serve something pink or raw.
Learning about food safety is one of those things that would help build confidence in the kitchen because it would lessen any mistakes in cooking that may get people sick.
Fear of harming self.
If you're afraid of cutting yourself or burning yourself when cooking, it might mean that you don't understand some concepts or techniques behind that part of cooking.
When I was a kid, I remember oil splattering everywhere when I saw someone frying a whole fish and I recalled creating a game plan on how I would cook such a thing by shielding myself with the pot lid as I'd lower the fish in the hot oil.
I laugh about it now because now I know that the splatter actually happens when moisture or water hits the hot oil and that I could minimize it by drying the fish with some paper towel before I cook it. (I also found out there was a kitchen tool called an oil splatter guard).
Doing the recipes numerous times builds confidence because you know what to expect from the process.  It also helps to understand the concepts and techniques behind certain cooking processes or ingredients.
Fear of complication.
To some people, when they think of cooking they think of complicated formulas or methods in cooking that they give up on even trying.
They take one look at a recipe book and get intimidated with all the measurements and the list of ingredients — especially those that are uncommon and not readily available in stores.
And even if they do try it once, if it doesn't come out looking like the photo in the recipe book, they think that they'll just mess it up again so they stop even trying.
Fear of wasting time and effort.
How do you decide what to cook every night?
How do you come up with new dishes all the time?
I also know so many people who dislike cooking because of the time and effort that you need to put in to create a decent meal.
They complain that it usually takes longer to cook and clean up than it is to eat the food they prepared. To them, it's not worth the effort when they can just easily eat out with a variety of food places to choose from.
While this is true, it's not always good to rely on food bought outside.
Aside from not knowing what you're really consuming — with the number of preservatives, coloring, and artificial fillers that they put in food these days — it could really put a toll on your budget.
Eating out is nice for some days, but it shouldn't be made a daily resort for the sake of convenience because you're putting your health and finances at risk.
Tips on how to overcome your fear of cooking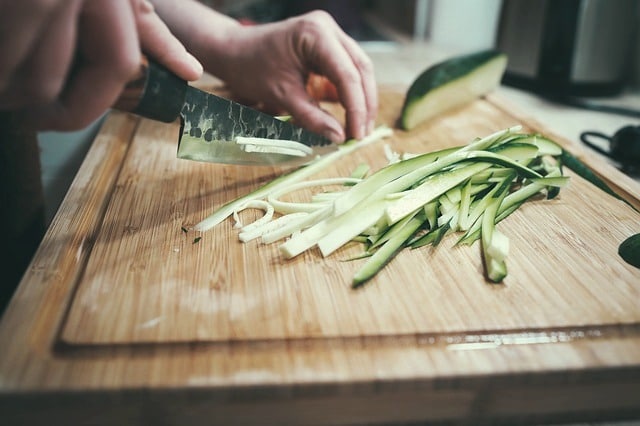 Watch someone else cook.
I think everybody who knows how to cook started by watching someone else cook. It's how I learned too. And I did more than just watch, I would actually sneak in a few ingredients here and there (which may or may not be edible).
I'm begging you to do this LIVE!
I don't want you to watch youtube videos or those popular "cooking hacks" videos where they shoot the cooking process from above and they just dump in all the pre-chopped veggies and meat on a single pan because it makes everything look so easy and relaxed when in reality it takes more than a minute to chop an onion!
 Videos like these are not helpful because all the essential parts of learning are already edited out for easy viewing.
This means that they've cut out the tedious processes like prepping the ingredients, cleaning the tools, preheating the oven or grill, and all of those boring but IMPORTANT things that one must do in order to make a meal.
Watching someone actually do it in person would keep you from having unrealistic expectations of yourself when it's your turn to cook. Because cooking in real life is less of the sizzle in the pan or the pouring of the sauce, and more of making sure you don't burn your eyebrows while checking your oven — and stuff.
Attend cooking classes or workshops.
Of  course, you can learn to cook on your own with time and enough practice, but there are also numerous benefits to attending actual cooking classes:
You'll have an expert to teach you. These experts have already been bad at cooking before they even became "experts". They'll know what you'll have to learn as a beginner and what challenges they'll need to prepare you for so you can overcome them easily on your own.
Professional instructors can instill in you the proper foundation in cooking. Aside from the culinary methods and other technical aspects of cooking, they will give you valuable insights on your current skill level and give the appropriate guidance on turning you into a better cook.
You will also get excited to learn how to cook when you're in the midst of people who are passionately doing them for a living and you'll get to mingle with people who are just as interested to learn as you.
But the real importance of having an expert teach you is not rules or recipes that you'll be learning from them, it's things like perseverance, discipline, creativity, and all those things that make cooking so painfully rewarding.
Trust that with proper guidance and training, you'll improve your cooking abilities and skills such that you'll realize that you're already applying what you've learned without thinking because those basic principles have already been embedded in you.
Practice Cooking.
They say practice makes perfect, but in cooking, there's no such thing as perfect. Sure, there are correct formulas or techniques that will be good to master, but perfection is subjective because everyone's taste bud is different.
This means that it doesn't have to be perfect, it only has to be good enough until you reach your own perfect techniques for certain recipes and particular tastes.
Practicing cooking will allow you to make mistakes and learn from them. It will help you gain more knowledge of how you work with tools and ingredients and will build your confidence as you discover and develop your abilities in the kitchen.
Find a simple recipe with few ingredients and simple cooking techniques. Even something like a salad or a beverage recipe will already help you uncover some of your skills and preferences.
If you don't have the tools or enough confidence to do it by yourself, ask someone to cook with you. They can provide tips as you go along and it'll help you remember them because of the social setting.
Practicing will also help you recognize what particular skills you are lacking (maybe knife skills? or baking?), or maybe tools you are missing (an oven thermometer? an immersion blender?). Acquiring these skills or tools will help you do a better job the next time you cook again.
By overcoming obstacles and learning about your personal preferences, you can make better decisions when cooking or baking. You will understand what you will need to practice on and what tools or appliances which may help you in your cooking mission.
Take interest in the story or science behind the food/tools.
This seems like the most boring part of the process of gaining confidence in cooking, but it's also an important one.
While learning from others' cooking skills and practicing them yourself is essential you also need to increase your ability to understand whole foods and how to properly handle them.
By knowing where food came from and in what ways they can be prepared, you will develop respect for the entire process and create a new level of confidence within yourself, trusting that you know what you're talking about and actually know what you're doing and why you're doing it.
This is a huge step to overcoming your fear of cooking.
When you've gained enough knowledge about food and the tools that you're going to use to prepare them, you'll be able to look back at everything that you've been accomplished, remember what brought you to this point, and where you have been able, albeit slowly, to overcome your fear of cooking.
Overcome your fear of cooking
So to sum it up, cooking is not only a chore for serving others but a life skill that would benefit you the most. If you take initiative to be independent on every aspect of your life, you'll need to learn not to rely on unhealthy ready-made meals or expensive eating out. 
Overcome your fear of cooking by:
Watching someone else cook.
Attending cooking classes or workshops.
Constantly practicing cooking
Taking interest in the story or science behind the food/tools.
I suggest doing all these in order because as you observe others cook, you'll want to know if you're able to do it on your own. But you can't do it on your own without destroying the kitchen if you don't have proper guidance, that's why I suggest attending a cooking class.
And then you can actually apply what you've learned in class in your cooking practices at home.
Naturally, when you do all these things, you'll be drawn to finding fresh ingredients — new and unique ones — you'll naturally want to know where they're sourced, what traditional recipes it's usually prepared with, and what gear or appliances will help you do a particular job well.
Fear can hold us back and make us believe that we're not good enough even if there isn't such a thing as a natural-born cook.
Learning is the answer to conquering all your cooking fears. Take your time and enjoy the process. And remember that perfection is in the taste of the eater.