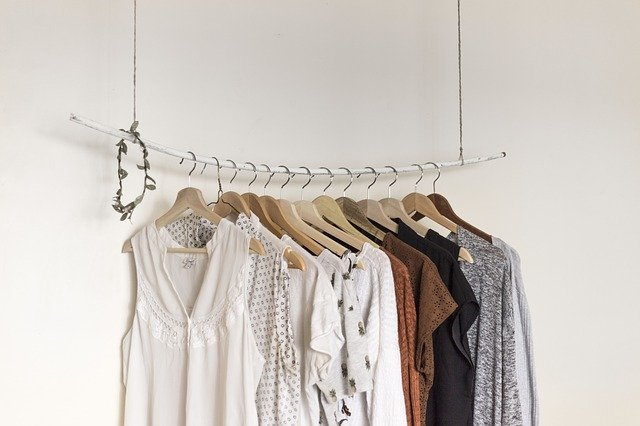 Not many people think about what's the best clothing to wear when doing house chores because it just makes sense to wear the comfiest (and sometimes rattiest) clothing you own when you're literally getting down and dirty, right?
But what we often forget is that when we do our house chores, we are actually exposed to contaminants like dust, molds, or pests, which could transfer to our clothes and make us sick.
Wearing a house uniform is not only for looking nice for any unexpected guests (or at least feel decent while washing the dishes!), but it's also for you and your family's health and safety.
As homemakers, we do house chores every day and I'm telling you, even at the comfort of our homes, we must dress purposefully so we can enjoy even the most mundane of experiences and effectively accomplish any task at hand without looking like we've given up on life.
It's a form a self-love really.
So I made a list of the things you should consider to include in your housework uniform (because your pajamas aren't going to cut it!).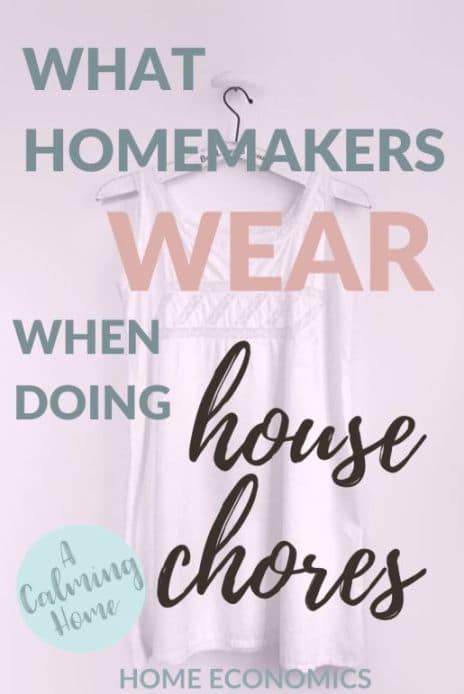 Elements of Housework Uniforms
APRON
More than anything else, a homemaker's apron is an essential part of a homework uniform. Would you believe that there are many types for various purposes? Determining which one is right for you would mean you have to be familiar with all the types. I'll link another post on this in the future.
For now, the best type of apron I can recommend is a pinafore apron. I just love how it looks and some designs come with pockets. My second favorite is a linen cross back bandage apron.
I would also recommend either the cobbler apron or the bib apron. It can also be a combination of these two depending on the functionality and style that you need. It can be made from sturdy cotton material, denim, polyester, or a combination of any of these textiles.
A cobbler apron basically protects your clothing from the back and the front. It has side ties so you can adjust the fitting. What I don't like about it is that it usually ends at the waist or mid-thigh, so it doesn't provide as much front coverage as the bib apron.
The problem with the bib apron is that it doesn't cover the back as it's the traditional type of apron wherein you have a loop that you hang around your neck and you secure it by tying at the back (though most people, like myself, prefer to secure the ties to the front to help with the weight of the apron from straining my neck and shoulders).
ARM GUARD / ARM PROTECTION SLEEVES
These removable sleeves are made for the purposes of sun-protection, heat-protection, or cut protection. The style slightly differs depending on the functionality, but its common purpose is to protect the arms.
Most people use cooling arm sleeves when playing sports to protect them from sweat and UV exposure. Arm guards are common to see in the kitchen to protect a cook's arms from cuts and burns.
HOUSE DRESS
Can you really wear a house dress when doing house chores?
Yes! For light chores that don't require you to be up on a ladder or down on your knees, you can wear your normal house dress as long as it is not a full skirt and it gives you plenty of room to move freely.
I actually recommended a house dress as your default housework uniform because it 's easy to put on, breezy to move in, and pretty to look at. When you find the right house dress for you, you'll never go back to your regular uniform.
It doesn't have to be too loose that it looks like a tent. It can hug you in the right places as long as it still gives you plenty of elbow and knee action.
TOP OR SHIRT WITH SLEEVES
Any cotton tank top or shirt will actually do fine because they're thin enough to be breathable, but thick enough to give you enough protection. It's affordable, presentable, and easy to wash too!
For heavy chores, I would recommend wearing those with long sleeves for added protection. This would prevent any cleaning chemicals from coming in contact with your skin or from creepy crawlies from biting you.
If you dislike wearing long sleeves, I suggest wearing cardigans because they're easy to put on and take off whenever needed. You can also wear arm protection sleeves as an alternative.
BOTTOMS
Skirts: Like the house dress, it shouldn't be too short or too long. If it's too short, it would be perfect to pair up with tights or leggings. It shouldn't have extra fluff that would just get in the way of your cleaning.
I recommend wearing anti-chafing shorts or plain cycling shorts under the skirt if you don't want any accidental panty exposure (Ditto for dresses too!).
Shorts: I don't recommend wearing shorts except when wearing them under your house dress or skirt. If there's too much skin exposure, your legs won't be protected from all the dirt and bacteria, chemical substances from any cleaning agents, and even insects (such as fleas, ticks, spiders, or bed bugs ) that might bite you.
Tights/ Leggings/ Yoga Pants: These 3 are often interchanged these days but there are slight differences among them. Tights are opaque but are almost sheer and cover the feet as stockings do.
Leggings have thicker fabric, doesn't usually cover the feet (although it may come in with an underfoot strap), and is often worn under clothes.
Yoga Pants offer the thickest fabric and it has gained so much popularity because it provides comfort without restricting movements.
You can wear tights and leggings under your normal clothes to provide protection from dirt and insect bites when cleaning. You can wear leggings and yoga pants on its own, but choose those with darker colors or those with busy patterns to camouflage any dirt that gets on it when you're doing chores.
Just remember to wear something a little more frilly as your top to keep things elegant and feminine-looking, like a mini peasant dress or baby doll tunic dress.
Capri Pants: If I ever have to put on pants, it has to be capris — not trousers or jeans. They're comfortable, easy to wear and look presentable no matter what the chore is.
OVERALLS / DUNGAREES (DENIM JEANS)
These are my least favorite to wear because I find them too heavy and stiff at times. While there are softer versions, the thicker ones are especially useful when doing house chores that need heavy-duty clothing. These are also helpful in colder climates or weather conditions because you get more protection from the elements with a thicker fabric.
JUMPSUITS / ROMPERS
I like the look of jumpsuits and rompers, but I don't like having to get naked every time you need to go to the toilet. But it's so convenient to just grab one from the closet without any thoughts and you'd still look well put together.
Rompers look cute and feminine too, but I still think they'd be better off as loungewear and not as a work uniform. Unless of course, you're only doing light chores like sorting mail or purging your virtual clutter.
HOUSE SHOES
In our home, we wear a dedicated pair of slippers for use inside the house. When we step out of the house, we wear our outdoor slippers or shoes.
So how do you find the perfect house shoes for you when doing house chores?
It should be comfortable, but provide enough support for your feet (especially if you have medical needs) and good enough protection from the chore you're going to do.
For instance, while it is unlikely that you'll be stepping on something sharp or dropping anything heavy on your toes while doing house chores, you'll still need some good work boots when doing some garage, garden or yard work to protect your feet.
HEADWEAR
Hair ties / Scrunchies: I'm sure you have some of these somewhere near you. It's part of any woman's beauty arsenal. I like tying my hair up before a task and removing it as soon as I've finished because it's a physical manifestation that I've accomplished a chore. There are loads of pretty styles ot choose from.
Hairbands/ Headbands: This is my favorite headwear because it doesn't hide the length of my hair and it keeps me looking elegant without any effort. You can literally wake up, put on the headband, and look so put together!
Scarves/ Bandannas: These are popular in the glamorous era of vintage housewives. You can wear it two ways, by wrapping it over your head (like in the popular "we can do it!" poster) or by tucking it under your chin (as old Hollywood actresses do when they enjoy a car ride with the top down).
Headwraps/ turbans: I honestly don't know how to use a headwrap, but I'm familiar with turbans and I like using them when I want to make sure that my hair is covered entirely (like when serving or handling food). They're easy to put on too and comes in a variety of designs.
GLOVES
We use our hands to care for our family, so it's important to protect them from any damage when doing house chores.
Wearing the appropriate gloves will keep our hands and nails from getting dry, rough, and looking weathered.
Rubber Gloves : Disposable rubber gloves are useful for almost any chore that would expose your hands too long in water or other contaminants like dust, dirt, mold, dirt and other nasty things.
Make sure that you get a size bigger than your hand so you can still move your fingers with ease but that it's not too loose that you can't do the job properly.
If it's too tight your fingers start to sweat and the gloves is more prone to tearing. I also suggest that using the blue gloves for food handling so you can visibly see if bits of the glove gets stuck in the food.
Dishwashing Gloves : Rubber dishwashing gloves are thicker than medical rubber gloves which means that they are more difficult to work with, but they're useful for laundering and other chores that require long exposure to water or cleaning substances.
Oven Mitts: Oven Mitts protect you from burns when handling hot plates or trays, especially when they've just come out of the stove or oven. If you're not going to wear arm protection sleeves, I recommend getting an oven mitt made of silicone or those long oven mitts with thermal lining.
OTHER THINGS TO CONSIDER
Wear simple jewelry. It's best to take off rings and jewelry with sentimental value so you don't lose them. But you don't have to go with nothing at all because jewelry still makes you look presentable while working. Stay away from flashy designs or anything that can get caught in something when performing a chore. When I was a flight attendant, we wore simple stud earrings (either diamond or pearl), and we wore pearl necklaces and a watch. We can still work and perform emergency procedures while wearing these simple jewelry.
Always wear sunscreen. Even when you're at home, UV rays can still get inside and reflect from surfaces. If you're going to be exposed in the sun for too long like when you're gardening or doing upkeep outside the house, you can consider wearing clothing items with UV protection. And don't forget to wear a wide brim hat that covers your face and the nape of your neck.
Think happy thoughts. When you count your blessings and look forward to good things to come, it'll make you smile and people will notice your cheerful disposition. A happy homemaker makes a happy home, and a happy home is always a good place to come home to. Let smile be a part of your everyday uniform.
CONCLUSION
To summarize, wear clothing that is comfortable, but not too comfortable that it makes you feel and look sluggish. Wear items that are functional, practical, but still look pretty and presentable.
What you wear may not seem to matter so much, but if you carefully consider them, it will make a big difference in how you go about your day.
Good housework uniforms are pretty and protective so that even when you're cleaning and scrubbing, you know that you still look good while keeping safe.