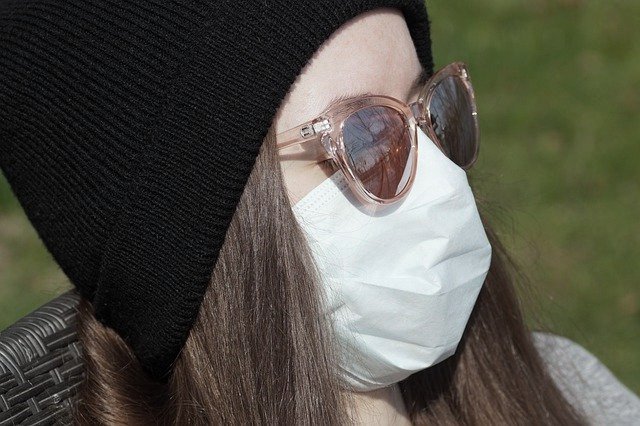 You may have noticed a shortage of supply of surgical face masks due to the Corona virus outbreak that is disabling nations around the globe. I have heard of people asking if they could launder or wash their masks after use because they only have a limited supply. So could they?
The short answer is no. Medical-surgical face masks are not meant to be washed or disinfected. When they become wet from any liquid, including saliva or bodily fluids, they lose their protective properties.
But what if you want to reuse a face mask?
It is not advisable, but according to an infectious diseases expert in Singapore,
a face mask can be re-used for 2-3 days provided that it is kept dry and that the layers and shape of the mask is  intact.
How can you safely re-use a face mask?
When reusing a mask, the expert suggested removing the mask carefully without pulling under the chin to prevent contaminants from getting into the mask.  The mask can then be placed inside a ziplock bag with a desiccating gel to help absorb moisture. This mask cannot be shared with anyone to prevent contamination.
How long can you wear them?
The face mask can be used only for a day but it can be disposed of after every use or when its integrity is compromised.
When do you know when it is time to dispose of your face mask?
These are some instances when you have to replace the mask you're wearing with a new one:
When it's clearly damaged or deformed.
When it's contaminated with blood, nasal or mouth discharge, or other bodily fluids from patients.
When it's inner lining becomes moist or wet.
Following close contact with an infected patient
Remember: Always wash your hands after touching the face mask.
This post contains affiliate links for your convenience.
For more information, see my disclosures here.
How do you safely dispose of a face mask?
There is a proper way to dispose of a face mask and prevent any pathogens from being transferred to the air or through other people who may come in contact with it.
Avoid touching the mask itself and handle only the ties. Untie or break the ties with clean hands and dispose it in a bio-hazardous trash bin. Wash your hands thoroughly after disposal.
If there is no Bio-hazardous trash bin, you can fold the mask into itself, wrap it with a tissue or in a plastic bag (to prevent air exposure) and dispose of as normal.
here is a helpful illustration: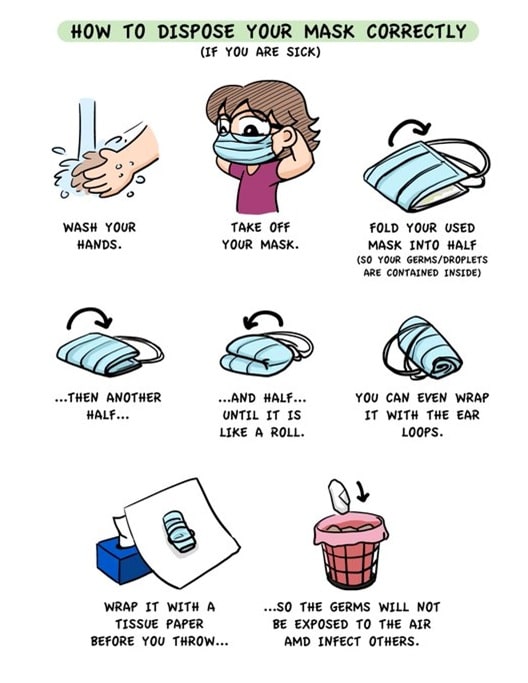 Is there such a thing as a reusable face mask?
Cloth masks are commonly used when surgical face masks are not available. These come in a variety of styles and are made up of different fabrics or a combination of textiles.
There isn't really any study that would prove its effectiveness in preventing diseases, but they can be washed and re-used and can easily be DIYed with common household materials.
This study actually cautions about the use of cloth masks as they may actually increase the risk of infection compared to surgical masks because of poor filtration of harmful microorganisms and moisture retention which could be a breeding ground for pathogens.
And this study (pdf) concurs that there is less risk of contamination when using disposable face masks as opposed to reusable ones.
What is a surgical mask made of and what makes it more effective than cloth masks?
According to this research, the best performing surgical face masks provide 85% – 99% protection in preventing transmission of diseases.
The filtration efficiency of the mask depends on the fiber selection, the manufacturing method, it's web structure and the cross-sectional shape of the fiber.
Microorganisms have different characteristics that can influence their potential ability to break through the material of the facemask.
A cloth face mask is usually made of common household materials (cotton) that are not suited for the filtration of microorganisms. This research actually tested what types of household materials are most suitable for protection from airborne pathogens.
Surgical face masks were intentionally developed to filter droplets containing harmful microorganisms that come from the mouth and nose of healthcare personnel during surgery to provide protection for the patient.
Surgical face masks are usually made with polypropylene, which is a safe plastic material that is woven or knitted together to form a single sheet of fiber.
It is often made in three or four layers, often with two filters in between. The filter itself can provide protection from bacteria by filtering them as they pass through it.
Unlike cloth masks, manufacturers of surgical masks must be approved by several agencies and organizations and their products are put to several tests to ensure that they reach the safety standard set by these organizations (source).
SAFETY STANDARD TESTS
Bacteria filtration efficiency in vitro (BFE). This will test how much bacteria actually passes through the filter.
Particle Filtration Efficiency. This will test the size of particles that the masks can filter.
Breathing resistance. This will test if the mask will hold its shape and have proper ventilation while the wearer breathes.
Splash resistance. This will test if liquid, like human blood, will penetrate and contaminate the wearer.
Flammability. This will test if the mask easily catches fire.
Note: Surgical masks do not prevent specific diseases. Though it is tested for bacteria filtration, it is not tested against certain microorganisms.
Are there any alternatives to surgical face masks?
There are a variety of non-medical face masks available from many stores even online. These are not regulated by the FDA because they're purpose is for occupational exposures.
While they are helpful for things like filtering out dust particles, mist, or fumes from paint, wood, metal, or masonry work, these masks do very little to filter infectious airborne pathogens.
Aside from face masks, what other actions can you take to prevent infectious diseases like flu?
1. Stay away from those who are infected or from possible sources of infection
2. Avoid crowded areas or unnecessary social contacts
3. Maintain proper etiquette or manners when coughing or sneezing by covering your mouth or nose. It's best to wear a face mask when you are sick so you don't infect others.
4. Wash hands frequently with soap and running water, for 20 seconds (the time needed to kill the virus), especially before touching eyes, nose, and mouth.
5. If you have flu-like symptoms, minimize contact with others by staying home and alert the proper authorities or local health professionals.
6. People at high risk of infection are advised to take extra precaution by wearing face masks
7. When mobile, use an alcohol or an alcohol-based hand sanitizer, especially after contact with public surfaces.
To sum it up, surgical masks will not fully protect you from being infected. The best way to lessen your risk is to do proper hand-washing, covering the nose and mouth when sneezing or coughing, and yes, following government directives including self-isolating for a brief period (at least until it is safe to not do so).
Keep safe! Be kind!