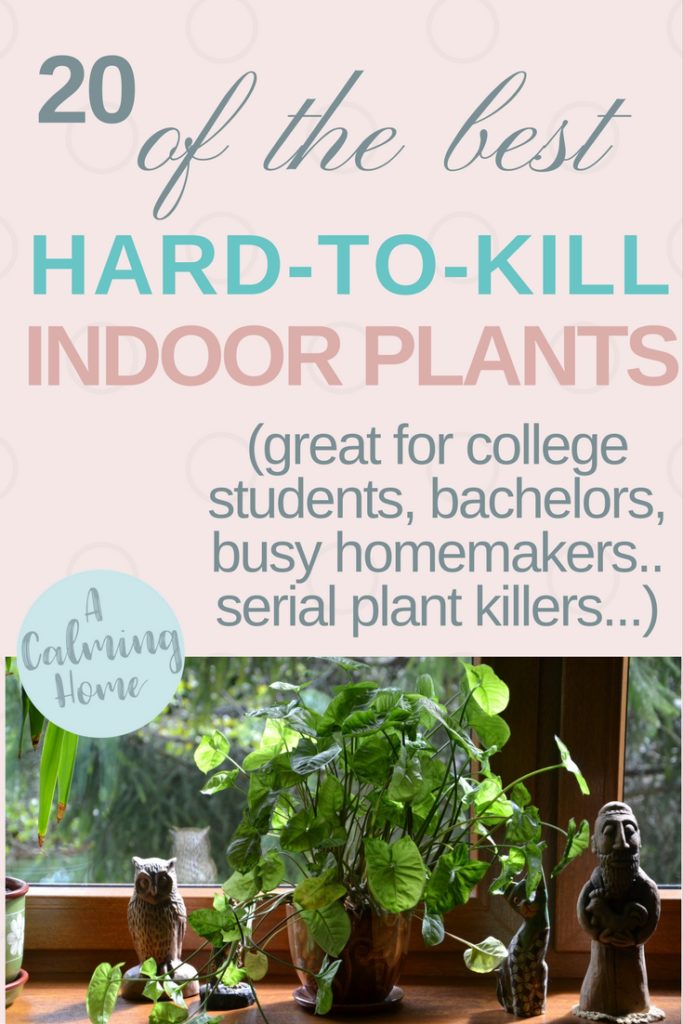 This post contains affiliate links for your convenience.
For more information, see my disclosures here.
I've listed the 20 best indoor plants that are hard to kill. (I mean, these plants are not indestructible, but they will live considerably well in spite of neglect.)
Why?
Because of all the homemaking skills that I can't quite master for some reason, it's gardening.
Don't get me wrong. I love gardening, but it doesn't love me back. If it were a person, it's one that throws a fit and self-combusts whenever I enter the room.
Yeah… I feel bad for me too.
And I'm sure I'm not the only one with a black thumb. You know, a person who, no matter how much she tries to care for a plant, it freakin' dies on her within a week.
So here are my best choices for hard to kill plants… in alphabetical order. (perfect for clueless college students, bachelors, and busy homemakers!).
Watering: Once a week
Sunlight: Partial shade / filtered light
Soil: No soil. Needs air circulation (hence the name)
Fertilizer: once a month in small quantities
Temperature: Warm
Humidity: Moist
Size: Small (around 1-10 inches)
Air Plants are quite trendy little plants for good reasons. They're cute like succulents, are extremely easy to care for, and a wonderful natural decor that'd fit any style of interiors. The name is such because you can grow them without soil.
Just plop them on any surface because they already look great alone as architectural elements.
It's also lovely to hang them in an air plant terrarium or a hanging wall decor and group them together. When watering them, simply rinse in the sink once a week or dip them in water for about 2 hours every other week.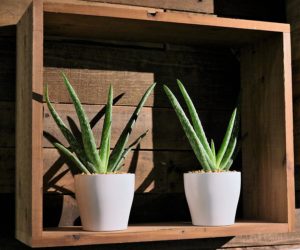 Watering: about every 2 weeks (wait for soil to dry at 1-2 inches deep between waterings),                           and less during winter
Sunlight: bright, sunny conditions
Soil: well-draining soil
Fertilizer: not necessary (for boost only: a little liquid fertilizer once a month)
Temperature: about 30 -35 °F to 50-60°F
Humidity: not important
Size: up to 45cm / 18in in height
Aloe Vera is one of my favorite indoor plants. It's a pretty succulent and has wonderful medicinal properties. We use it as a natural remedy for almost anything! I would often snap a leaf for sunburn, scalp treatment, or cut the meat into cubes for summer drinks!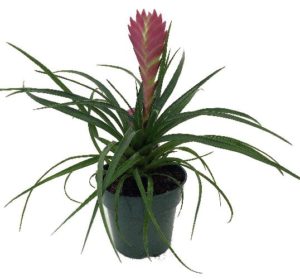 Watering: dry out between waterings
Sunlight: medium to bright light
Soil: Special potting mixes for bromeliads
Fertilizer: half strength fertilizer every month in the growing season
Temperature: 70-90°F
Humidity: high at 60% (mist regularly)
Size: 10-45cm (4-18in) by 10-30cm (4in-1ft)
This is one of my grandma's favorite plants. It looks exotic and adds a tropical ambiance to interiors. It looks hard to care for because of its unusual appearance, but it's actually easy!
Bromeliads have different growing habits because they're actually air plants. They can grow non-parasitically on trees, in the ground, or on rocks.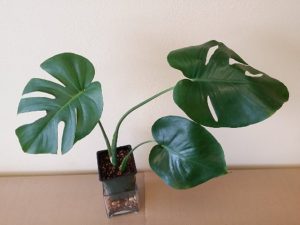 Watering: Average,but keep compost evenly moist. Wait until it's dried out a bit before watering again
Sunlight: bright with plenty of shade
Soil: Good drainage (Mix 1 part peat moss-based mix and 1 part sand or perlite)
Fertilizer: once a month with a diluted solution
Temperature: 65-80ºF (18-27ºC) are ideal
Humidity: average to high
Size: Usually up to 10 ft (3 m) tall but can reach up to 20m / 65ft high!
This cheese plant will only get their swiss cheese holes once they mature. And this grows in the tropical forest and if conditions are right, it can grow out of control if you let it. My family's ancestral home has this and it has covered the entire wall of the balcony. But we liked seeing it that way; it added a natural touch to the home's exterior.
Watering: water only when soil in pot has almost completely dried out
Sunlight: bright indirect light
Soil: well-draining soil
Fertilizer: monthly at 1/2 the recommended strength, not necessary in fall/winter
Temperature: from 18ºC (65ºF)
Humidity: the higher the humidity, the better
Size: up to 5-7ft feet tall
"Dracaena" means "female dragon" in ancient Greek, but is not as harmful as it sounds. This bush, lushly plant needs little care and brings a cheery atmosphere to any room because of its happy lemon-lime color. It produces a lot of oxygen and is also an air purifier.
Watering: Keep soil moist but not wet
Sunlight: likes artificial lighting
Soil: well-draining soil
Fertilizer: every other week (not in fall/winter)
Temperature: about 65-75 °F
Humidity: high
Size: up to 1.5m / 5ft
It's named dumb cane because, in the olden days, this plant was given to slaves to ingest as a form punishment, rendering them unable to speak. This is because the plant has a toxic sap which can inflame the tongue and throat if consumed. This is why it's not recommended for household with children and pets.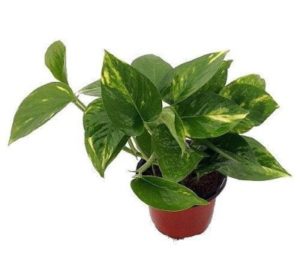 Watering: soil dry out completely between waterings
Sunlight: bright filtered light but can tolerate lower light levels
Soil: soil-based potting mix
Fertilizer: monthly to bi-monthly, with any balanced houseplant fertilizer
Temperature: 60-85 ºF (15-29 ºC)
Humidity: normal household humidity (with misting in dry winters)
Size: can reach 30 ft but in tropical climates, 40 ft or more!
Aside from Aloe Vera, this is my favorite indoor plant. Also known as devil's ivy, it has fast-growing long vines of heart-shaped leaves and removes formaldehyde in the air. It's toxic to pets.
Watering: water when soil is dry to the touch
Sunlight: 4-6 hours of sunlight per day
Soil: dry, well-draining soil ( 3 parts peat or coco-coir and 1 part sand)
Fertilizer: not necessary (but may add slow release organic herb garden                                   fertilizer when planting)
Temperature and humidity:
Herbs for dry & warmer season: Rosemary, Oregano, Marjoram, Sages, Lavender, Thyme and Tarragon
Herbs for moist & cooler months: Basils, Mints, Cilantro, Dill, Arugula, and Chives
Size:
Varies on the herb, but generally kept in a small pot or grown medium to large on the ground.
Keep them flourishing by pinching off the tips of their stems or any flowers that form. I love looking at herbs in grocery stores and sometimes wind up carrying home a few pots or a packet of seeds.. but I'm not as good as growing them.
Although I'm lucky because we had a nanny who used to have a collection of plants and herbs out on our balcony garden — until my brother got a dog and it peed on everything.
Watering: Keep soil continuously moist, with less watering in the winter
Sunlight: Semi-shade to bright, indirect sun
Soil: well-draining potting mix
Fertilizer: regularly during growing season with liquid fertilizer
Temperature: 60-80 ºF
Humidity: normal household humidity (can tolerate low humidity)
Size: 24-36 in. (60-90 cm)
It's also known as the Cast Iron Plant. It's named this way because it's an almost indestructible plant. It's tolerant of neglect and can grow in the dark with very little water. It's also pet-friendly.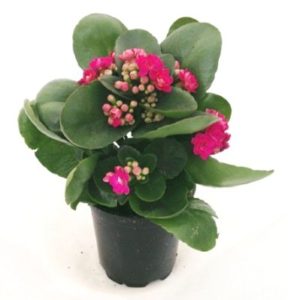 Watering: dry out between waterings
Sunlight: bright indirect light
Soil: well-draining potting mix
Fertilizer: every few weeks with a balanced organic fertilizer
Temperature: above 50°F
Humidity: average (can thrive in low humidity)
Size: 6-12 inches tall
Kalanchoe is a succulent, water-retaining plant and needs little care. It will even grow cheery clusters of bell-shaped flowers thatcomes in different colors. It can tolerate dry climates and temperature swings (even 45-degree a winter weather)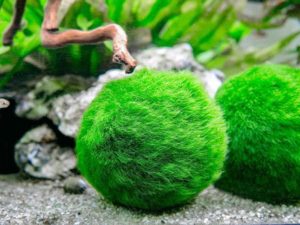 Watering: change the water once a week
Sunlight: normal household lighting or indirect sun
Soil: aquatic habitat
Fertilizer: not necessary (but may give a little aquatic fertilizer from time to time)
Temperature: Cool
Size: Small (around 1-12 inches)
They're also called Lake balls or Moss balls. These weird little green spheres covered in moss are actually a rare growth of algae that have grown and formed into balls. When the water is squeezed out of them, they would freely float.
They're popular among minimalists as you only need a container filled with water for it to thrive. You can keep their round shape by turning them over once in a while.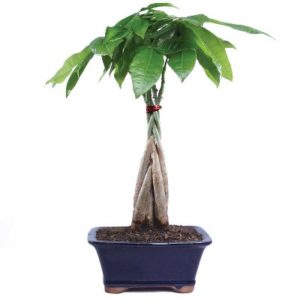 Watering: two to three times a month
Sunlight: bright indirect light (can thrive on fluorescent light)
Soil: well-draining potting mix
Fertilizer: all-purpose houseplant fertilizer once a month
Temperature: 65-75°F
Humidity: moderate to high humidity
Size: 6 inches to 6 feet tall
I love giving money tree as gifts because they're easy to care for and the reason behind the name. The trunk of the tree is usually braided and is believed to bring good luck with money to its owner, hence its name. It's like I'm always wishing someone financial wealth every time I gift it to someone.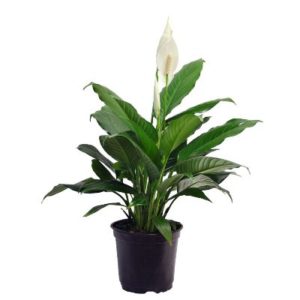 Watering: Keep soil continuously moist but do NOT overwater (will tolerate drought)
Sunlight: bright, indirect light
Soil: well-draining potting mix
Fertilizer: balanced fertilizer one to two times per year
Temperature: above 60°F
Humidity: high humidity
Size: 16 inches tall (or larger cultivars can grow up to 6 feet in height)
The Peace Lily is named after its flowers that look like white flags. It blooms twice a year for two months at a time. They're one of the best natural air purifiers in the world being able to filter toxins from the air, according to NASA.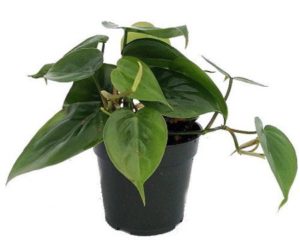 Watering: dry out between waterings
Sunlight: bright indirect light
Soil: well-draining potting mix
Fertilizer: balanced liquid foliage houseplant fertilizer monthly (every 6-8weeks in                            fall & winter)
Temperature: 55-90°F
Humidity: moderate to high humidity
Size: moderate with leaves at 15–25 cm (6–10 inches) wide and 45 cm (18 inches)  long
I often confuse this with the photos plant because they have similar heart-shaped leaves. It's also fast-growing and spreads out beautifully on a trellis or as a hanging plant like the pothos. You can tell them apart by looking at the leaves' colors. If it has splotches of white or yellow, it's not a Philodendron.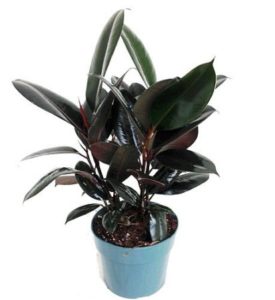 Watering: Keep steadily moist
Sunlight: bright, but indirect light
Soil: well-draining soil
Fertilizer: high nitrogen fertilizer every 4 weeks for mature plants
Temperature: broad range (10°C / 50°F to 29°C / 85°F)
Humidity: humid
Size: depends on the conditions and container it's put in, but usually indoor plants are                     around 9ft / 3M
One of my favorite trees actually. As an indoor plant, the rubber tree is very easy to care for. You can wipe the leaves with a damp cloth to keep it shiny. If you plant it in the ground it'll grow into a huge tree (up to 50 feet tall!) with beautiful vines reaching down.
My dad has this in his front yard to help shade the house from direct sunlight. We have this in our ancestral house too behind my grandma's little fish pond. As a kid, I used to take a leaf and form a cone cup to catch little goldfishes in the pond.
Watering: keep the soil lightly moist (not damp). In winter, water only to keep the soil from drying out.
Sunlight: best in bright light to full sun, but can thrive in any light condition
Soil: free draining soil (cactus potting mix or soilless potting mix)
Fertilizer: monthly
Temperature: average room temperature, between 60 and 75 deg F (16 to 24 deg Celsius)
Humidity: average room humidity
Size: medium ( around 8 inches to 2 feet in height)
This is probably the first plant I had no trouble remembering the name. It's also known as mother-in-law's tongue. NASA research has shown that they help purify the air inside your home by removing toxins such as formaldehyde and benzene.
This is also probably why I see a lot of this plant in offices and public buildings. It can survive in almost near dark and draught. It's perfect for those with black thumb, because the only way to surely kill it is to overwater it (unless of course, lava..& such).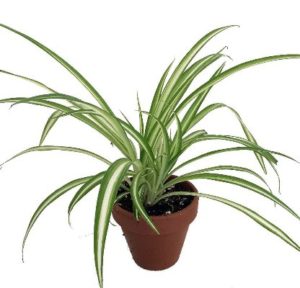 Watering: water regularly in spring and summer, and sporadically in the winter.
Sunlight: bright, but indirect light
Soil: well-draining soil
Fertilizer: not necessary (but if you do, 3 or 4 times per year)
Temperature: cool (around 55 to 65 F / 13-18 C)
Humidity: humid and dry air (but let it sit occasionally in a humid room like a bathroom)
Size: about 60 centimetres (24 in) high
My grandma has these plants in hanging baskets around her kitchen and dining room (…and on top of her fridge beside the window..and..and..). If you keep them on your desk, it'll help reduce air pollutants too! They're extremely easy-to-care for and also conveniently produces small "pups" (plantlets) from which a new plant can grow from. Free spider plants anyone?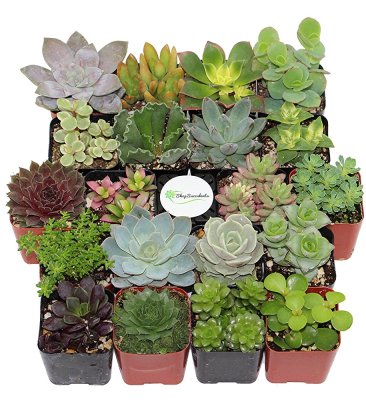 Watering: once a week in hot weather and once a month in cooler weather
Sunlight: 6–8 hours of full (direct) sun everyday
Soil: dry, gritty soil or fast-draining mixture
Fertilizer: not necessary (but may add compost in soil)
Temperature: Warm (70-85 degrees F or 20-30 degrees)
Humidity: Arid with air circulation
Size: Small (around 1-12 inches)
Is it just me or do you see succulents everywhere these past few years? My cousin is addicted to collecting them and she has about a thousand of these. There are so many varieties to choose from and they're easy to care for as long as you give them plenty of sunshine and very little water.
I need to emphasize on the little because I didn't know this before and had to witness my first succulent rot and die after 'drowning' it. They like to be crammed next to each other and would do well on a small container outside the house or just be sitting on your sunny window sill.
Watering: water regularly in spring and summer, and sporadically in the winter.
Sunlight: partially shaded area of bright, but indirect light
Soil: dry, well-draining soil ( 3 parts peat or coco-coir and 1 part sand)
Fertilizer: time-release nitrogen fertilizer once a year or every 3 months
Temperature: can handle variable temperature ranges
Humidity: moderate
Size: 36 inches to 8 feet
You'll see the yucca plant mostly in a hotel or office lobbies where the temperature of the room varies significantly throughout the day. This plant is built for the desert and can withstand such varying temperatures.
Watering: dry out between waterings
Sunlight: do best in bright to moderate, indirect light but will also live in low light
Soil: well-draining soil
Fertilizer: not necessary (may add half strength fertilizer 1-2 times a year in summers)
Temperature: best at 18 °C to 26 °C (65° to 79 °F)
Humidity: basic household humidity
Size: 2-3 feet tall and wide
ZZ Plant is fairly small and has beautiful polished leaves. This plant has also shown to purify the air. You wouldn't want to have this if you have children and pets because it's toxic when ingested.
What a list, right? Any plant I've missed that should be here?
I wonder if these are available in New Zealand? Let me know if they do! I'm hoping to buy a couple of these when we migrate and settle in Auckland. In fact, I'm hoping to plant some of these in my own garden (a requirement for when we purchase a house). For now, I'll stick to pebbles and sticks in a pot on top of my fridge.