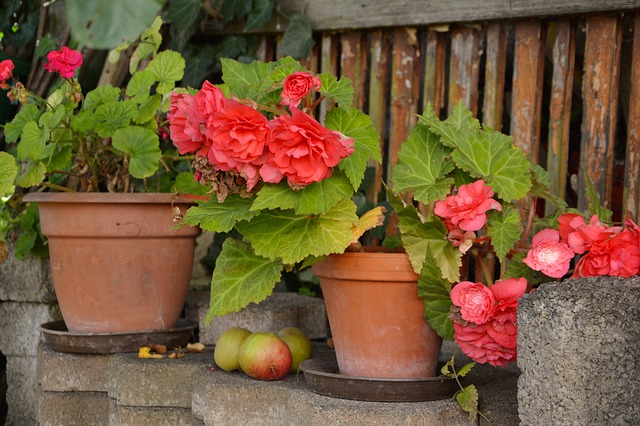 Terracotta pots look amazing whether you use it indoors or out in the garden. They can have blooming plants in them or they can make a statement on their own. They stay on trend whatever the season and are durable enough to last you for years to come. The only thing is, what is that white gunk that seems to build up on the surface?
The white crusty buildup on terracotta pots is because of efflorescence. Since terracotta is made of a porous material, it's easy for air, water or moisture to pass through. The chalky white coating is actually salt and other mineral deposits that are dissolved by moisture which are then taken back up to the surface of the pot as the water evaporates, creating that white patina finish.
I personally like the look of the white film on my terracotta pots as it gives it that aged cottage-style aesthetic that I'm after. Many retailers have even tried to replicate this look and would sell it at higher prices than the regular colored pots.
But if it's just not your style, you can easily remove or prevent these deposits and restore it to its original earthy color.  To understand this better, let's talk about how and why efflorescence actually happen.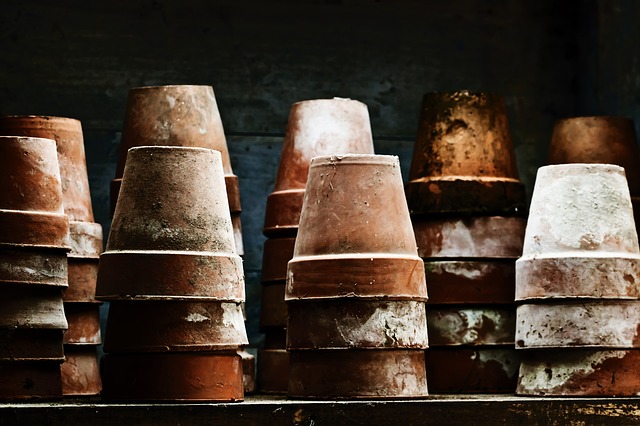 What is Efflorescence and how or why does it happen?
A terracotta pot is made of baked clay, an earth-medium containing mineral elements, particularly iron ore, which is what gives it it's hot red color. Among other mineral crystals, like salt and calcium, a porous material like terracotta can also absorb other minerals from soil, water, or fertilizer.
What this means is efflorescence is unavoidable and will turn your terracotta pot white at some point. Because even if the salts are inside deep within the pot, as long as it's exposed to moisture, when it rains, when you water the plants, or when the weather is humid, these salts will dissolve and be carried to the surface of the pot when the water evaporates.
Is Efflorescence harmful for plants?
No, efflorescence is not harmful to plants. While it looks a lot like mold, it's only a cosmetic issue and it's not damaging to terracotta pots nor harmful to the plants in it.
While the salts potassium and sodium sulfates commonly found in efflorescense may possibly cause a mild irritation when inhaled or when in contact with the eyes, this is uncommon because it doesn't float freely in the air.
The only time efflorescence becomes a health concern, according to the U.S. Army Public Health Command, is " when the suspected salts come from a chemical process, combustion by product, or waste.". If such is the case, then the terracotta pot needs to be disposed of.   
What efflorescence does indicate are two things:
Too much salt content, which can burn plant roots,
or uncontrolled watering or excessive moisture, which can lead to mold growth or root rot if unchecked.
Terracotta pots do a great purpose in controlling both concerns by naturally wicking off excess water or too much mineral content in the soil.
How can you tell if the white residue on the terracotta pot is not mold?
Since efflorescence look a lot like mold, which is harmful to health, you're likely to want to know how to tell the difference. According to the International Association of Certified Home Inspectors (InterNACHI), these are some of the noticeable differences:
1. Solubility. Efflorescence dissolves in water, while mold does not.
2. Texture. Efflorescence turns powdery when rubbed with your fingers. Mold does not. It can appear velvety, soft, and fluffy, or grainy, slimy or spongey. It varies on the type of mold and the surface it's growing on.
3. Color. Efflorescence is almost always white or yellow. While mold can be any color, but mostly often black, gray, green, or blue.
4. Surface host. Efflorescence develops on inorganic masonry materials, like terracotta clay. Mold, in contrast, grows on organic materials, such as wood. But mold can also grow and feed on dirt or the build up of the salt residue on the pot surface.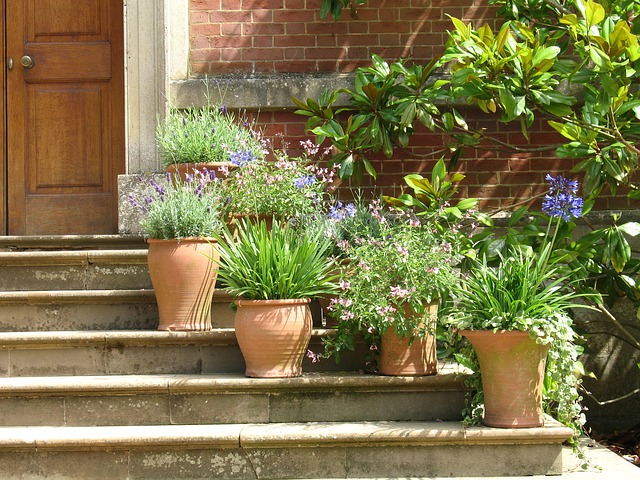 How To Remove Efflorescence
A Regular Wipe down
 Regularly wipe down the surface of the terracotta pot with a damp cloth to prevent any formation of the crystals. If it's not too crusty, it should be easy to remove.
I suggest that you remove the white spots the soonest they appear if you don't want it to build up to  harder deposit which will require more than a simple scrub down. 
Scrub and wash with natural solution
You can also use a coarse brush to remove flaky bits and wash with plain water. You can also use natural solutions if you need extra cleaning power.
I don't recommend using any detergents to avoid the odds of forming any new deposits.  But keep in mind that the water will soak the salts back into the pores of the pot, meaning that efflorescence may reappear.
How to Wash and Clean Terracota pots:
The best time to clean terracotta pots is when repotting. Remove the plant and scrub away any dirt clinging to the pot. Make a natural solution:
Vinegar Solution: Use 1 part vinegar to 3 parts water
Bleach Solution: Use 1 part bleach to 20 parts water.
Leave the pots to soak in the solution for 20 to 30 minutes. The terracotta pots should be completely submerged in the solution. Let the pots dry in sun. It's now ready for planting!
Baking Soda Paste: Use enough baking soda and water to form a thick but spreadable consistency, like body lotion. Use a small hard-bristle brush ( an old toothbrush, manicure brush, or dish brush), and scrub away until you remove all the white streaks. Repeat if necessary.
Sanding or Pressure Washing
Pressure Wash. If washing and scrubbing by hand isn't helping, you can try pressure washing the stubborn residue. Use the lowest pressure setting so you don't damage the texture of the terracotta pot or widen the pores of the clay. Wider pores means easy access for salts to form new deposits.
Sanding. You can also try buffing off the white residue with sandpaper. A medium grit will do. I don't recommend using a sanding machine though. Just lightly buff off the streaks by hand until you can see the earthy red color appear again.
Washing With Mild Acids
By acids, I mean to include vinegar and citric acids. These are safe acids to use and helpful at breaking down salt crystals into tiny particles that can easily be rinsed out with water. 
If the crystals are really crusty and stubborn, a stronger acid might be best. You can use hydrochloric acid (HCL) but you should always dilute it before application because it's too corrosive if used at full concentration. Don't forget to wear protective gear such as gloves, eye protector glasses, and a mask to protect yourself against possible health hazards. 
Otherwise, you can also consider using commercial cleaners specially formulated to remove efflorescence. Eco-Etch Pro Concrete Etcher & Cleaner is one of the most famous products in that category. 
To finalize your washing, sprinkle some baking soda on the surface to neutralize remaining acid which may harm plants and animals. Then do a final rinse.
Is Efflorescence a Sign of Poor Quality Terracotta Pot?
No, efflorescence is only a cosmetic flaw and will not affect the durability of the terracotta pot. It can happen even to newly made pots where there's no sign of chipping or cracking.
Efflorescence may develop both inside and outside of terracotta pots.
Machine-made terracotta pots are dried at higher temperatures and therefore has a more compact structure with smaller pores. This makes it difficult for the salt minerals to pass through.
But artisan or handmade terracotta pots are baked in low heat over a longer period therefore making efflorescence a more likely occurance.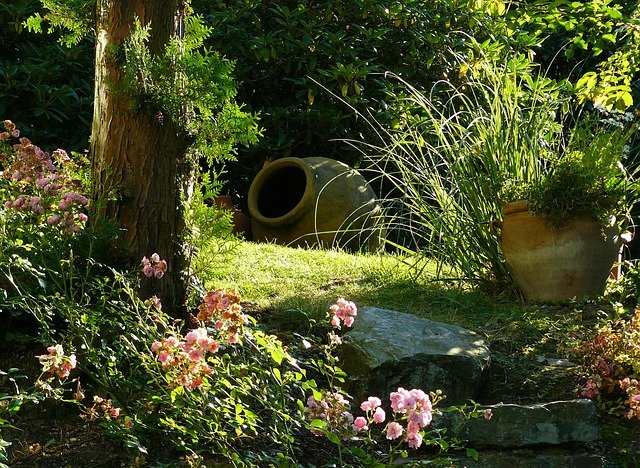 Does weather affect Efflorescence?
According to this data, efflorescence is a seasonal problem and more likely to happen when the temperature drops, like in the fall or winter, when it's both cool and humid. 
The reason for this is water evaporates slowly when the weather is cool, giving enough time for the internal salts and minerals to rise and collect on the surface of the terracotta pot.
On the other hand, when the weather is hot and dry, any moisture is wicked out as fast as it comes to contact, preventing any residue from rising and building to the surface. 
Can You Prevent Efflorescence?
There are many ways you can prevent, or at least lessen efflorescence from happening to your terracota pots.
1. Use Distilled Water or Rainwater
 You're probably using hard water to water your plants as most homes do, and unaware of all the minerals that builds up in the soil that may even damage the plants' roots.
Use distilled water or rainwater, to prevent excessive mineral content that cause efflorescence.
2. Choose Gentler or Organic Fertilizers
A lot of commercial fertilizers are loaded with salt. Plants will actually die when there is too much buildup in the soil because it can burn their roots. You will know when your soil has too much fertilizer in it when a white crust forms either on top of the soil or on the sides of the terracotta pot.
To remedy this, use gentler or organic fertilizers for your plants. You can make your own fertilizer using your garden compost.  
3. Control Water Exposure or Humidity
As long as water or moisture is introduced, efflorescence is likely to happen. With high humidity, the terracotta pot will not dry out as fast allowing more time for the salt minerals to reach the surface and deposit. If the air is dry, the water is quickly wicked off the pot preventing the crystals from even making it to the surface.
How to Leach the Soil
Every few months, leach the salts from the soil by flushing it with water that's twice the volume of the soil. Remove any thin layer of white crust that develops on top of the soil. Let the pot stand to drain freely as you pour all the water through.
Don't let the water gather in a plate or saucer where the soil may draw out the salt crystals. I'm aware that while it's recommended for some plants to be watered from below, you'll still need to leach these plants regularly if you don't want any salt buildup.
4. Waterproof Your Terracotta Pots with a sealer
You can applying a water-based sealer to create a waterproof barrier on the terracotta surface.
Advantages to sealing a terracotta pot:
1. Sealing will prevent water or moisture from seeping in or out, along with the salts and minerals that go with it.
2. If the pot interior is waterproofed, you can safely store water or food inside because you would've removed any chances of contact with the impurities within the clay pores.
3. You can also prevent green algae from forming on the interior or exterior of the pot.
4. You will extend the life of your terracotta pot
Disadvantages to sealing a terracotta pot:
1. The terracotta pot would lose its natural ability to breath, which is what makes terracotta valuable in the first place ( It helps reduce problems like overwatering, which leads to root-rot).
2. The natural and organic look of the terracotta pot's matte texture will be replaced with a glossy sheen (unless you like that look).
3. The sealant can have some level of toxicity, not only for the sealing process but for the edible plants that'll grow in the treated pot.
What types of non-toxic sealant can you use for terracotta pots?
Pot sealers. Rustoleum sealers are touted safe for this kind of job. They are mostly spray-on-application, like Plaid Clay Pot Sealer or Aleene's Acrylic Sealer.
Penetrating Sealer
There's also a penetrating sealer like Miracle Sealants Impregnator Sealer. It will be absorb and sit just behind the surface, giving you an invisible protective layer but leaving you with the terracotta's natural matte finish.  
Liquid Rubber
There's also a liquid rubber spray by Flexseal that effectively seals the inside of your pot and yet safe for plants.  (https://amzn.to/3r27bvD)
Here's what your sealing process may look like:
Remove all dirt, grease, oil, and debris from the pot
Remove any existing sealer.
Clean and wash with a suitable acid to prep for the new sealant.
Let it dry completely.
Apply the first layer of sealant. Dry completely.
Apply a second coat in the opposite direction. Dry again.
Remember to seal in a safe area where there is planty ventilation. Wear the appropriate protective gear.
In summary
So, now we know that terracotta pots turn white when exposed to water or moisture.
The water will dissolve the salts, calcium, and other mineral content in the soil, water, fertilizer, or the clay material and carry it all to the surface where they'll build up as white crystals after the water evaporates. 
To fix it, you'll need to scrub it all off with a bleach or vinegar solution.
To lessen this, avoid long exposure to water or high humidity. It will be difficult for places where it rains a lot or where there is high humidity, like shady spots are along rain drainages.
The most effective way to prevent efflorescence is by waterproofing the terracotta pot with a non-toxic sealer.
Remember that the label may say it's non-toxic for plants, but also inquire if it's approved for use for edible plants. And always follow the manufacturer's recommendation to ensure safe usage and optimal results.