The kitchen is the hardest area to simplify in my home. I love to cook and I'm also a pastry chef, so I must have more items than what a minimalist homemaker would have. I'm hesitant to use the word minimalist because I've heard of others who are overprotective of this word. But for a lack of a better term, I'm using it anyway.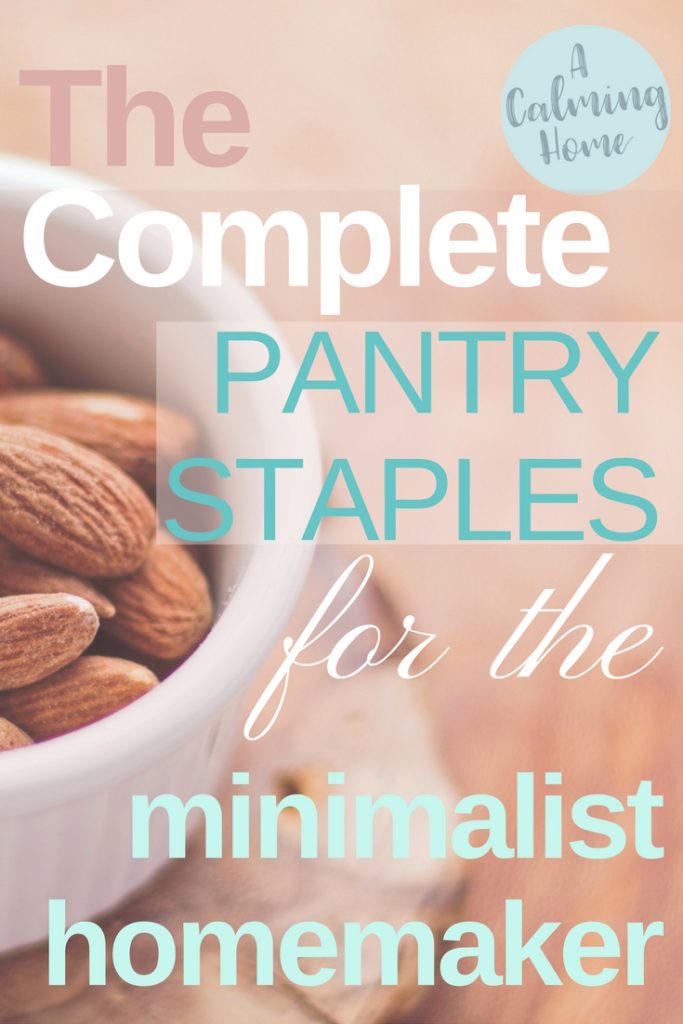 This is fine with me because it just means I have a simplified home with a nourishing kitchen; I cook sumptuous meals and whip up fine pastries so my family doesn't have to spend money eating out. The way I see it, I run a home, not a dormitory; my kitchen reflects that. If you happen to know how to cook for the holidays with just the bare minimum, I would love to know your secret!
Before I reveal my list, let me just say that a kitchen pantry is pretty much like a capsule wardrobe; we all have different items depending on our taste and lifestyle. I cook a lot of Asian dishes which means my pantry staples can look very different from what yours is. So let this be an inspirational guide, not a rule. 🙂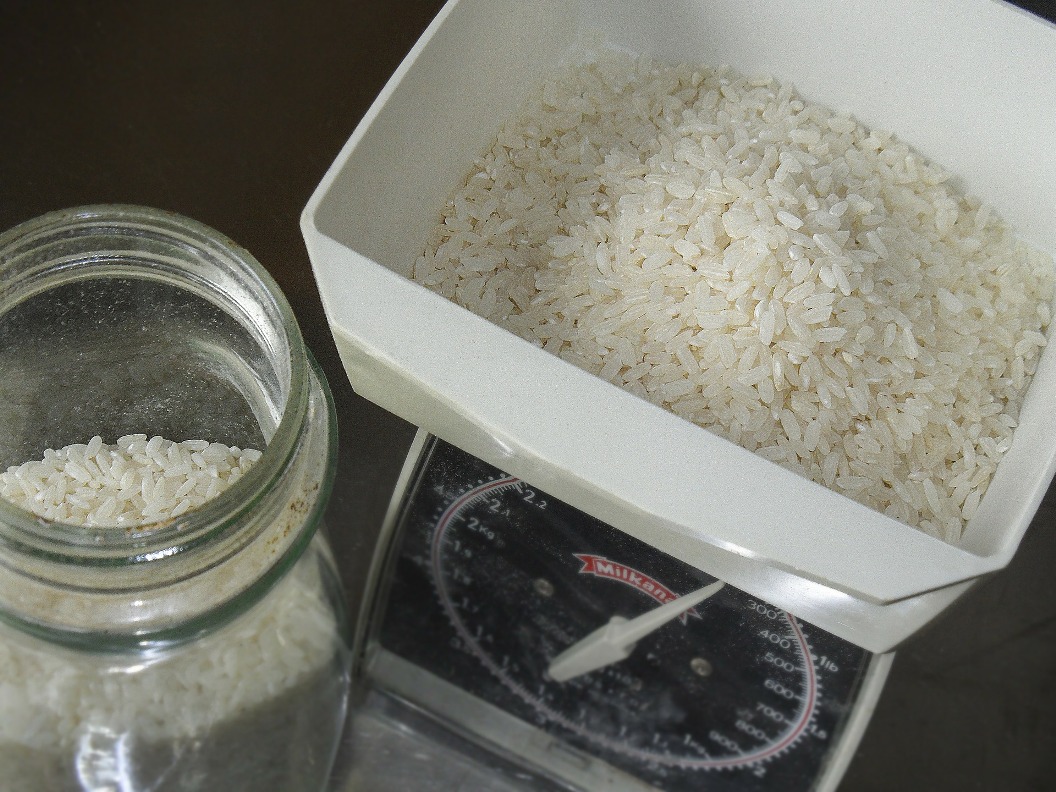 DRY GOODS
Pasta:
I don't think there'll be an argument with this one. Pasta is extremely versatile; I don't think there is any meat or vegetable that can't be combined with pasta to make a meal. You can dump in practically any kind of sauce and you have an instant meal. It can feed a neighborhood for mere pennies too! It's quick to cook so you can whip up a decent meal for unannounced guests.
Rice:
In my home, a meal is not complete without rice. Most people falsely believe that we can only serve it with Asian dishes, but I serve rice with steak, ribs, stews, chilis, fajitas, fried chicken, and almost any kind of dish I could think of. It's great to eat with saucy dishes, and like pasta, it has a neutral flavor so you can practically eat it with everything! It is the easiest grain to digest too so it is good for those with food allergy and weak digestion. It's cheap and has a long shelf life when stored properly.
Rolled Oats:
Instead of cereal, I love having oats in the morning, especially when I put powdered milk on top and eat it without mixing (is this normal?). I like it as opposed to cereal because it only has one ingredient: oats. They're quick to prepare too and can be flavored with fruits and sweetened with organic honey — my preferred sweetener.
Cornstarch:
I use it for thickening sauces and soups. I sometimes use this for a crunchier breading for fried chicken.
Dry Baking Items
Flour:
I know not everybody bakes, but I bake almost every day; I must have flour in my pantry! I love making homemade breads, cakes, and pastries for my family, so this will remain a staple for me. You can choose to purchase whole wheat flour instead of bleached all purpose flour if you are opting for healthy baking. If you want to minimize your baking items, use self-rising flour so you can omit leaveners like baking powder.
Cocoa Powder:
Same with the above; I bake, guys. I need chocolate in my life! I also use this to make my kids' chocolate drink.
Sugar:
I only use sugar for baking, and I use it very minimally. If the recipe could do without a sugar I will not add any. So far, my home is not entirely sugar-free, and I'm okay with it. 🙂
Baking Powder & Baking Soda:
You know I could get rid of these if only I were not a baker, right? But I also use baking soda for cleaning…so…
For Drinking:
Coffee, Green Tea, Milk Powder (I also use these 3 to flavor my baked goods)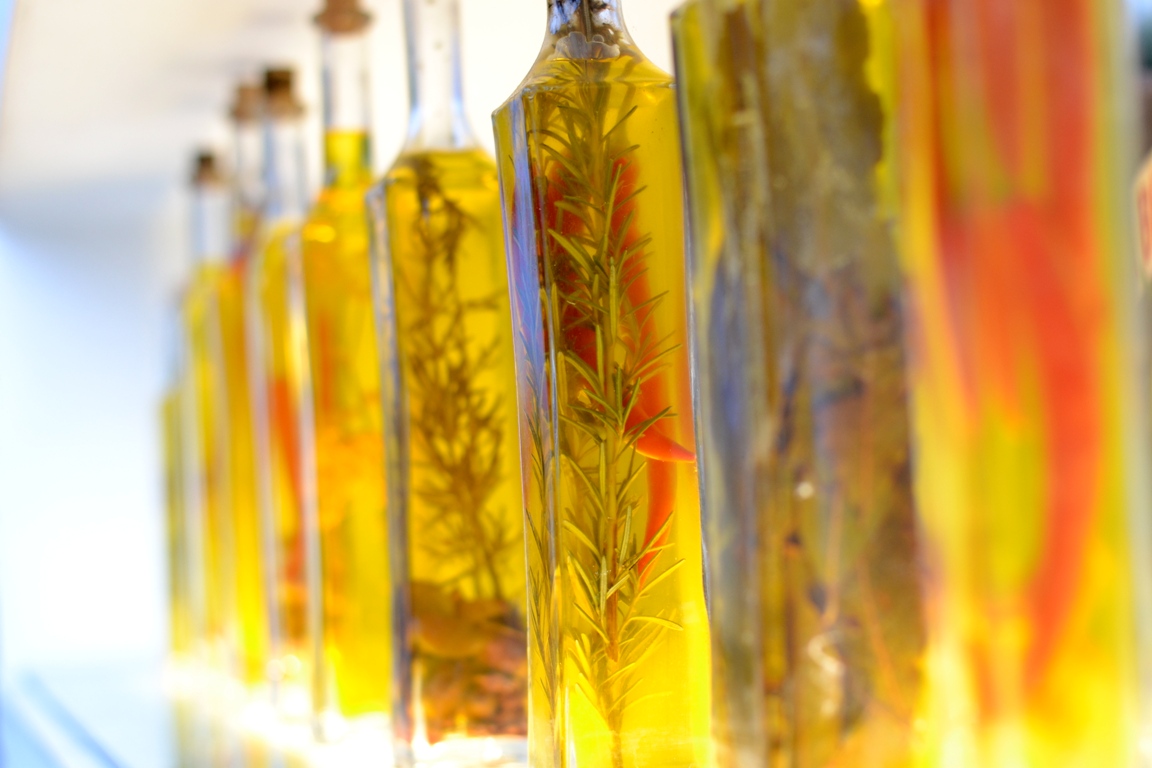 This post contains affiliate links for your convenience.
For more information, see my disclosures here.
LIQUID ITEMS
Stock or Broth:
Chicken stock, beef stock, bone broth, seafood stock, vegetable stock, are all great to have on hand to serve as a base for your soups or to flavor sauces and dishes like quick sautés. I know it's best to make your own, but I like to be on the safe side and stock up on some so I don't have a panic attack in case I run out of my homemade supply and it's past midnight (what are the chances, right? humor me). The store-bought kind are full of MSG and sodium though, so look for brands with the lowest salt content, and get organic if you can.
Oils:
I use extra virgin olive oil, coconut oil, and sesame oil for Asian dishes.
Vinegars:
I have balsamic and apple cider for making salads and for cooking. I use white vinegar mainly for cleaning. I love using vinegar in my cooking because it brightens up almost any dish. It adds flavor, preserves food (because of its acidity), and slows down the browning in potatoes and apples. And what pantry item does a better job at cleaning windows?
Soy Sauce:
Look for something with less sodium, or if you're looking for something gluten-free, try coconut aminos.
Oyster sauce: You know that taste you can't quite put your finger on when you eat Chinese food? It might just be this umami-packed, sweet and savory sauce! I use it for stir fried or steamed vegetable and fish. I also use it if I want to add richness to sauces and stews.
Fish Sauce:
It's mostly used for Thai, Vietnamese or Filipino cooking, but I used fish sauce in place of salt for most meal I make. Salt is just, well, salty… but with fish sauce, it adds extra flavor and character to my dishes.
Chili sauce:
who can't appreciate a little heat? I'm guessing you're already acquainted with sriracha, but have you ever tried cooking with a bottle of Chinese chili bean sauce? I think hot sauce would pale in comparison to how chili sauce adds heat and flavor to ANY dish.
Honey:
My choice of sweetener. I choose organic honey, and if I can, manuka honey for my oatmeal and salads.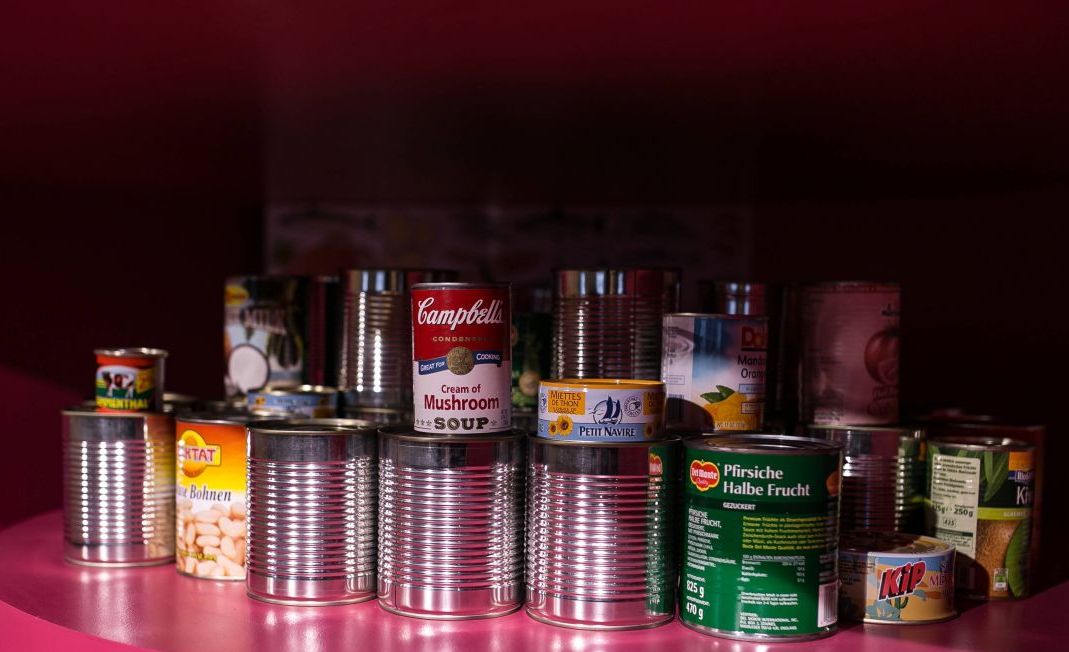 CANNED GOODS
Canned Tomatoes:
pasta + canned tomatoes = satisfying meal. They go hand-in-hand; you almost can't buy one without buying the other. It's a law of some sort. I always buy the whole ones though; I don't want it getting mushy on me during the cooking process. Besides, I like having bits of tomato chunks in my soups, stews, chilis and sauces.
Tomato sauce is also good to have; I slather them over toast or ready-made pita bread, add cold cuts or basil leaves, and sprinkle melty cheese for a quick pizza-ish snack. Look for ones with less or no added sugars.
Canned Fruit:
I prefer to use fresh fruits and that's what I always buy. But we always consume fruit in the form of salads and desserts and I'm afraid of running out, so I must always have a few cans in light syrup so I never have to worry. I usually buy canned peaches and pineapple. For fresh fruit, we like fuji apples and bananas (which I leave on the dinner table so anybody can just grab one).
Coconut Milk:
What would I do without coconut milk? It basically replaces all other milk or cream based recipes — the dairy kind or the nut kind (my son has a nut allergy). I use it as a base, mostly for curries, and as a thickener for stews and sauces. I also use it for smoothies and when making desserts like ice cream, puddings, and pannacotta. Look for good quality coconut milk (the full-fat kind) so that you can whip it up for a vegan version of whipped cream when you need to; you can always water it down if you need something light.
Fish in can or pouch:
Sardines, salmon, and tuna are all good backups to make quick salads and sandwiches. I know most people hate the taste of canned tuna, but it's always good to have a few in case of those days when we are too lazy to make a proper meal. You can always flavor it or drown it in homemade sauces. You can buy the water-packed ones in pouches though.
And I like the canned sardines in tomato sauce, they don't taste as bad, especially if you squeeze a lemon in there. They are usually good sources of omega-3s, and vitamin D, and calcium from the bones, but depending on the brand the nutrients may have been washed out already. Pick some good brands. What are your picks?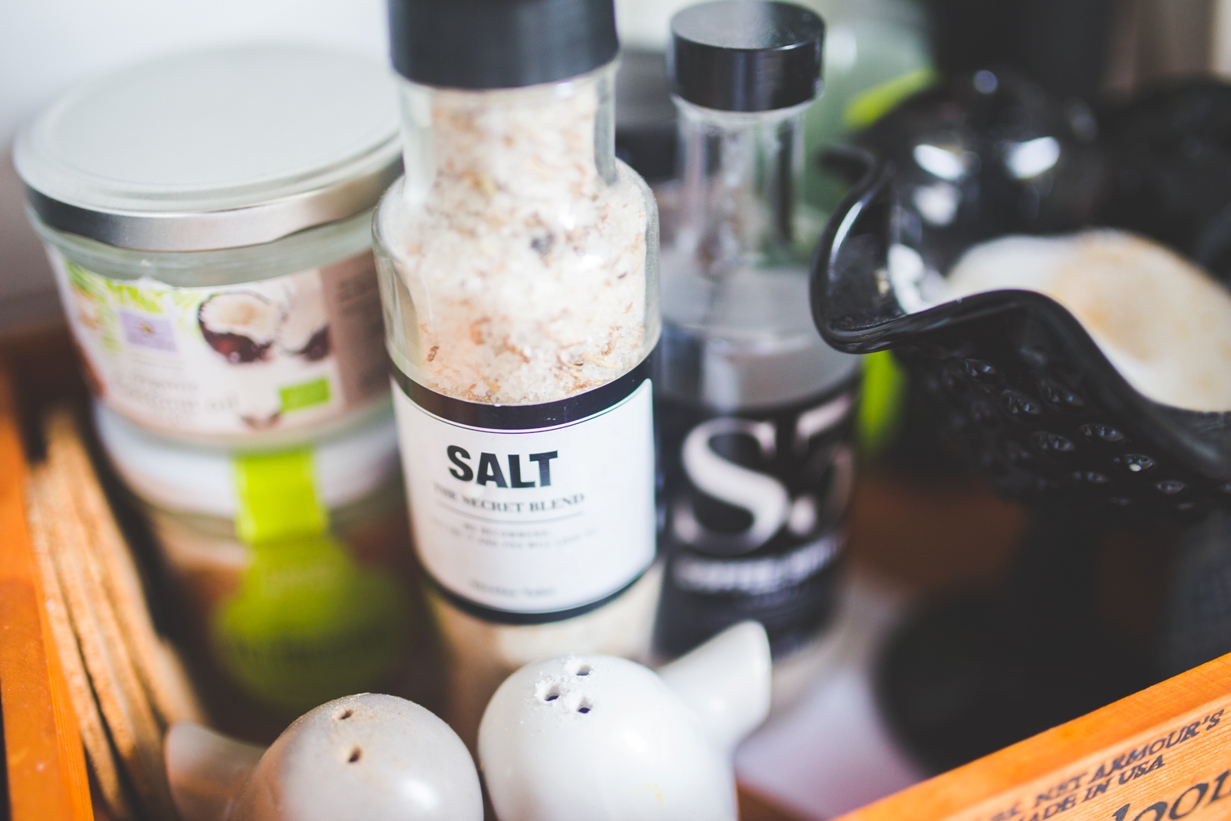 HERBS & SPICES
Ideally, fresh herbs are great to have, but if you have a brown thumb like me, dried herbs are fine! I try to limit my collection because I found that I tend to use only a few of them. My tip is to use spice blends so you get the flavors you want and not have to keep multiple bottles of herbs and spices that you don't really use.
Others would argue that there might be some flavor imbalance or that you can't control how you want it to taste. This is up to you. But for me, I try to make it easier by using those that already works with my recipes and have gotten the approval of my family. I suggest that you find the brand and blends that you like.
Here are my picks:
Fresh:
Onion
Garlic
Ginger
Dried:
salt or sea salt
Whole Black Peppercorns (I have a mortar & pestle to grind them)
garlic powder
curry powder
turmeric
chili powder,
bay leaves
Italian Seasoning
Garlic & Herb Seasoning
Cinnamon
vanilla extract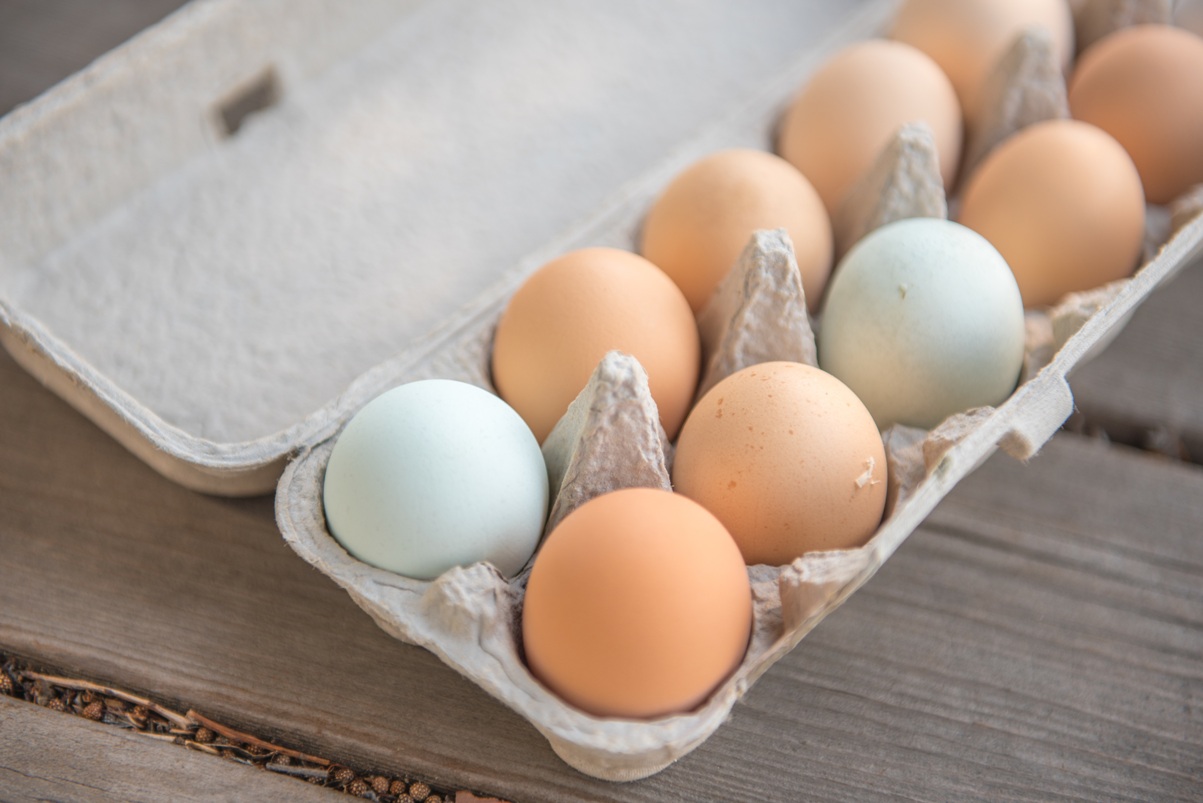 REFRIGERATED ITEMS
Eggs:
We don't really refrigerate eggs if we buy it straight from the farm, but if it's already refrigerated when we bought it, I'll make sure to place it in the fridge. One thing I always do regardless of how I will store it, is to wash the eggs first in a solution of water and food-grade hydrogen peroxide.
Butter:
I almost exclusively use butter for baking. Don't fear the butter, it's good for you as long as you buy quality grass-fed butter. You can also try  organic ghee if you are lactose-intolerant or have allergies.
Cheese:
I  mainly use cheddar. I love other kinds of cheese, but we are trying to minimize our dairy intake, so I keep a cheddar to serve as my all-purpose cheese.
That's it!
How did I do? You think I missed any? What are your pantry essentials?