Sometimes my husband and I find ourselves craving for some late-night snacks, but in those instances, I'm usually already too tired and lazy to go to the kitchen to grab anything. So we've thought about putting a mini-fridge inside our bedroom. But then I thought, is that option even safe?
is it safe to keep a refrigerator in the same room where we sleep? There is no scientific evidence to suggest that keeping refrigerators in the bedroom is harmful to health. While the main concern is typically gas poisoning or EMF radiation exposure, either is found to be remote. If it does happen, it's likely that the level or amount is so insignificant to be even considered toxic.
To better understand this, we'll talk about what causes gas leaks and  EMF radiation exposures and why you don't have to worry about them.
We'll also look into all the possible hazards of keeping a fridge inside the bedroom and share safety tips that you can do to minimize or prevent them.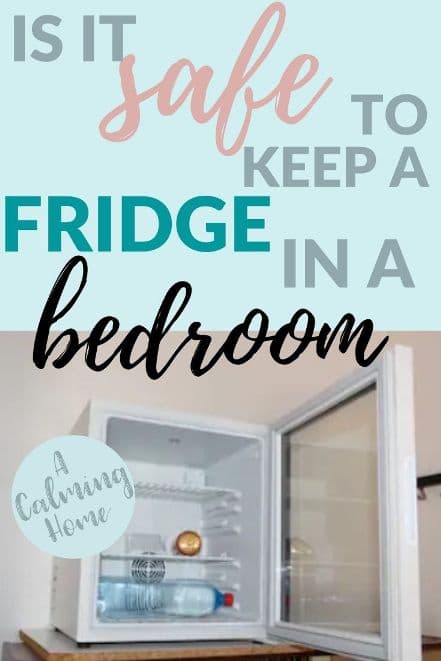 MAIN CONCERN #1 : REFRIGERATOR GAS LEAK  (CFC / coolant/ Refrigerant)
Most refrigerators nowadays are electrical so they shouldn't be leaking any harmful fumes unless you have an old gas refrigerator.
Refrigerator gas is filled in a sealed compressor so it's unlikely to leak out.
If it does leak, it's doubtful that it'd be dangerous because there aren't enough refrigerants in most cooling systems to pose any risk – unless you have an allergic reaction to it or the fridge is cramped in a space with no ventilation.
Old refrigerators that use refrigerants like CFCs are now being phased out because of its damaging effect on the environment. Modern refrigerators are instead using a gas called HFC, also known as tetrafluoroethane, which has a lower toxicity CFCs.
Is gas leak harmful?
Although freon has very low toxicity,  it will have an effect on your health over time. But the harm varies based on exposure; it's only dangerous in extremely high concentrations.
For example, an accidental refrigerator leak in a well-ventilated area will not really cause any poisoning.
Most cases of poisoning usually happen when someone intentionally exposes themselves to it, like when someone wants to get high or when they inhale the gas in a bag or in a confined space.
But do take note that gas leak will stay in higher concentrations close to the ground so children and pets are more vulnerable to its harmful effects.
Symptoms of refrigerant poisoning
Mild to moderate symptoms may include:
headache
irritation of eyes, ears, and throat
dizziness
frostbite if exposed to quickly expanding gas or liquid coolant
vomiting
chemical burn on the skin
nausea
coughing
Severe symptoms may include:
vomiting blood
breathing difficulties
loss of consciousness
bleeding or fluid buildup in the lungs
seizure
a feeling of the food pipe burning
irregular heartbeat
confusion
coma or sudden death
What are the signs of a gas leak or freon leak?
The smell of chemicals. Depending on the age of your refrigerator, it could have a different cooling gas such as freon. Freon is mostly odorless but can emit a chemical smell when it leaks. It's also colorless so it won't be noticeable.
Liquid on the floor. Look for signs of residue, oil or water, when you clean the bottom of the fridge.
A continuously running motor. A leak will cause the motor to continuously run, so pay attention to whether you hear that motor non-stop or not. If you hear that motor all the time, and your food isn't being kept cold,
How to repair a gas leak?
Using a spray bottle with a soapy solution, spray the piping and observe any small bubbles that would reveal any freon leak.
You may want to buy a leak detection kit if you want to be sure. These can be purchased online, or at many appliance repairs, home maintenance, and spare parts stores.
There are many other electrical or mechanical problems that could be causing these things.
The safest thing you can do is contact the specialists – a qualified expert will quickly diagnose if there's a leak and do all the necessary repairs.
MAIN CONCERN #2 : EXPOSURE TO ELECTROMAGNETIC RADIATION
Too many of us don't know what radiation really is. We just think that all electrical device has them. While this is true, radiation is all around us all the time.
Natural Radiation can come from the ground, soil, water, outer space, the sun, or even our bodies. Man-made radiation can come from x-rays, electrical power lines, radio waves, and other electrical devices.
Refrigerators emit low EMF(Electromagnetic Field) radiation and are considered safe. It only becomes a safety issue when there's any damage or malfunction in the appliance.
What are the health effects of radiation exposure?
Humans are biologically designed to deal with low levels of radiation because we're exposed to naturally-occurring radiation every day.
For example, when you're exposed to the sun for a long time, UV rays can damage your skin and tissues.
While excessive exposure to low levels of radiation does not cause any immediate health effects (maybe just a bad sunburn), it can slightly increase your risk of cancer over time.
Can you measure radiation from your refrigerator?
You can measure how much EMF radiation your refrigerator is emitting by using an EMF meter. 
Make sure to buy a quality one and start by taking a measurement by slowly moving toward your refrigerator.
Take note that other appliances in the room may also be emitting radiation and could mess up your result.
Other Concerns: Possible Hazards of a fridge inside a bedroom
Fire Hazard
Everything that runs on electricity is a possible fire hazard. But not many people think that their refrigerators could also spark, ignite, or even explode! While it is rare, it is possible.
The common causes for fires are overloaded electrical outlets, overheated compressor, or the light bulb stay on even when the door is shut.
But how do they explode?
Refrigerator gas, also called a refrigerant, moves through a coil of pipes in a compressor (usually found at the back) which cools the inside by absorbing the heat and releasing it outside. Now, if the gas is unable to move out as it should, it would cause the coils to burst into an explosion.
Newer models of refrigerators have safety features in place, like a heat shield, to help avoid any sudden explosions like this.
But if you have an old refrigerator, especially those with highly flammable plastic parts, you'll have to take extra precautions to ensure that the coils are always clean and that there is air circulation around the area of the compressor.
Heat Source
The way a fridge works means that the compressor usually gets hot because it's constantly extracting heat from the inside and pushing it out. 
Though the heat generated would usually not be enough to be noticeable, it might get extra warmer if it's in a small and well-insulated room. If there is no proper ventilation, the room can get warm quickly — which can be a good thing during winter.
Noise Interruption
The most possible direct harm a fridge can do to your health is the impact it will have on your sleep quality. If you're a light sleeper who wakes up at the faintest of sound, then the sudden noises generated from the motor may interrupt your sleep pattern.
Inconvenient location
Ideally, a refrigerator inside a bedroom will only contain drinks and ready-to-eat snack foods. If items for meal preparation, such as meat and produce, are kept inside, it will be bothersome to have to access and break the privacy of the bedroom just to get them.
Child-related Hazard
Entrapment
In the olden days, it was common for children to get trapped inside refrigerators while playing causing them to die of suffocation. 
The air-tight seal prevents any oxygen from getting inside and its noise insulation would prevent any scream for help from being heard.
But nowadays they've improved product design such as switching from latches to magnetic strips to prevent this from happening, but it is still a possibility in some cases.
Falling Object
Refrigerators are extremely heavy and if the appliance tips over, it could potentially crush children who play around the unit.
Mini-fridges are common to use in the bedroom, but their small size does not mean it's safe from tipping over. Children are fond of climbing and hanging off things and if the refrigerators are not secured, they could easily get hurt
Water Leak
Refrigerator, especially old ones, will leak in some form or another– whether it's from the chiller or from condensation, it will build sweat and moisture at some point. If the fridge is inside a bedroom where the carpet is often installed, the carpet may get wet that would attract the growth of bacteria and mildew.
Safety Tips for keeping Fridges in the bedroom
SAFE INSTALLATION TIPS
Set upon a raised platform or an appliance roller. Use plywood, wooden pallets, etc. under the fridge. This improves airflow and makes for easy clean-up for leak and dirt accumulation underneath the appliance.
Avoid installing on carpet. Carpeting obstructs air circulation at the bottom of the refrigerator which may cause heat to accumulate and prevent the condenser and compressor from cooling as it should.
Be careful not to set upon its own power cord. The cord's protective coating could be cut and expose wires that could spark a fire.
Use only a dedicated plug. Do not use an adapter to plug in your fridge. Your fridge must have its own outlet and correct local plug.
Ensure that the area is free from flammable materials. Make sure there is enough room behind the fridge for proper air circulation.
Ensure all packaging material has been removed before connecting to a power source.
Check that interior or exterior ventilation openings of the fridge are not blocked.
Secure the refrigerator to the wall to prevent it from tipping over during an earthquake or when children could potentially play around the appliances.
Install a smoke alarm. There should be a smoke alarm to cover the area where the refrigerator is and make sure they are tested regularly.
GENERAL SAFETY TIPS
Always buy from a reputable dealer. Follow the manufacturer's instructions on proper use and maintenance.
Do regular check-ups. Refrigerators have to run 24 hours a day so it's important to monitor them.  Check the plug and socket for burn marks, crackling sounds, fuses blowing, circuit-breakers tripping, or if it feels too hot to touch. for any damages, potential problems, or signs of danger.
Avoid pooling of water in the unit. Water might get inside the electrical system and cause short-circuits.
Don't place your refrigerator near heat sources like radiators or in direct sunlight, as this will result in it having to work harder to maintain its internal temperature.
Ensure that there is airflow around the refrigerator because if it's crammed into a small space without enough ventilation, your electricity bill will still go up.
Keep away from children.  Carefully monitor children around these appliances and Warn them of the risks posed by refrigerators and caution them not to play around these appliances.
Do not top up with Freon. Freon is already kept in your fridge in a sealed and pressurized container.
Do not attempt to repair or clean the chiller box or scrape away the ice with sharp objects as this could puncture or damage the compartment and cause the gas to leak out.
Ensure you have RCD or residual current device in your fuse box.  An RCD prevents dangerous electric shock and reduces the risk of electrical fires.
Related Questions:
What if I'm running the AC or heater in the room?
There is no connection to the safety of the refrigerator whether or not you are running an AC/heater in the bedroom.
The refrigerator will only need to work harder depending on the room temperature it's located in. If it's in a hot location like a sunroom at noon of summer, it's going to have to use a huge amount of power in order to cool the space.
This means that your electricity bill will go up. If you want the refrigerator to run efficiently, it has to be at a cooler temperature so it won't need as much energy to cool its interior.
Why does my fridge make noise?
Refrigerators turn on and off to regulate temperature. When the temperature in the fridge reaches its desired setting, a device called a thermocouple shuts off the electricity which enables the fridge to function. 
What can I do about the refrigerator noise?
Sleep with earplugs or use a white noise machine to cover fridge noise.
Alternatively, you can adjust the fridge temperature setting to a higher temperature so your fridge will be quiet for long periods.
The reason is that the fridge's motor needs to run until the set temperature is reached and it switches itself off. If you set it at a higher temperature, even by a few degrees, the appliance won't need to work as hard.
Conclusion:
You don't have to worry about any harmful consequences of putting a fridge in your bedroom as there is no scientific evidence to support the idea that it would cause illnesses or death.
While there are possible hazards that come with it, as with any appliance, you only have to take precautions and follow manufacturer's instructions for proper use and maintenance.
If this does not ease your mind, let me remind you that hotel bedrooms all over the world are usually equipped with mini-fridges.
Many people have lived in small studio units for their entire lives without having any health problems connecting to their fridge in their rooms.