Welcome to your first step to filling your home with natural and chemical-free health options for you and your family with the power of essential oils!
To order essential oils at wholesale prices, you'll need to create your own Young Living Essential Oils account by purchasing a starter kit. You'll be creating your username and password to access your virtual office where you'll be managing your orders and everything else.
Note: For those in Canada, you can open your own wholesale account without having to purchase a kit, but you need to order a minimum of 50PV per year to keep your account running.
I found that the most recommended and economical way is to get the Premium Starter Kit. (This is how I got started on my oiling journey, and I cannot recommend it enough because it'll save you over $80 USD!)
Your premium starter kit will include:
10 of the most useful essential oils  (5 ml each):  Lavender, Copaiba, Peppermint, Lemon, Frankincense, Thieves, Purification, RC, DiGize, and PanAway
A bonus 5 ml bottle of Stress Away Essential Oil
A quality diffuser (which you can choose to upgrade)
AromaGlide Roller fitment
10 sample packets
10 Love it? Share it! cards
10 Love it? Share it! bottles
2 NingXia Red samples
A Product guide / Pricelist
Essential Oil Magazine
Member resources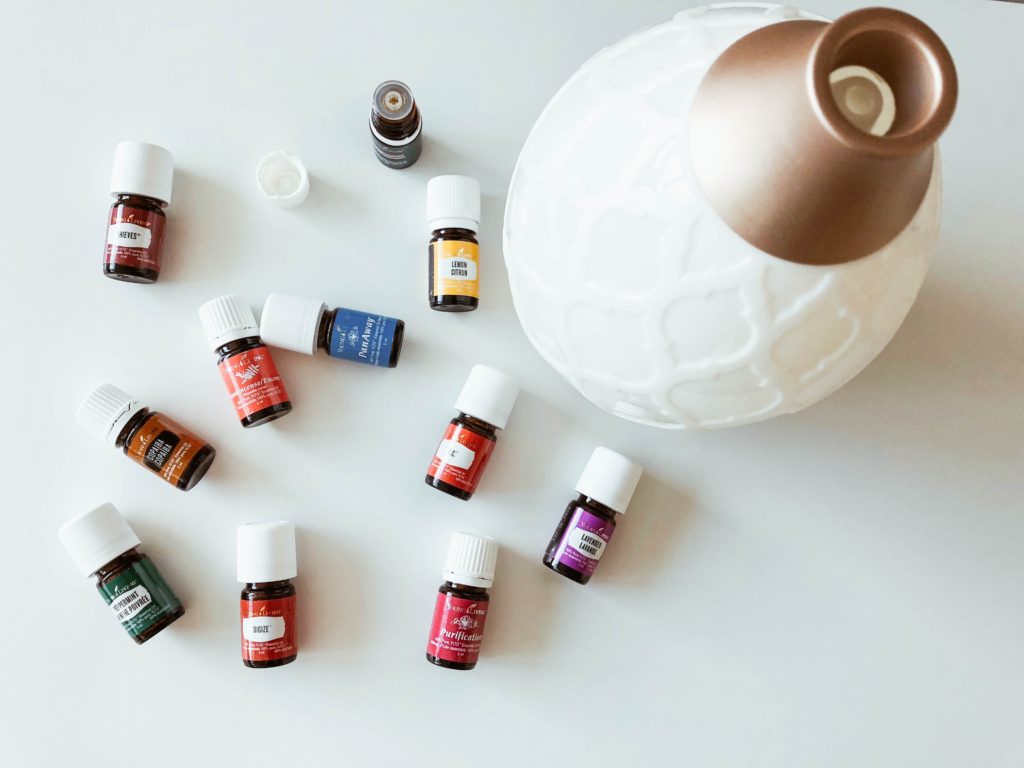 HOW TO ORDER ESSENTIAL OILS
Click over to the Young Living sign-up page.
Choose the "member" option. Don't worry; there's no membership fees, auto shipments, selling requirement, nor any other further obligations by just being a "member". This is just how you'll get the best prices as well as access to training and other benefits!
Select your country and your language Under "sponsor" and "enroller", myID number (12819608) should already be filled in for you.
( note: If you do not feel comfortable putting in your social security number (this is only for tax purposes if you decide to turn this into a business) then you can select "business" and get an EIN from the IRS in just a few seconds here and use that number instead (the IRS just needs to be able to connect some number with you for tax purposes).   They need a Social Security Number or an EIN because if you make $600 or more per year selling Young Living products, you will receive a 1099 form in the mail (which is required by law). Young Living will never share this info with anyone.)
Select your starter kit.(I chose the premium starter kit with the dewdrop diffuser.) The oils are the same in each kit but you can choose what diffuser you'd like.
(Optional)Enroll in the Essential Rewards Program. If you have monthly orders, this auto-ship program is excellent because it earns you free products (or points that you can redeem for free products). You can even choose to customize your rewards kit. I skipped this step when I first started; just ignore this part if you can't commit yet, and click "next" on step 3. (There'll be a pop-up; just click "continue with enrollment".)
Fill in your information. Young Living will ask for your social security number for tax purposes (because you can earn income from this if you want to). However, you can opt to sign up without your social security number too, but rest assured your information will be secured if you choose to do so.
Create your password and pin and save it in a safe place. You'll use the password when logging in to your account, and the pin if you call the hotline.
Tick the box that you've read and agree to the Terms & Conditions. "Click on agree and continue"
Complete your Starter Kit order.
You're done!
You will receive a welcome email from me with a ton of resources and information to get you started.
FAQ's
1.  Does it cost anything to sign up for an account with Young Living?  It doesn't cost you to sign up as a wholesale member if you live in Canada.  Outside of Canada, you do have to purchase a Starter Kit to receive wholesale pricing. There are many kits to choose from, but they vary from country to country.
2.  Am I obligated to order product every month?  No you are not. You can order what you want, when you want. Your account will only become inactive if you do not order a minimum of $50 USD of  product for an entire year.
3.  Am I obligated to use the Essential Rewards Program (autoship)? Absolutely not. the advantage of using the ER Program is that you will benefit from discounted shipping fees, qualify for monthly promos, receive first access to limited products, and earn back 10-20% of your monthly order as reward points to put toward buying products in the future. Best part? No catch.
4.  I don't really want to sell oils Do I have to be a distributor or Young Living to be a wholesale member?  Absolutely not! There is no obligation to sell Young Living oils, but you may find yourself sharing!
If you need help with the sign-up page or have any other questions, please feel free to email me at acalminghome@gmail.com 🙂
Disclaimer: These statements have not been evaluated by the Food and Drug Administration. This information is not intended to diagnose, treat, cure or prevent any disease. The information on this site is not intended or implied to be a substitute for professional medical advice, diagnosis or treatment. Please confirm any information obtained from or through this web site with other sources, and review all information regarding any medical condition or treatment with your physician. Never disregard professional medical advice or delay seeking medical treatment because of something you have read on this website.