When I started blogging, I was confused with all the resources that were available to a blogger. There were so many, but I didn't know what I needed and what was right for me…
So, I've created this list of products, tools, and services – resources that I personally use for running my blog. I  have purchased and tried these myself and wouldn't recommend products that I wouldn't use.
I hope this list of resources would help you on your blogging journey. You can bookmark this page for your future reference.
This post contains affiliate links for your convenience.
For more information, see my disclosures here.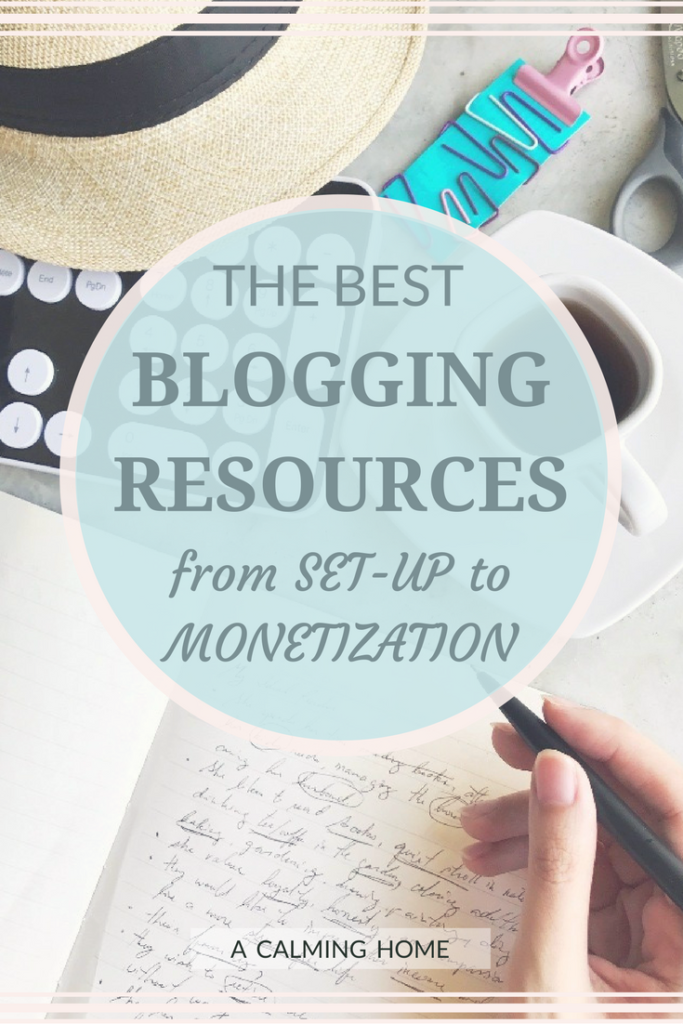 GETTING STARTED
MY OWN BLOGGING JOURNEY:
SETTING UP
Domain Name:   NAMECHEAP
The first thing you do is to get a domain name (eg: acalminghome.com). I highly recommend NameCheap because it is the cheapest and reliable for the quality of service that they provide.  Even if you encounter monthly coupon code available to save you a few cents on new domain registrations. Be sure to do a quick search in Google before placing your order.
Web Hosting:  BLUEHOST
Now you'll need a host where you can park your domain name. Bluehost is the pioneer official web hosting partner of WordPress.org. They are known for their speed, reliability, quality service, and affordable price. For beginner bloggers, they are perfect because they have a basic hosting plan available for as low as $3.95/month.
Blog Platform:  WORDPRESS
After getting Blue host, WordPress can be installed with one click for free. This is the actual "land" where your blog will be built on.
(For a step-by-step guide on connecting Namecheap and Bluehost, as well as the installation of WordPress and your theme, also read: How to start a profitable blog)
Blog Design (Parent Theme): GENESIS FRAMEWORK
Almost every blogger I know recommends the Genesis theme. It's easy to customize to your own aesthetics and you can get numerous child themes that'd suit the brand you're going for and the features you'd need for your site.
Blog Design (Child Theme): FOODIE PRO
I got this child theme because it's the most flexible child theme I could find for the plans I have for my blog. I wanted it to be clean and simple but fully customizable in look and features.
PROFESSIONAL BLOGGING KNOW-HOW:
This is the first investment I've made for my blog and I didn't regret getting it. I was totally clueless on how to get started on blogging for income, but this course got me going and completely immersed me into the world of professional blogging. The Facebook group that comes with it is probably the best part of the course. It's where I found my "tribe" and I wouldn't have met my wonderful blogger friends if it weren't for the group.
This one is different from all the other ebooks or ecourses that I've encountered in that it's continuously updated by the author, Amy Lynn Andrews, whenever she feels the need to. She's an authority when it comes to professional blogging and even big bloggers take her seriously. She does away with fancy courses and uses a simple program to ensure that she can keep the costs down for her readers. The Knowtbook is her online "notebook" where she keeps ALL her knowledge and research on blogging.
WORDPRESS PLUG-INS
Akismet: This does a great job in keeping spam comments away from your blog. If you don't install this from the moment you launch your blog, you'll find yourself sorting through loads of spam.
Genesis Simple Hooks:  Like I said, I'm not very techie, so this plug-in is handy when I want to tinker around with my Genesis theme. I can simply copy and paste some customization codes that I want into the provided sections and not risk accidentally deleting some code on my blog and kill my site.
Google Analytics for WordPress by Monster Insights: You need to know how your blog is doing and this plug-in lets you check your pageviews straight from your WordPress dashboard.
Pretty Link: Pretty Link turns your long, ugly affiliate or referral links into pretty ones! It allows you to track how many times your links have been clicked. I like to put notes regarding my commission rates for each link using Pretty Link, too.
Simple Social Icons: This is the simplest way I know you can add those pretty little icons for different social media platforms on your sidebar.
WordPress Backup to Dropbox: This plug-in automatically backs up my blog to Dropbox. I'm sure that I will outgrow this soon, but for now, it's doing a great job.
Yoast SEO: I can't tell you enough how essential this plug-in is for your blog! It helps optimize your posts so that you rank higher in Google (of course this takes some time). But for a non-techy person like me, SEO is alien language, so I like how this plug-in literally gives me a red signal if my SEO is poor, and a green signal if I'm good to go. It tells me how I can improve not only my SEO, but also the readability of my posts (which I can't seem to get a green light on..hhmmm..).
BLOG TRAFFIC
KNOW YOUR TRAFFIC
Google Analytics: This is so you know how your blog is performing based on your page views, audience demographics, and other vital information; you can use these insights to improve your blog. This is also a requirement for most companies if you'll be doing sponsored posts or campaigns.
GROWING YOUR TRAFFIC
I love how Lena seems to be talking to me like a friend and spilling out all her juicy secrets to me. Over the years, she has grown her blog and income by increasing her page views. She tells all of her strategies in this e-book in such detail that I'm sure I'll increase my traffic soon (hopefully along with my income!).
PINTEREST TRAFFIC
I couldn't add this ebook to my resources fast enough! This was the game changer in my overall blog traffic. If you're just going to have to buy ONE book for your blog traffic's improvement, BUY THIS BOOK! More about this soon! But trust me, this will explode your traffic as it did mine!
I'm still new to using Boardbooster and I haven't quite gotten into the habit of strategically scheduling my pins yet. But because I'm learning from Tasha's Affiliate Marketing for Bloggers course, I can see how Boardbooster's features can really help boost my blog's traffic. I plan on applying what I've learned soon and will update this soonest I can. Your first 100 pins with Boardbooster are free and then you can continue with them for as low as $5 per month.
FACEBOOK TRAFFIC
I've had this book for a while but didn't think much of it until I needed help with my Facebook page. In 24 hours of implementing Brittany's strategies, my Facebook engagement went through the roof! I'll do a thorough review about this soon.
This is actually fairly new in my arsenal, but I'm quite liking the information in this ebook (or maybe because I know nothing about Facebook groups so everything in it is new to me). I'll add more insights as I finish this one, but I'm including it in the list because I've benefited from the contents I've read so far. 🙂
EMAIL & MARKETING
(I'll give you a $20 credit if you sign up with mailerlite using my link.)
I was with ConvertKit  for a while but realized I couldn't afford them anymore (especially since I'm still not earning much from my blog). I found that Mailerlite is a great cheaper alternative with some added features that Convertkit doesn't have. Although they don't have the tagging capabilities like Converkit (they have groups), they actually have it in the works. This is definitely better than MailChimp in my opinion.
Note: If my blog is earning enough though, I might look into Drip. I heard it's awesome. 🙂
Now that you have your email service provider, you can start growing your email list to make you some money! I've taken Laura's course, List Building Academy. You can also click HERE to get her FREE 100 opt-in offer ideas and get started on your list-building.
If you have digital products, SendOwl is the way to securely sell and send them. It's as easy as uploading your products and SendOwl takes care of everything for you. SendOwl offers their services for free for the first 30 days.
PHOTO EDITING
I like using the free basic features of Pic Monkey for editing images for my blog as well as adding text and overlays. If you want to access more fonts and features, you'll have to pay them a membership fee.
I like using Canva for creating images for all my social media platforms (especially Pinterest) because of the vast number of beautiful (and free) templates you can use. I found that it's also great for creating printables and e-books! (I've used it to create a workbook!) And the best part about it is, it saves the work you make, so you can come back and re-edit your designs.
I use this app for all photos taken with my iphone6. I love that it's free, easy to learn, and offers the basic editing tools that I need to make my phone photography look way better than the unedited photo.
BLOG MONETIZATION
MAKE MONEY BLOGGING AT ANY LEVEL
This ebook will teach you how to earn money from your blog regardless of the traffic or pageviews that you get.  No fluff or vague advices. The author guides you on what you should do for every pageview-milestone that your blog reaches so that you can make the most of out your traffic. You shouldn't wait until you get 100k pageviews to be earning from your blog! This e-book taught me how to earn real income even when the blog only has 1,000 pageviews a month. Totally worth the price I paid (so affordable!)
AFFILIATE MARKETING FOR BLOGGERS
From the beginning, I knew I wanted to earn from affiliates because that's how most professional bloggers earn their income. I'm not even halfway done with this e-course and I'm already seeing the results (from Amazon sales)!
I've been thinking about a product I wanted to sell, but I don't know how to begin creating one or even marketing it! Who better to teach me than Abby Lawson – the blogger who earns her six-figure income from selling products on her blog! Book Boss is very comprehensive in teaching me Abby's personal system on how she does it! I like that the course not only applies to the creation of e-books, but to e-courses as well.
ORGANIZATION & WORKFLOW
This is another best-selling product from Abby. It's actually authored by her husband, Donnie, and teaches you how to organize your paper system at home so you don't have to deal with paper clutter. Being a blogger means that you'll be swamped with them, and if you're disorganized with paperwork, you've got to try this!
This is the cheapest product on productivity and time management out there that I know of that has tons of value. Don't take my word for it. Check the reviews on Amazon and be amazed at all those 5 stars! No wonder– it's written by blog authority, Amy Lynn Andrews. This e-book will set your priorities straight so that you can function well as a wife, mom, blogger, or whatever roles you take on in your life.
TECH HELP
WEB DESIGN: BLOG BEAUTIFUL
In the blogging world, looks do matter. I have a bachelor's degree in Interior design, but I'm like a dinosaur when it comes to techie stuff.  This e-book helped me in prettifying my blog without any programming skills whatsoever.
LOGO DESIGNER: ANDERSON CREATIVE CO.
I won't get a cent if you get her services, but Misty has been wonderful in creating my logo. She's very professional and attentive to my needs when she was making mine.
PERSONAL TOOLS
CANON REBEL XS DLSR CAMERA (1000D)
I've had this camera for almost a decade now and it's still keeping up with me. Although I find it bulky for quick snapshots of daily activities, it's essential in almost every blogger's' tool kit. If you can't afford one now, you can use your smartphone while you save up for a DLSR camera.
My I use my iPhone 7 to take my photos, edit them, and keep up with social media updates or emails. I also use the smartphone app VSCO to create beautiful images.
I find this useful when capturing with my iPhone on the go. It can wrap around stuff so I can easily capture photos from a bird's eye view. It also helps prevent blurry photos from shaky hands.
As a blogger, you'll be taking LOTS of photos for your blog and social media. You'll also be downloading countless ebooks and ecourses (some free, some paid) that'd need a ton of memory space. I also use this to backup everything for my blog.
Last update: 8/26/2017