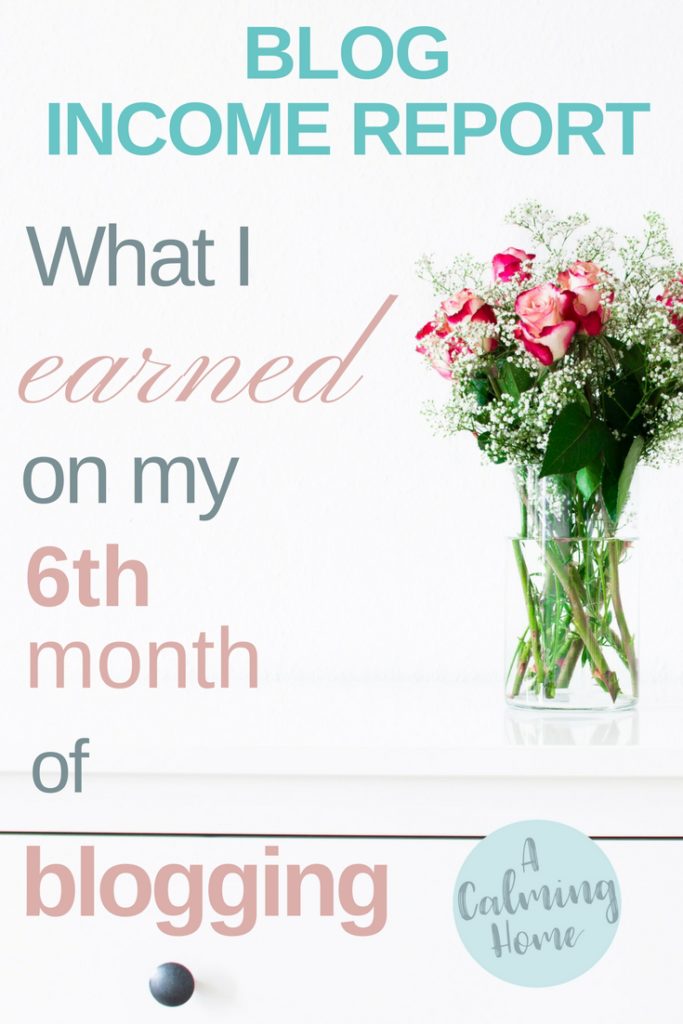 October is a great month for my blog!
So compared to the blogpression I was feeling last month, this month has been fun and exhilarating! I guess this is also because it's my hubby's and my son's birthday month. 🙂
Hubby couldn't come home so I wrote a happy birthday message on balloons and asked our kids to hold it as we took a photo to send to daddy. I could've been more creative… but, I was blogging…and stuff.
Anyway, I've seen a lot of improvement on the blog this month. I believe I owe it to the days and weeks I've devoted to studying, researching, and experimenting on the blog.
Here's what my traffic looks like for the month of October.
This post contains affiliate links for your convenience.
For more information, see my disclosures here.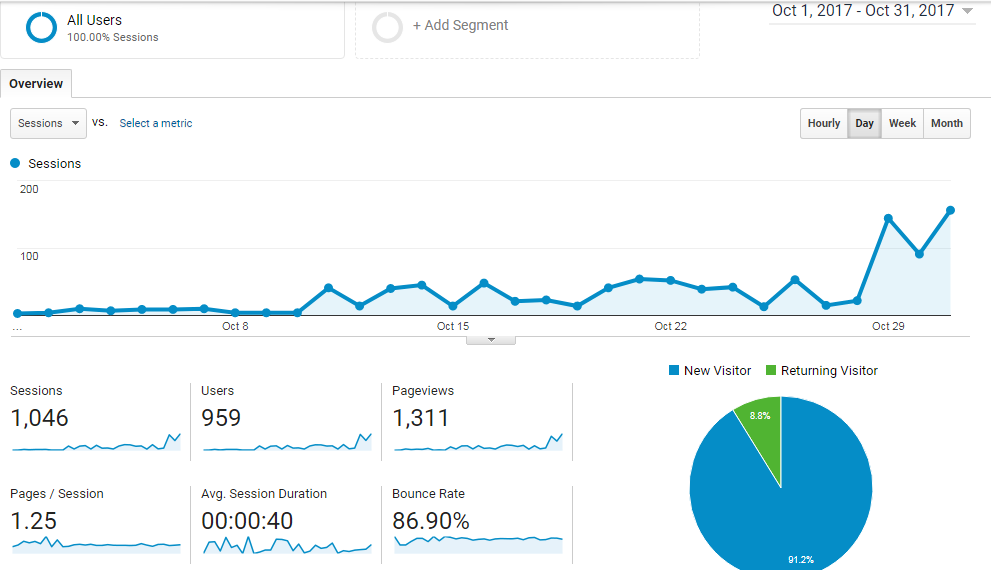 I couldn't believe it!
From 194 pageviews per month, it shot up to 1311 per month!
And just because I like the pretty line going up, up up! I'm going to include a screenshot of my active users on the blog.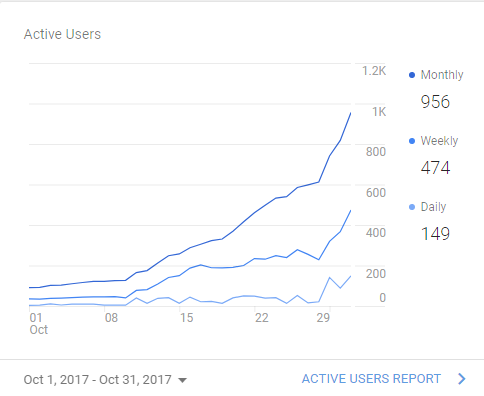 I can't believe the dramatic increase in my blog's traffic! And I'm going to tell you straight on — it wasn't easy to achieve this.
The strategies itself are easy so to speak. It's the implementation (and the entire workflow) that's a pain in the donut hole.
But it's worth every sleepless night and mind-boggling organization of databases and excel sheets.
Why?
Because along with the increase in traffic, came…
you guessed it!
An increase in income!
TOTAL INCOME FOR THE MONTH OF OCTOBER:

 

  $ 107.08
Ohhh yes….. I've finally got 3 digits in there!
And because I've been told that there are a lot of bloggers out there who fake their income (or are vague about the details) in order to attract more readers, I'm posting a screenshot of all my commissions so you won't have a doubt in your mind that my income is real (as real as I've been to you since Day 1!)
And if any should ask, I can provide any proof for any of my income reports in the past (not that the amount is significant anyway to pique your interest).
Here's from my Bluehost account:

Here's from Namecheap:

Here's from Ultimate Bundles: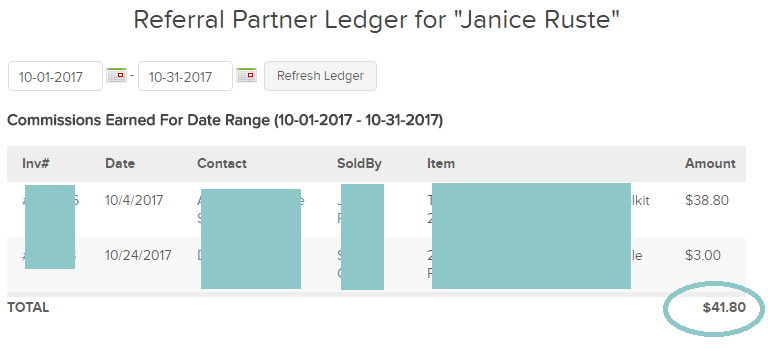 It's not the " I earned $2,000 on my first month!" or "I earned $10,000 on my 6th month!" kinda thing… but I'm happy with my $100 income.
To put things in perspective for you… I'll break down all of my incomes from blogging so far.
6th-month blogging (October 2017) = $ 107. 08
5th-month blogging (September 2017) = $ 1.20
4th-month blogging (August 2017)  = $ 8.70
3rd-month blogging (June 2017)    = $5.49
2nd-month blogging(May 2017)       = $18.80
1st-month blogging(April 2017)    = $11.99
Trial- month blogging(March 2017)   = $21 (Airbnb credit)
To recap, I started my income report on my (technically) 2nd month of blogging when I started earning "cash" through my PayPal. I say technically because my first month is actually just the last week of March, so I consider it as an experimental month. I earned $21 Airbnb credit from that "trial" month though.
Join me on Airbnb and I'll give you a $21 credit as well by clicking HERE. You can use that credit to book your next travel plans.
WHAT I DID THAT MADE A DIFFERENCE TO MY INCOME
LOOK FOR GOOD AFFILIATES
Bluehost was a surprise! To be honest, I was thinking of switching to siteground until I received this commission. Then I thought to myself, why am I switching again? I realized the only reason I was wanting to switch is because all the other bloggers were promoting siteground.
But Bluehost hasn't failed me yet.
Am I really switching just because these bloggers (who'd also earn a commission from siteground) were all huffing and puffing about how terrible Bluehost is and that Siteground is the place to be now? If so, then I'm just blindly jumping on the bandwagon.
Maybe Siteground is worth looking at,  but I'm not really sure if I should, to be honest. There are also bloggers who don't like siteground too because it's caused them so many downtimes.
So…I think I won't fix what's not broken for now.
In my case, Bluehost is cheap and reliable in the past 8  months or so that I've already spent with them. I haven't encountered any of those problems that are being said by others so far.
Maybe I should start convincing them to make the switch to Bluehost! Lol.
Namecheap was a surprise too. It's because I didn't really expect much from this affiliate. Although I earned very little from them, It's still a happy surprise.
And of course, there's Ultimate Bundles. I call it my "consistent earner". With Ultimate Bundles, I'm able to sell amazing resources (Ebooks, Ecourses, podcasts, etc.) about interesting topics (decluttering, professional blogging, herbs & essential oils, healthy living, gut health, etc), that pretty much sell themselves.
If you're interested to become an affiliate with Ultimate bundles as well, click HERE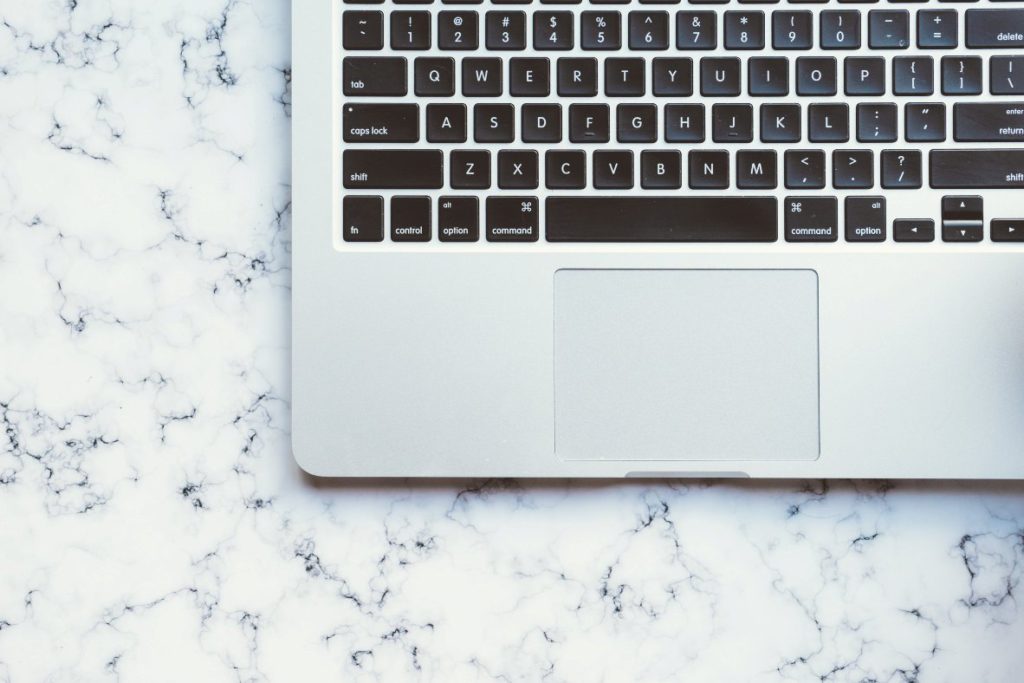 Oh… and before we move on…
I'm going to be upfront to you about this so you won't think I'm just telling you this so I can sell something.
These ebooks and ecourses I'm listing now are my affiliates. If you purchase through my links, I will earn a commission.
But these products are what worked for me (at least for the little progress I'm reporting to you).
I've invested a LOT of my savings to my blogging education, but the ones I've listed in my blogging resources are the only ones I've actually tried and can recommend.
And this list that I'm going to share right now, are those that I would recommend to you in a heartbeat.
(If you've seen the many junk information they package out there and sell to newbies, you'd understand where I'm coming from.)
These are those that are worth their value (and more). These taught me how to really grow my traffic and make money on my blog.
Even if you don't buy it from me, at least buy it from someone else!
It's truly my wish as a mom that you'll also grow your blog so you can be with your babies at home (because I know how it feels!).
But if you ever buy it through my link, then you'll be blessing my family too at no additional cost to you. (Let me know if you did so I can acknowledge you and link to your blog in my next report. Thank you in advance!)
I'm listing the Ebooks/Ecourses that have made a difference to my blog's growth in the order of importance (so if you can only afford one, for now, you can get the first one on this list).
This is my blog traffic bible.
Traffic Transformation is comprehensive; it covers everything you need to know to get traffic to your blog. Social Media is only one aspect of growing your traffic, but there are other options too, like guest posting, webinars, plug-ins, and so on. What's worth doing? What's not?  Lena has done a good job in explaining pretty much everything.
I like that Lena has made it clear that she wants you to have your to-do list ready while reading the book because she gives out all the actionable steps you need to do to improve your blog's online presence at the end of every chapter.
I've learned so much from this ebook that by the time I was through with it, I had a long list of what I needed to change on my blog.
If Traffic Transformation is my blog traffic bible, Pinteresting Strategies is my blog traffic secret.
Pinteresting Strategies dives deeply into one aspect of bringing in blog traffic: Pinterest
(There are other ebooks specializing in other social media platforms, but Pinterest is my chosen platform to focus on. For other platforms, check out what I use in my blog resources.)
And it's unique from all the other Pinterest ebooks or ecourse because it teaches you how to use Pinterest to its maximum potential without the use of paid schedulers like Tailwind or Boardbooster.
I told you from my last income report that I was going to implement what I've learned in Pinteresting Strategies, and the results of those strategies I've applied clearly shows in this report. This ebook is the main reason my traffic shot up this month.
After about 3 weeks of following Carly's strategy, I've added boardbooster into my own strategy (because as a mom of 2, I can't really do everything on time).
If you have questions on how I use boardbooster, just ask me and I'll do my best to tell you what I know. You can join boardbooster HERE (you'll receive free 100 Pins to start with).
AFFILIATE MARKETING FOR BLOGGERS
I can't give all the credit to Pinteresting strategies and Traffic Transformation because while it did bring me the much-needed traffic,  Affiliate Marketing for Bloggers prepared my blog for the traffic.
Affiliate Marketing for Bloggers  is my go-to course for learning how to convert this traffic into income.
It's like eating bacon and eggs; you can't have one without the other.
And because I love using analogies to explain a point…
If it were a cake recipe, Traffic Transformation would be the ingredients and Pinteresting Strategies would be the procedure.
What about Affiliate Marketing for Bloggers?
It would be that beast of an oven where I put my cake batter in, so I can bake it and make it edible.
Because really now, even if I get the traffic to my blog, how can I make them click on my affiliate link and buy?
But what if you don't bake? what if you only like to cook? or grill?
What about if you only want to do ads or sponsored posts, or product sales?
Then, I'd recommend specialty equipment as well.
I'm not yet done with these ebooks and ecourses, but these are my chosen equipment:
For Ads or sponsored posts, I'll use Make Money Blogging at Any Level.
For product creation and sales, I'll use BOOKBOSS.
WHAT I ACCOMPLISHED IN OCTOBER
A Calming home is listed in the TOP 100 homemaking blogs in Feedspot.
Every time I search for other bloggers in my niche, this site would be the first to pop up. The authority bloggers in my niche are listed on this site, so I was wondering how I could be included.
So I submitted mine. In a few days, I received an email from the owner saying that my blog was included in the list and gave me a badge to proudly display.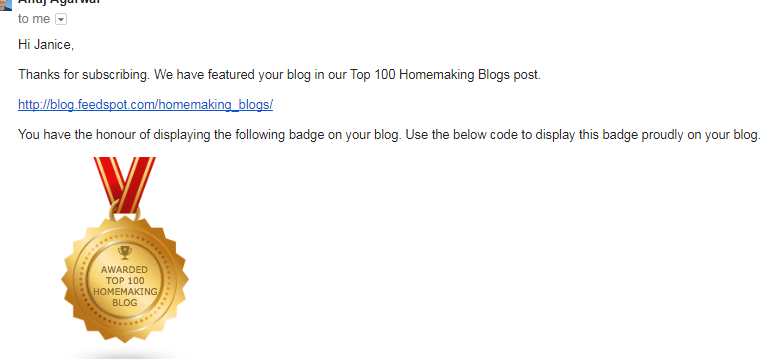 A Calming home was nominated for a Liebster Award.
Thanks to the lovely Tori of Toriorioria for the nomination! In case you missed it, you can read all about it HERE.
IMPROVED MY FACEBOOK PAGE REACH
To be honest, I'm confused with how a Facebook page works. I don't know what makes it different from a Facebook group other than a lack of community.
Then I discovered something.
To illustrate it better, here's my reach whenever I posted something on my page before.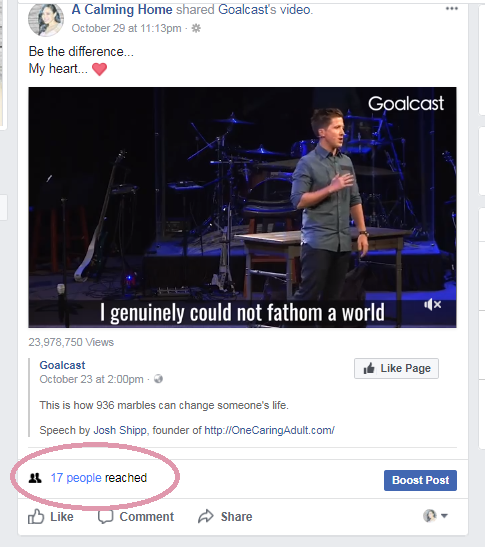 And here's my reach after implementing the things I learned.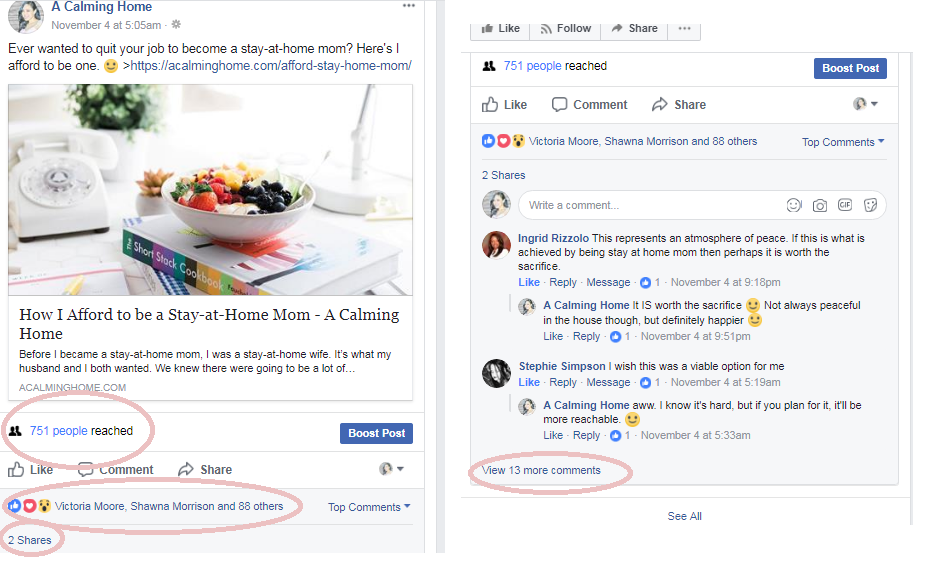 See the difference in reach and engagement?
You see, I had a book which I purchased from the Ultimate Bundle last year that I underestimated (because the cover was bland and passable- sorry!).
Thank Goodness it was only one that focused on Facebook pages, so I had no choice but to read it.
STRATEGIES WORTH SHARING is a book by Brittany Ann (Abby's sister-in-law, I think). And she has some surprising insights about managing Facebook Pages.
I can't reveal what's in the book of course, but I loved this book even more than I did Eden Fried's First Class Facebook Group Ebook . (Oppsies!)
Eden's First Class Facebook Group Ebook focuses on Facebook groups while Brittany's Strategies Worth Sharing focuses on Facebook pages.
And to be honest, I'd recommend that you buy this over the other if you could only get one book for your facebook growth. (Not that Eden's book is not worth looking at, but only in case you can only have one.
If you haven't done yet, join A Calming Home's facebook page here and see my progress in real time. Note that I am still in the experimental stage, so you'll see how inconsistent my posts are.
Also, you can join our official facebook group for homemakers at Homemaking Basics. It's a group for modern moms and new homemakers who are into homemaking and simple living.
We also have a facebook group for those who love to baker: The Homebakers Guild, which has also grown its members. I'm thinking of doing webinars here soon (as soon as I get over my camera shyness).
Studied loads of Blogging ebooks and ecourses
I still have much to go through with the ebooks and ecourses in the Ultimate Genius Blogger's toolkit  I've purchased this year (and from last year too!). I don't even know when I'll finish reading and watching all of the resources in them! And I've found really good ones in both the toolkits too!
Ultimate Bundles already closed their selling period for the blogging toolkit and will not be open again until the next batch of resources come through.
You can try to sign up HERE in case they do decide to open again (I doubt it, but there's always hope). I also inform my email subscribers when a bundle is on sale, so sign up if you want a heads up for future bundles.
Emailed my subscribers!
At least it's an accomplishment to me!
I still dreading having to email my subscribers because I feel like I'm being a bother to them.
(And getting my first unsubscribe from my last newsletter only made me feel worse.)
But I should be happy that people who are not my ideal audience are opting out, right?
In any case, I hope to put more valuable content in my future newsletters so that my real audience can feel how special they are to me.
This is why I'm planning to stop publishing income reports soon and just send them to my beloved subscribers. 🙂
And I do have other freebies in the subscriber vault. You can get on my list here:
TOP POSTS IN JUNE
PREVIOUS INCOME REPORTS
GOALS FOR NOVEMBER
PROOFREAD AND RE-WORK MY 1st EBOOK
Lesson learned:
Don't launch your product in a rush. While I haven't really launched mine yet, I was willing to release it to my audience without having done the important bits. Good thing I didn't beause I found a lot of technical errors on the book.
To do:
I realized I could make it better by adding more helpful data and probably some worksheets. I plan to give it to my fellow students in BookBoss so they could give me some feedback and hopefully, "glowing" testimonials.
FYI, BookBoss is the course that's teaching me how to create and launch products. It's a bit costly, but I think it's worth it because I really plan on making most of my income with my own ebooks and ecourses.
With BookBoss, I get to have Abby (the blogger who built her empire on her selling her own products) to teach me her exact system.
CONTINUE WITH PINTERESTING STRATEGIES
Lesson learned:
If I forget to pin my content even for just a day, I found that my traffic significantly drops.
To do:
I will continue to implement Pinteresting Strategies by Carly Campbell because it works like magic. But seeing that I'm a busy mom, I had to add some of my pins to Boardbooster for times when I can't pin manually.
CREATE A LEAD MAGNET
EMAIL LIST  19–> 19 subscribers
Lesson learned:
I have yet to open the course at List Building Academy. I know that my list should be a priority, but it keeps getting pushed back as I focus on traffic growth.
To do:
At least, do one opt-in for one category of my blog so I can start building my list as I grow my traffic.
LINK THE CORRECT SOCIAL MEDIA PLATFORMS
Lesson learned:
It's not good to automatically publish posts from the blog to the Facebook page, Twitter to Facebook, or Pinterest to Facebook. Just don't do it! It'll kill your reach.
To do:
I found that it is okay to have Facebook automatically publish to Twitter, or have Instagram to publish to Facebook.
SOCIAL MEDIA
I Found that I can only focus on Pinterest and Facebook at this time, with Pinterest getting 80% of my attention because it gives most of my traffic.
PINTEREST 18 –> 43
After applying what I've learned in Pinteresting Strategies, my reach in Pinterest has exploded. I need to join more Pinterest groups as well.
FACEBOOK: 29 –> 45 (Facebook Page)
I actually had 9 likes on the page in one week just with a single post! This is because with my previous posts, no one was seeing it because my reach was low. But after reading Strategies Worth Sharing, my reach went up (and so did the people who discovered my page after seeing my post).
I think our official Facebook group, Homemaking Basics, will have to wait until I increase our Facebook Page's presence. For now, I'll leave it on auto-pilot along with the Facebook group for home bakers.
But I will drop by daily to check on it and engage with the members. Join Homemaking Basics and The Homebakers Guild.
TWITTER:  24 –> 25
I'm looking into HootSuite to schedule my tweets. Other than that, I got nothing.
INSTAGRAM: 42–> 48
Same with twitter. But at least I'll try to have one pot out for every blog post I do.
RELATED BLOGGING POSTS
I have these other posts which I think might help you in yours:
I think that's all for now.  I appreciate the time you took to read this report. If you're liking these income reports, please let me know!
Especially now that I have plans to stop publishing my income reports and emailing them to my subscribers instead.
What would you have me do?
Everybody has a different experience with growing their blogs and I know how hard it can be to go on at times.
It's my hope to inspire you, and hopefully, inform you of good things that can help you with your own blog.
Thank you for sticking with me on this blogging journey!