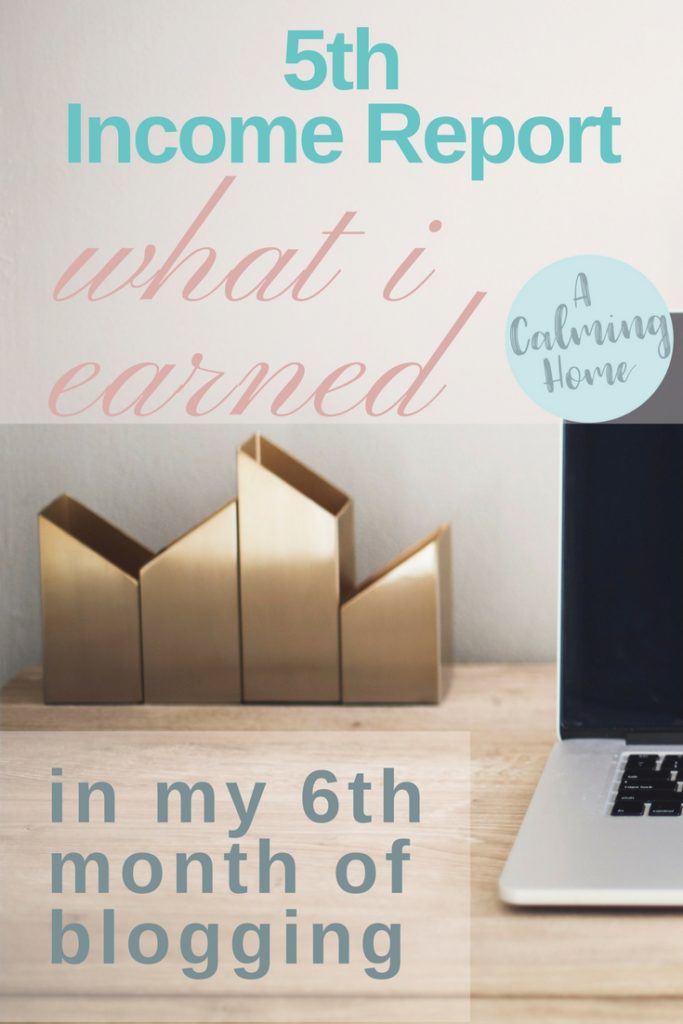 The month of September has been a month of procrastination and self-doubt. I have reached the all-time low of discouraged feelings a new blogger can experience for this month, so much so that I found myself googling "how to sell a new blog" on some days when I just wasn't feeling the drive anymore.
Whoever said that blogging is easy money is a big fat choco frog. 😛
It's easier to make money outside of blogging.
I sell cakes.
I make amazing cakes.
I can make a full time income in just two week's time of serious caking on my part.
No joke.
So why pursue blogging?
I had to do some soul-searching again to recover from the blogpression I was feeling. I questioned my intentions and my goals… and it was like grasping for air. I honestly thought I'd end up quitting soon, but by the end of the month, like an ice bucket challenge that jolted me up from the zombie-like trance I was in, I was revving again.
What was it? What changed?
I realized I truly enjoy blogging.
But blogging takes too much time and a little bit of money. I can't keep doing it if it doesn't compensate me in some way. So enter this month's unexpected income.
Before I get into that, let's see what traffic is like for this month.
This post contains affiliate links for your convenience.
For more information, see my disclosures here.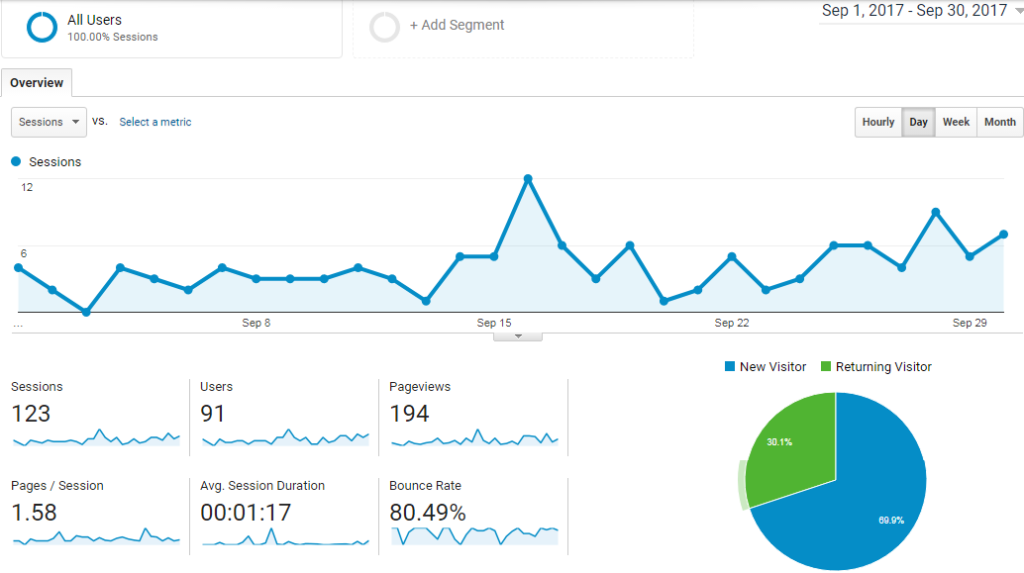 Pssh..
Probably the lowest traffic I had gotten since starting the blog, but at least I know I can't possibly do any worse.
I know I can do better.
I know, because I'm not doing my part in promoting my blog posts properly. I haven't paid attention to any social media, and I also haven't written consistent blog posts throughout the month. This is probably my greatest downfall.
I was kind of relieved and sad at the same time when I figured I wouldn't be writing an income report this month. I couldn't expect anything from my ever dependable affiliate partner, the Ultimate Bundles because there wasn't any sale going on. This gave way to feelings of throwing the towel in, with plenty of days of just wanting to stop going online.
But then I checked my Amazon affiliate…
lo and behold, I earned something… and it consisted of this month's entire income.
TOTAL INCOME FOR THE MONTH OF SEPTEMBER:
$ 1.20
OMG. I can still say I'm earning consistently since I've started this blog.
Meager change to some, but to me it's hope. And to give a better comparison, I'm listing all my incomes again:
6th-month blogging (September 2017) = $ 1.20

5th-month blogging (August 2017)  = $ 8.70

4th-month blogging (June 2017)    = $5.49

3rd-month blogging(May 2017)       = $18.80

2nd-month blogging(April 2017)    = $11.99

1s- month blogging(March 2017)   = $21 (Airbnb credit)
To recap, I started my income report on my (technically) 2nd month of blogging when I started earning "cash" through my PayPal. I say technically because my first month is actually just the last week of March, so I consider it as an experimental month. I earned $21 Airbnb credit from that "trial" month though.
Join me on Airbnb and I'll give you a $21 credit as well by clicking HERE. You can use that credit to book your next travel plans.
WHAT I DID THAT MADE A DIFFERENCE TO MY INCOME
Use Amazon affiliate links properly. I think I could credit this passive income to the Affiliate Marketing for Bloggers  course I took. It really gave me better insights on how to utilize Amazon affiliate links so I get a better click rate.
I'm also so glad I'm an Amazon affiliate — even if Ultimate Bundles is still my best and consistent income earner. Amazon fills the gap that Ultimate Bundles leaves behind.
FYI, with Ultimate Bundles, I'm able to sell amazing resources (Ebooks, Ecourses, podcasts, etc.) about interesting topics (decluttering, professional blogging, herbs & essential oils, healthy living, gut health, etc), that pretty much sell themselves. If you're interested to become an affiliate with Ultimate bundles as well, click HERE.
WHAT I ACCOMPLISHED IN SEPTEMBER
Started the official Facebook Group for A Calming Home. 
Homemaking Basics is a group for modern moms and new homemakers who are into simple living and traditional homemaking (or just learning the basics of managing a household). You can join us HERE for loads of ideas on cooking, cleaning, crafting, self-care, minimalism, and more!
I surpassed my initial goal of 500 facebook group members for The Homebakers Guild (in just a few weeks!).  And as promised, I shared my husband's late grandma's baking recipes in her collection of recipe notebooks. You can join us HERE if you're interested in baking tips, cake ideas, and recipes.
P.S. I used the strategies found in Eden Fried's First Class Facebook Group Ebook to build and manage my facebook group.
Studied loads of Blogging ebooks and ecourses
I was able to purchase the much awaited Ultimate Genius Blogger's toolkit by The Ultimate Bundles at an earlier date because I'm an affiliate. I made a blog post on the day the sale opened and even sent an email to my subscribers to inform them.
If you missed this sale, too bad. It's such an awesome bundle! And this usually isn't offered again because the next time they release the next bundle, it would contain different resources again. But you can try signing up HERE in case they do decide to open the bundle again (but I wouldn't hold my breath). Better yet, sign up to my e-mail list so I can give you a heads up for future bundles.
Completed my 1st ebook!
Yesss! And I completed it in time for the bundle. I used it as a free bonus for anyone who purchased the genius bloggers' toolkit through my link. But now that it's over, I'll be selling it at retail price soon. 🙂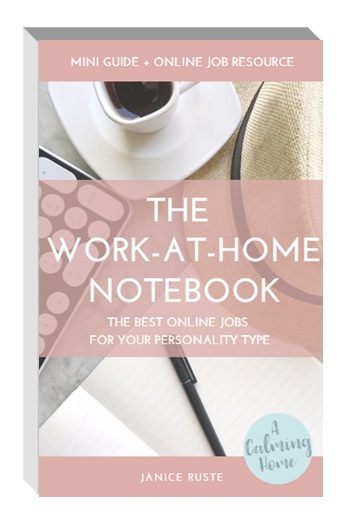 It's for those who'd want to start working from home. It includes access to a massive directory of companies who are offering work-at-home jobs (and I've categorized them according to your personality type so you wouldn't get stuck to a job you hate!)
Created databases for my affiliates, log-in credentials, and Pinterest group boards
This is probably the best thing I've done this month for the blog. So far, it has made my blogging life a little easier as I can see everything at a glance. I just created them using excel so I can just copy and paste whenever needed.
Completed Tax form for Amazon and installed Lightroom on my laptop.
Well..hubby did all this. He's so much better at legalities and technical stuff. Since he was here for a week, might as well have him do it. 🙂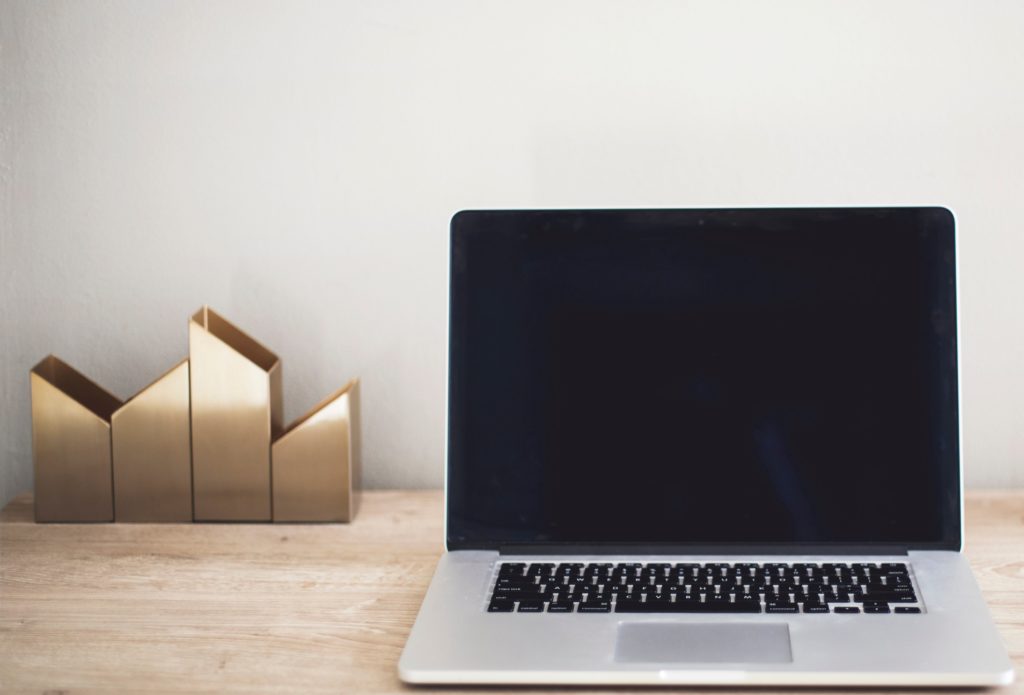 TOP POSTS IN JUNE
PREVIOUS INCOME REPORTS
GOALS FOR OCTOBER
IMPLEMENT PINTEREST STRATEGIES
Lesson learned:
Buying a bundle means that there's a lot of ebooks and ecourses I need to wade through to get the information I need. But I have my favorite ebooks and ecourses in the bundle!
To do:
My priority is to implement Pinteresting Strategies by Carly Campbell.
CREATE A LEAD MAGNET
EMAIL LIST  19–> 19 subscribers
Lesson learned:
Your subscribers will not grow unless you do offer an incentive other than a "resource library".
To do:
Well, I've done what I promised in my last income report and emailed my subscribers at last! But I need to build my list, so I need a better lead magnet. I'll create a new one this month and replace the subscriber vault.
CREATE A MORNING ROUTINE
Lesson learned:
An editorial calendar that works will differ from one blogger to another. I realized that I'm more of a "routine" gal than a calendar gal.
To do:
I already have an evening routine in place for my blog, but I need to create a morning routine too.
LINK SOCIAL MEDIA PLATFORMS
Lesson learned:
I've disregarded Twitter, Google+, and Instagram. I think I need a better plan to automate them all.
To do:
I'll need to link my Twitter, Facebook, Google+, and Instagram together so that I can post just once to publish on all platforms. I don't know how yet, but I think there's a way.
SOCIAL MEDIA
I'm currently knee-deep in learning everything I can about the big four.
PINTEREST 13 –> 18
By the end of the month, my Pinterest game is going well. I managed to have a consistent feel on my Pinterest images and improved the headings for my posts. I'll see what happens after I implement Pinteresting Strategies. 🙂
FACEBOOK: 28 –> 29 (Page)
After a long wait, I've finally opened the official Facebook group for this blog as I've mentioned above. Still only has 6 members, but I'm sure I can grow it pretty fast as I've done in my home bakers' group, as long as I follow the same strategies in First Class Facebook Group Ebook.
As for my Facebook group for home bakers, I've surpassed my initial goal of 500 members without doing any promotion of the group. I guess it's on "suggested groups" a lot because I don't see any other way they're finding my group. If you're a home baker and would like to join my community, click HERE.
TWITTER:  24 –> 24
I was able to make a pretty header for my Twitter profile. Maybe I should start reading about twitter too.
INSTAGRAM: 39–> 42
I'm not going to link my Instagram until I feel comfortable letting people I know KNOW about my blog. (For some reason, people find me in Instagram even it's an entirely different account). For now, I'll leave Instagram alone.
RELATED BLOGGING POSTS
I think that's all for now.  I appreciate the time you took to read this report. Everybody has a different experience with growing their blogs and I know how hard it can be to go on at times. It's my hope to inspire you, and hopefully, inform you of good things that can help you with your own blog.
Thank you for sticking with me on this blogging journey!
I have these other posts which I think might help you in yours:
If you're liking these income reports, please let me know! I love hearing from my readers. What do you I should do to improve my blog?