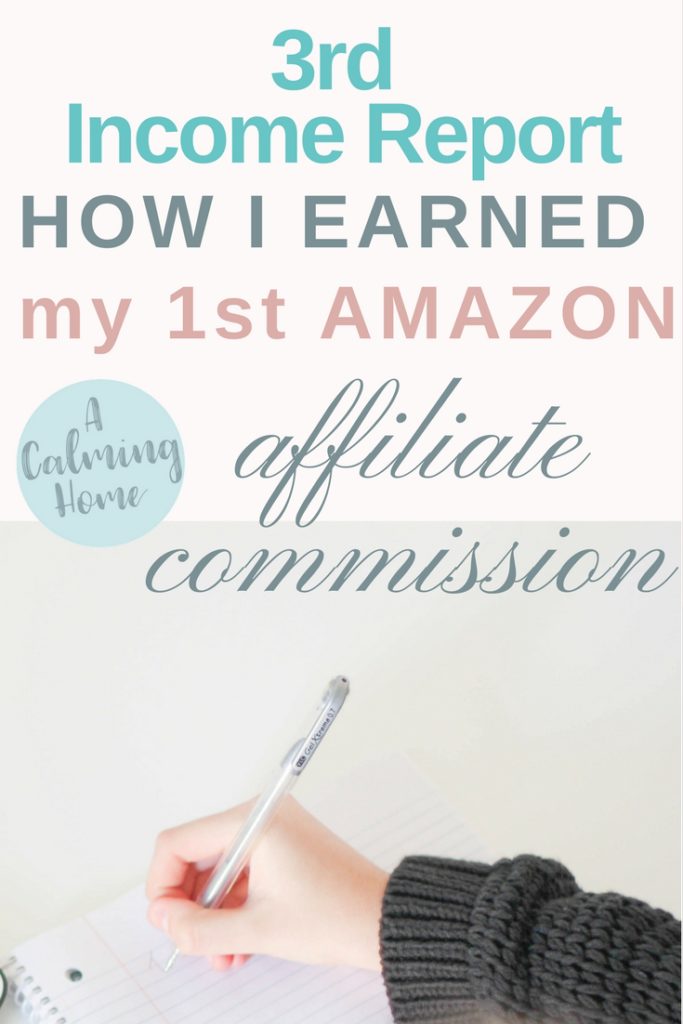 And just like that, it's time for another income report –my third one!
My mind is so messed up right now, I'm not even sure how to begin. Don't get me wrong, I have too many things I'm doing for the blog I can barely keep up! But I doubt if any changes would reflect on the blog because I'm usually working on the backend.
I've been going through a lot of materials over this month and educating myself on really getting this blog down. I'm serious about achieving my goal for the blog this year — earn a passive income of $500 per month. The income goal I want to achieve for every month increases every quarter of the year.
And since a majority of normal bloggers report only getting consistent income after reaching their 6th month of serious blogging, I'm still 2 months early to be getting any exciting results.
And by serious, I mean endless promotions and monetizing. Which… I haven't done this month (oops!).  I was mainly focused on branding and studying traffic growth.
But I really want to blow your minds for my next income report (for the month of August) on September 1, so I'm literally at the edge of my seat as I devoured all the information about professional blogging this month.
..and you know what?
I think I can finally do this! 🙂
This post contains affiliate links for your convenience.
For more information, see my disclosures here.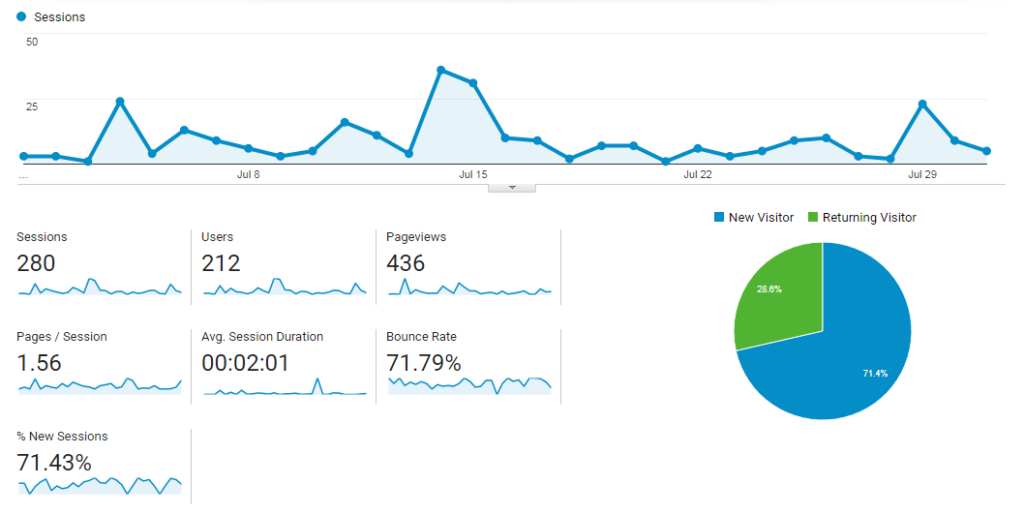 Ok, this month's page views wouldn't really knock your socks off, but I'm seeing improvement despite the fact that I didn't do any promotion this month. Looking at my last 2 income reports, I can compare the following numbers: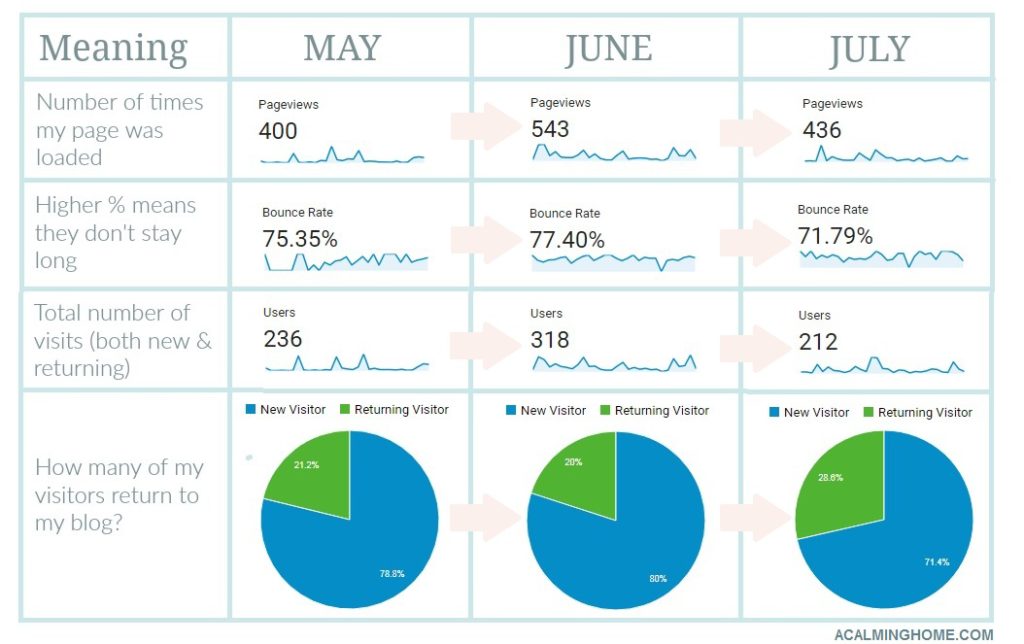 As you can see, my page views and users (both new and returning visitors) decreased from last month, but it's still looking good considering I haven't done my usual blog post promotions.
You can also see that my bounce rate is decreasing (even if it's still high), which means that a lot of my visitors are sticking around rather than navigating away as soon as they see my site.
Also, a large chunk of my audience is returning visitors, which means that I truly have readers who check out my blog from time to time.
While I'm a bit upset with myself that I didn't do my usual promotion to up my traffic, I'm also incredibly proud of what I was able to accomplish for this month. But first, here's my income for the month of July:
TOTAL INCOME FOR THE MONTH OF JULY: $5.49
This is a huge drop compared to my previous income of $18.80, but this one is a milestone for me.
It's my first Amazon Affiliate commission!
Yay!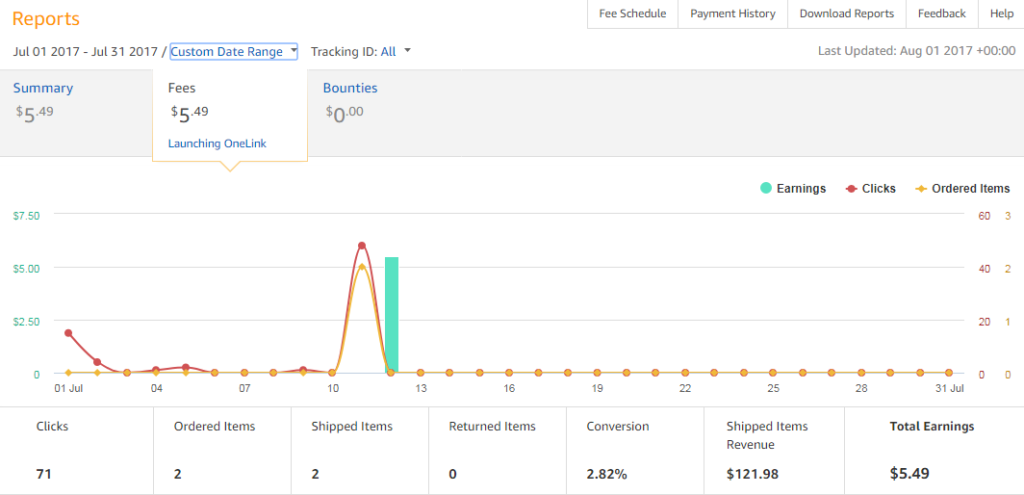 I was worried that I wasn't going to be able to write a blog income report for this month because the Ultimate Bundles (my consistent income earner) are not doing any sales until the first week of this month!
They compile the best resources (Ebooks, Ecourses, podcasts, etc.) about interesting topics (decluttering, blogging, herbs & essential oils, homemaking, gut health, etc). I believe they have a parenting bundle coming up (usually the bundles are sold for 6 days only). Click here if you want to earn money from them too.
Anyway, I was ecstatic when I received an email from Amazon saying that my application with them is officially approved in light of my first sale.
Apparently, I sold an instant pot and a workout powder of some sort. I didn't link to these items, but perhaps the viewer clicked on one of my affiliate links and shopped for something else. Which is totally why I love Amazon's affiliate program!
WHAT I DID THAT MADE A DIFFERENCE TO MY INCOME
Become an Amazon Affiliate as soon as I was able to
Since the Amazon income is truly passive, I don't know if there's anything pro-active that I did which made a difference in getting my first sale. I did post in some facebook groups that I was nearing expiration and someone might have seen my post and decided to use one of my Amazon affiliate links on my blog to help out.
All I can say is, apply to become an Amazon affiliate if you haven't already!
I think they give you a period of 90 days to get your first sale before they ask you to reapply again until you have a more stable blog site. I was nearing my expiration when I got the approval email because I applied around a month after my blog went live.
WHAT I ACCOMPLISHED IN JULY
Created a Facebook Group
I created a Facebook group because my blog catered to a broader audience of homemakers. I wanted to have a community where I could share my passion for baking and cake decorating. Facebook groups are all the rage right now and I decided to make one from scratch because it's so easy!
Grew my Facebook Group in just a few days
Creating a Facebook group is one thing, growing one is another. I know that it's incredibly difficult to get members to join your group, especially when you have no members to begin with.
So how was I able to grow my members from 2 to 191 in just a couple of days?
I joined relevant Facebook groups that had a huge following (almost 100k members each!)
I posted my best work of buttercream cakes and introduced myself and what I do.
I casually mentioned that I had a Facebook group of my own wherein I would give free recipes and tutorials to my members.
I made sure that on my profile header, I've put the link to my page and Facebook group so they know where to go to if they wanted to join.
If somebody commented or messaged me on how to join my group, I sent them an invitation. Or if the group rules allowed it, I posted a link to my facebook group whenever possible.
Worked on Branding
I spent a lot of time developing my brand and pinning down my goals for this blog.
You might have noticed — my logo changed, as well as the layout of my Pinterest images. I had to study my goals and my blog's purpose so I can better infuse myself into my brand elements.
I know that a stronger brand creates a loyal following, so I focused not only on the visual aspects of the blog but also with my "voice" in all of my copy.
This means I had to retrace my steps and re-read all of my content. I'm not even halfway done! It's cumbersome, but I know it's going to be beneficial in the long run.
Studied A bit of Pinterest and Boardbooster
I know that a lot of bloggers rely on Pinterest to grow their traffic, and so I spent a huge chunk of my time studying Tasha's Affiliate Marketing course on how to promote my content on this platform. I also learned how to use Boardbooster thanks to Tasha's course. I can't wait to apply what I learned soon!
Bought and read a book that'll change everything!
I never intended to buy this e-book because I doubt if I could learn anything new from it, (I had e-books and e-courses which amounted to $200 on their own!), but this only cost me $20 — a small price to pay to banish my curiosity.
Boy, did I hit the jackpot with this one!
"Make Money Blogging at Any Level" should be on everybody's lips! It was only released early this year so my gut might be right that this could be a pretty popular book in the near future (if it isn't already is!).
Unlike some other ebooks, It's not filled with fluff or padding.  It's the real deal!
Sure, there may be some overlapping information that you can find elsewhere, but it cuts to the chase and tells you the specifics, like which ad networks to apply to based on your traffic level or how to compute for your ad sponsorship fee.
Chapter 5 alone is already worth the price of the book. It's like having somebody tell you, "ok, remove this from your site and get this instead. If you have this much in traffic, go to this site and do this. Put these many things here. This is where you put it."
It dishes out advice I haven't seen anywhere before (and believe me, I've read dozens upon dozens of awesome ebooks from popular bloggers! And I like how Victoria, the author of the book, is pretty realistic with the kind of income you can make based on your traffic.
I'm so confident with the value this book has given me, so it doesn't matter if I can convince you to get it for yourself (you won't regret it!), but this book totally changed my game plan. I now finally believe I can earn money from my blog!
Started with Product Creation
I haven't mentioned it in my previous income report because this is something I thought up quite quickly. I had a home bakery that I've closed down when we moved cities (in preparation for our immigration to New Zealand), and I thought, it would be good if I could compile all my secret bakery files and turn it into a product for my blog.
I actually took inspiration from another blogger (which requires a different blog post on its own to tell you this story) and went with it. I'm 80% done with the e-book and I plan to do a flash sale when I'm done. I will test the market and see if I could turn it into a long-term product with a version 2.
If you're interested, join me in this facebook group because this is where I will announce its completion.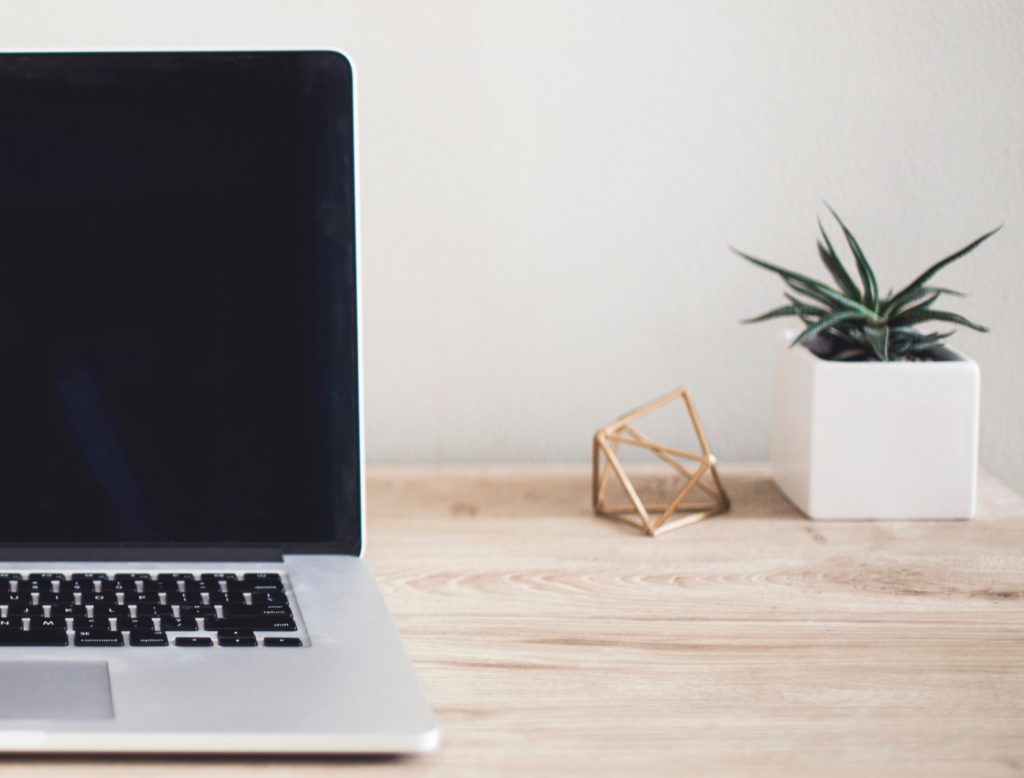 TOP POSTS IN JUNE
PREVIOUS INCOME REPORTS
GOALS FOR AUGUST
Launch first product
Lesson learned: 
Creating an ebook doesn't have to take a long time. As long as you have all the information you need, it's easy to compile them and turn it into a product.
To do:
I'll finish the ebook and probably look for my first affiliates (beta testers) for testimonials. If you're interested in getting a free copy in exchange of a testimonial, please shoot me an email with the subject "ebook beta tester".
My only qualification is that you must be a blogger in the homemaking, baking, or cake decorating niche with a decent following (10k pageviews or more).
Focus on building email list
From 8 people, I now have 17 subscribers to my newsletter.
Lesson learned:
I've completely forgotten about my email list, but even then, people have still subscribed to my list. This only means that I've not taken advantage of the potential of my blog. I need to be more pro-active in attracting e-mail subscribers.
To do:
Email subscribers. I'll delete an old opt-in and replace it with a much effective freebie. I'd need to create a fantastic landing page for this.
Prioritize Editorial Calendar
Lesson learned:
I can't be late with my posts again. This income report is supposed to go out every 1st of the month, and it's super late! My goal last month was to publish at least 8 blog posts. I failed yet again since I only published 3 posts this month. Right now, I find it difficult to produce images for my posts rather than writing them.
The issue is not the photographing part, but the I-have-nothing-to-photograph-because- everything-doesn't-go-with-my-brand-style kind of thing.
To do:
I need to create a blogging schedule and stick to it. I'll write my posts in batches this time around and try to put out at least 2 blog posts twice a week with at least 2 replaceable images in each.
Apply to Ad Networks
Lesson learned:
I learned from this ebook all the good ad networks I could apply to (which would make me a reasonable income)  right now (or at least when I reach 1k page views), and not when I reach 100k pageviews .
To do:
I'll boost my blog promotion for this month to reach 1k page views and apply for the ad networks indicated in the ebook.
Create Affiliate Database
Lesson learned:
I'm so confused with all the affiliate programs I'm a member of. While I was able to track all my expenses for the past 4 months of blogging, I'm not able to keep up with recording my income from affiliate partners.
To do:
I'll create a database of all the affiliate programs I'm a member of along with the usernames and passwords I need for each of them.
SOCIAL MEDIA
Again, I haven't done any promotion on any of my social media platform. The increase in my following are organically made as can be.
PINTEREST: 6 –> 13
I still haven't used Boardbooster because I've just learned how to use it thanks to this course (it taught me how to promote my content on Pinterest so I can make more income with affiliate links). I plan to use it this month.
FACEBOOK: 10 –> 25
My Facebook page is as good as forgotten, but like I said, I managed to create a new Facebook group based on one of my topics. I was able to grow it from 2 members to almost 200 in just a few days! If you are a homebaker and would like to join my community, click here.
TWITTER: 19 –> 24
Twitter is the bane of my blogging existence. But thanks to this ebook, I now have a game plan on what to do with it.
INSTAGRAM: 36 –> 38
Again, not a single photo was posted this month. Who else feels like you have to wait until you get a pretty house with the pretty furniture and the pretty thingamajigs (in your brand colors) so you can upload them on Instagram? *jumps up and down with both hands up*
YOUTUBE:
I'm still debating whether or not I should open a youtube account. I can't see myself becoming a vlogger, but from what I see, videos are only getting more popular (if not necessary).  I've read that if you're targeting an older audience, a blog will suffice. But for millennials, youtube videos might be essential.
RELATED BLOGGING POSTS
As always, I appreciate the time you took to read this report. My goal is not only to document my blogging journey, but also to inspire you, and hopefully inform you of good things that you can apply to your own blog.
Thank you for sticking with me on this blogging journey!
I have these other posts which I think might help you in yours:
If you are liking these income reports, please let me know! I love hearing from you. What do you think of this month's accomplishments?